Tied to the Dream of Being Adopted by a Country Not Your Own: How Young Migrants Define "Dreamer"
Abstract
This article discusses who the Dreamers are from the viewpoint of young migrants residing in Mexico and the United States. It is based on a Surveymonkey poll among young migrants re-siding in Mexico and members of eight groups of Dreamers and DACA recipients on Facebook inthe United States between May and August 2018. The author develops three hypotheses from her analysis of the answers. First, contrary to what was expected, these young people do not homogenously take on the mantle of Dreamers, nor do they define the concept in the same way. Second, the idea of "Dreamers" involves a sense of belonging to the United States, regard-less of their place of residence, which means that the idea of technically belonging to Mexico overlaps with the feeling of belonging derived from having been socialized in the United States. The third hypothesis is that young migrants, whether in the United States or in Mexico, appropriate or reject the concept due to the points of reference and mental maps they construct, regardless of the legal definitions set out in the DREAM Act or DACA, creating communities of be-longing that include both countries.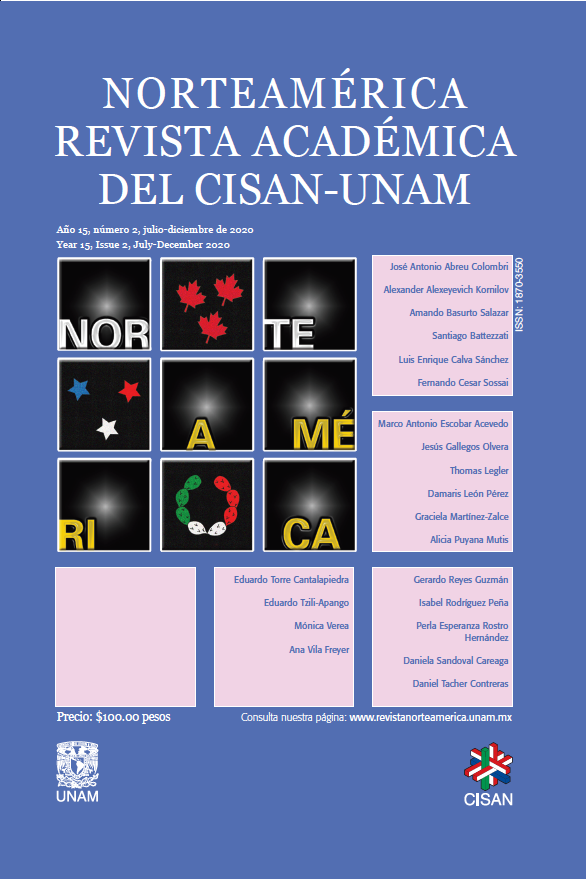 How to Cite
Vila Freyer, A. (2020). Tied to the Dream of Being Adopted by a Country Not Your Own: How Young Migrants Define "Dreamer". Norteamérica, Revista Académica Del CISAN-UNAM, 15(2). https://doi.org/10.22201/cisan.24487228e.2020.2.435
Copyright (c) 2020 Ana Vila Freyer
This work is licensed under a Creative Commons Attribution-NonCommercial-NoDerivatives 4.0 International License.
Authors who publish with this journal agree to the following terms:

Authors retain copyright and grant the journal right of first publication with the work simultaneously licensed under a Creative Commons Attribution License that allows others to share the work with an acknowledgement of the work's authorship and initial publication in this journal.
Authors are able to enter into separate, additional contractual arrangements for the non-exclusive distribution of the journal's published version of the work (e.g., post it to an institutional repository or publish it in a book), with an acknowledgement of its initial publication in this journal.
Authors are permitted and encouraged to post their work online (e.g., in institutional repositories or on their website) prior to and during the submission process, as it can lead to productive exchanges, as well as earlier and greater citation of published work.