Multiple Belongings and Compound Identities in a North American Context. Explorations Starting from the Migratory Trajectory of Four Young People in Southern Guanajuato
Ana Vila Freyer

Universidad de Guanajuato
Keywords:
migratory trajectory, multiple belongings, compound identity, assimilation, trans-nationalism, North America,
Abstract
This article analyzes the migratory trajectory of four young people from Guanajuato based on the notion of a compound identity, which emerges from the concept of multiple belongings proposed by Amin Maalouf. The author uses this notion to put forward the idea that the perspectives that emphasize assimilation or trans-nationalism do not help explain the return process of a generation of young people who grew up under irregular circumstances in the United States and was forced to return to Mexico. She proposes that the North American region is generating compound identities that allow migrants and their children to belong to multiple cultures, territories, and jobs that facilitate these young people's resilience in their life cycles.
References
ANDERSON, BENEDICT
Long-Distance Nationalism. World Capitalism and the Rise of Identity Politics,
ÁMSTERDAM, CENTER FOR ASIAN STUDIES, THE WERTHEIM LECTURE.
Imagined Communities: Reflections on the Origin and Spread of Nationalism, 2ª ed., Nueva York, Verso.
BRUBAKER, ROGERS y FREDERICK COOPER
"Beyond 'Identity'", Theory and Society, vol. 29, no. 1, pp. 1-47.
CYRULNICK, BORIS
Los patitos feos. La resiliencia. Una infancia infeliz no determina la vida, México, Penguin Random House.
GALINDO, CARLOS
Nosotros no cruzamos la frontera: los hijos estadounidenses de los migrantes mexicanos, México, Consejo Nacional de Población (Conapo).
GLICK SCHILLER, NINA
"Explanatory Frameworks in Transnational Migration Studies: The Missing Multiscalar Global Perspective", Ethnic and Racial Studies, vol. 38, no. 13, pp. 2275-2282.
"Long Distance Nationalism", en Melvin Ember, Carol R. Emberands e Ian Skoggard, eds., Encyclopedia of Diasporas: Immigrant and Refugee Cultures around the World, vol. 1, Nueva York, Kluwer Academic/Plenum, pp. 70­80.
GUARNIZO, LUIS, PATRICIA LANDOLT y ALEJANDRO PORTES
"El estudio del transnacionalismo: peligros latentes y promesas de un campo de investigación emergente", en Luis Guarnizo, Patricia Landolt y Alejandro Portes, coords., La globalización desde abajo: transnacionalismo inmigrante y desarrollo, la experiencia de Estados Unidos y América Latina, México, Porrúa/Facultad Latinoamericana de Ciencias Sociales (Flacso).
HALL, PETER y MICHELLE LAMONT
Social Resilience in the Neo-Liberal Era, Nueva York, Cambridge University Press.
HALL, STUART
"Introduction: Who Needs Identity?", en Stuart Hall y Paul du Gay, eds., Questions of Cultural Identity, Londres, Sage [1996].
ITZIGSOHN, JOSE
"The Strengths and Limits of Waldinger's The Cross-Border Connection", en Ethnic and Racial Studies, vol. 38, no. 13, pp. 2299-2304.
LEVITT, PEGGY
"Welcome to the Club?: A Response to The Cross-Border Connection by Roger Waldinger", Ethnic and Racial Studies, vol. 38, no. 13, pp. 2283-2298.
LEVITT, PEGGY y NINA GLICK SCHILLER
"Perspectivas internacionales sobre migración: conceptualizar la simultaneidad", Migración y Desarrollo, no. 3, pp. 60-91.
MAALOUF, AMIN
Les Identitées meurtières, París, Grasset & Frasquelle.
VILA FREYER, ANA, EDUARDO FERNÁNDEZ Y PERLA DEL CARPIO
"Migración en tiempos de crisis: exploraciones del concepto de resiliencia social transnacional en Apaseo el Alto, Guanajuato, México", Revista Interdisciplinar de Mobilidade Humana (Remhu), vol. 24, no. 46 (enero-abril), pp. 273-290.
VILA FREYER, ANA y MIRIAM REYES TOVAR
"El estatus migratorio en viejas y nuevas migraciones en los casos de Guanajuato y Chiapas, México desde una perspectiva multiespacial comparada" (en proceso de edición).
WALDINGER, ROGER
a "The Cross-Border Connection: A Rejoinder", Ethnic and Racial Studies 38, no. 13, pp. 2305-2313.
b The Cross-Border Connection: Immigrants, Emigrants, and Their Homelands, Harvard, Mass., Harvard University Press.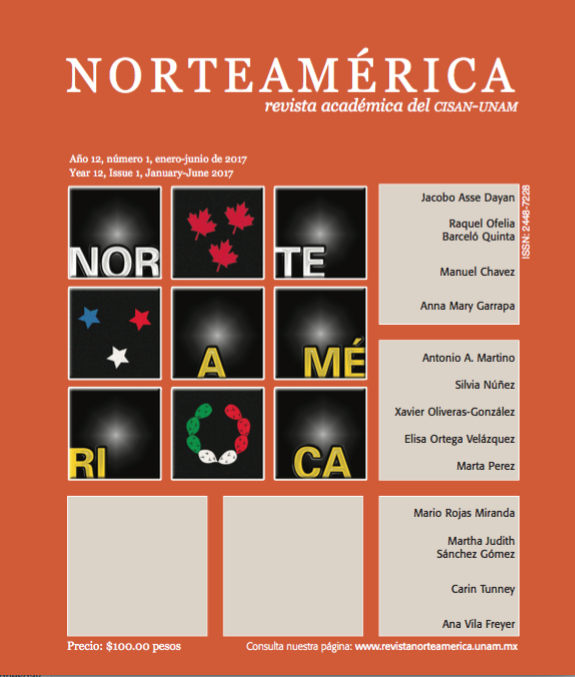 How to Cite
Vila Freyer, A. (2017). Multiple Belongings and Compound Identities in a North American Context. Explorations Starting from the Migratory Trajectory of Four Young People in Southern Guanajuato. Norteamérica, Revista Académica Del CISAN-UNAM, 12(1), 53-78. https://doi.org/10.20999/nam.2017.a002
Copyright (c) 2017 Ana Vila Freyer
This work is licensed under a Creative Commons Attribution-NonCommercial-NoDerivatives 4.0 International License.
Authors who publish with this journal agree to the following terms:

Authors retain copyright and grant the journal right of first publication with the work simultaneously licensed under a Creative Commons Attribution License that allows others to share the work with an acknowledgement of the work's authorship and initial publication in this journal.
Authors are able to enter into separate, additional contractual arrangements for the non-exclusive distribution of the journal's published version of the work (e.g., post it to an institutional repository or publish it in a book), with an acknowledgement of its initial publication in this journal.
Authors are permitted and encouraged to post their work online (e.g., in institutional repositories or on their website) prior to and during the submission process, as it can lead to productive exchanges, as well as earlier and greater citation of published work.