Failed Water Governance Processes in the Mexicali Region: Socio-environmental Conflict over the Constellation Brands Brewery Plant
María Fernanda Gallardo Tapia

El Colegio de la Frontera Norte (Colef)

Alfonso Andrés Cortez Lara

Depto. de Estudios Urbanos y del Medio Ambiente, El Colegio de la Frontera Norte-Sede Mexicali
Abstract
This article addresses the water management in Mexicali related to the surface sources of the Colorado River and the subway sources of the Mexicali Valley aquifer, both of which are transboundary in nature. It examines the environmental and social implications of governmental decisions regarding the Constellation Brands brewery megaproject in a semi-arid area threatened by climate change. Through the water governance framework and using a qualitative research approach, the analysis shows that the promotion of the megaproject was implemented with failures in the processes of inclusion of local social actors. Also, it is determined that its operation would have negative effects on available water sources.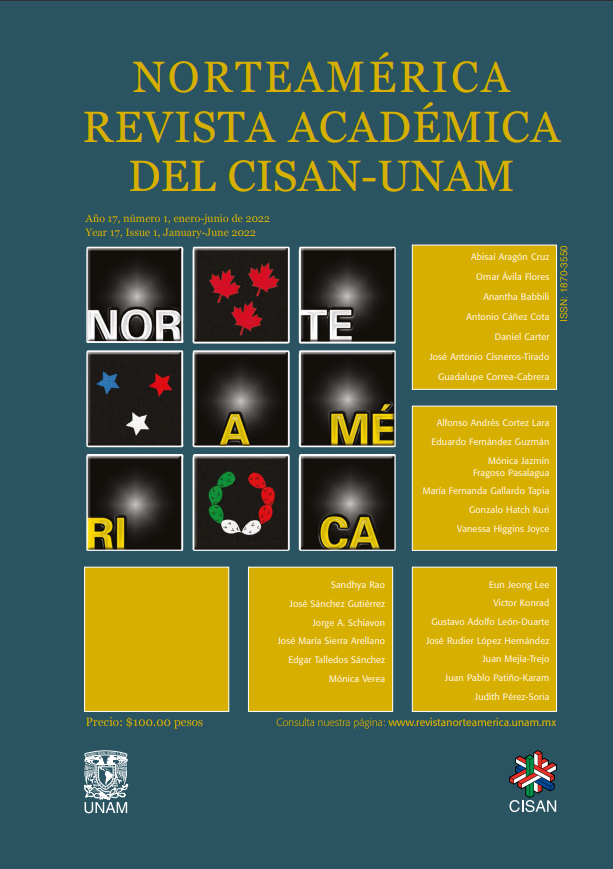 How to Cite
Gallardo Tapia, M. F., & Cortez Lara, A. A. (2022). Failed Water Governance Processes in the Mexicali Region: Socio-environmental Conflict over the Constellation Brands Brewery Plant. Norteamérica, Revista Académica Del CISAN-UNAM, 17(1). https://doi.org/10.22201/cisan.24487228e.2022.1.557
Copyright (c) 2022 María Fernanda Gallardo Tapia
This work is licensed under a Creative Commons Attribution-NonCommercial-NoDerivatives 4.0 International License.
Authors who publish with this journal agree to the following terms:

Authors retain copyright and grant the journal right of first publication with the work simultaneously licensed under a Creative Commons Attribution License that allows others to share the work with an acknowledgement of the work's authorship and initial publication in this journal.
Authors are able to enter into separate, additional contractual arrangements for the non-exclusive distribution of the journal's published version of the work (e.g., post it to an institutional repository or publish it in a book), with an acknowledgement of its initial publication in this journal.
Authors are permitted and encouraged to post their work online (e.g., in institutional repositories or on their website) prior to and during the submission process, as it can lead to productive exchanges, as well as earlier and greater citation of published work.