Potential Effects on Mexico's Economy of the Changes from NAFTA to USMCA
Pablo Ruiz Nápoles

Rosa Gómez Tovar
Abstract
From the beginning of his term in 2017, U.S. President Donald Trump expressed his dislike of the North American Free Trade Agreement (NAFTA), saying it had been unfair to the U.S. economy. As a result, his administration began a process of renegotiation of the agreement in the second half of that year. Its intentions were very clear, and it achieved what it wanted in the United States, Mexico, Canada Agreement (USMCA). This article analyzes these changes and the results of NAFTA, supposedly favorable for Mexico and prejudicial for the United States. It is not clear whether the U.S. will be able to reduce its trade deficit vis-à-vis Mexico with these changes or if U.S. companies established in Mexico will fully comply with the new rules set up in the USMCA without looking for alternatives.
References
ADB Asian Development Bank
2021 "Multiregional Input-Output Tables, ADB MRIO", disponible en: htpp://adbx.online consultado 28 abril de 2021.

Aguirre Castro, Armando y Diego Cardozo-Medeiros
2020 "The US-Mexico bilateral trade relation through a value added lens" Working Papers 2020-08, Banco de México.

Autor, David, David Dorn y Gordon Hanson,
2016 "The China Shock: Learning from Labor-Market Adjustment to Large Changes in Trade" en Annual Review of Economics núm. 8, pp. 205–240. http://doi.org/10.1146/annurev-economics-080315-015041

Banco Mundial/UNCTAD
2021"World Integrated Trade Solutions (WITS)" disponible en http://wits.worldbank.org/witsweb consultado el 31 de julio de 2021.

Blecker, Robert, Juan Carlos Moreno-Brid e Isabel Salat
2017 "Trumping the NAFTA renegotiation: an alternative policy framework for Mexican-US cooperation and economic convergence" en real-world economics review, núm. 82, pp. 94-121.

Cardero, María Elena y Fidel Aroche
2008 "Cambio estructural comandado por la apertura comercial, el caso de la economía mexicana" en Estudios Económicos, vol. 23, núm. 2, pp. 203-252.

CRS, Congressional Research Service
2019 "US-Mexico Economic Relations: Trends Issues and Implications", CRS, Report prepared for Members and Committees of Congress, March 26, RL32934, disponible en https://fas.org/sgp/crs/row/RL32934.pdf

DOF, Diario Oficial de la Federación
2020 "Protocolo por el que se sustituye el Tratado de Libre Comercio de América del Norte por el Tratado entre los Estados Unidos Mexicanos, los Estados Unidos de América y Canadá", junio, disponible en http://dof.gob.mx/2020/SRE/T_MEC_290620.pdf, consultado el 31 de julio de 2021.

Hummels, David, Jun Ishii y Kei-Mu Yi
2001 "The nature and growth of vertical specialization in world trade", en Journal of International Economics, vol. 54, núm. 1, pp. 75-96.

INEGI, Instituto Nacional de Estadística y Geografía,
http://www.inegi.org.mx/

Johnson, Robert y Guillermo Noguera
2012 "Accounting for Intermediates: Production Sharing and Trade in Value Added", en Journal of International Economics, vol. 86, núm. 2, pp. 224-236.

Koopman, Robert., Zhi Wang y Shang-Jin Wei
2014 "Tracing Value-Added and Double Counting in Gross Exports", en American Economic Review, vol.104, núm. 2, pp. 459-94.

Lavin, Frank, Hanna Deringer Hanna y Fredrik Erixon,
2018 "Deepening NAFTA and signing new trade agreements: A US trade strategy to boost the economy and reduce the trade deficit" Research Report ECIPE Policy Brief, No. 3/2018 Provided in Cooperation with European Centre for International Political Economy (ECIPE), Brussels, Belgium, disponible en: http://hdl.handle.net/10419/202505

Markusen, J.R., Melvin, J.R., Kaempfer, W.H. and Maskus, K.E.
1995 International Trade Theory and Evidence. McGraw-Hill, New York.

Miller, Ronald E. y Peter E. Blair
2009 input-Output Analysis: Foundations and Extensions, 2nd Edition, Cambridge University Press, New York.

Moreno-Brid, Juan Carlos, Pablo Ruiz-Nápoles y Juan Carlos Rivas-Valdivia
2005 "NAFTA and the Mexican Economy: A Look Back on a Ten-Year Relationship" en North Carolina Journal of International Law and Commercial Regulation, vol.30 núm. 4, pp. 997-1023.

Okabe, Taku
2019 "Nueva regla de origen en el T-MEC", en Comercio Exterior, núm. 18, pp. 53-57.

Ruiz-Nápoles, Pablo
2004 "Exports, Growth and Employment in México 1978-2000" en Journal of Post Keynesian Economics, vol. 27 núm.1, pp.105-124.

Ruiz-Nápoles, Pablo
2017 "Neoliberal Reforms and NAFTA" en EconomíaUNAM, núm. 41, pp.75-89.

Ruiz-Nápoles, Pablo
2021 "¿Quién ganó y quién perdió con el TLCAN? Resultados del comercio bilateral México-Estados Unidos sobre la producción, el empleo y la distribución del ingreso, El Trimestre Económico, vol. LXXXVIII (4), núm. 352, oct-dic DOI: 10.20430/ete. v88i352.1272.

Sachs, Jeffrey
1988 "Políticas comerciales y de tipo de cambio en programas de ajuste orientados al crecimiento" Estudios Económicos 3, no. 1, pp. 77-108.

SECOFI, Secretaría de Comercio y Fomento Industrial,
1993 tratado de Libre Comercio de América del Norte, Miguel Angel Porrúa, México.

Stehrer, Robert y Neil Foster-McGregor
2013 "Value added content of trade: A comprehensive approach", en Economics Letters, vol. 120, núm. 2, pp.354-357.

Timmer, Marcel, Erik Dietzenbacher, Bart Los, Robert Stehrer y Gaaitzen de Vries
2015 "An Illustrated User Guide to the World Input–Output Database: The Case of Global Automotive Production" en Review of International Economics, vol. 23 núm 3, pp. 575–605.

USITC, United States International Trade Commission
2019 U.S.-Mexico-Canada Trade Agreement: Likely Impact on the U.S. Economy and on Specific Industry Sectors Publication Number: 4889 Investigation Number: TPA 105-003, Washington D.C.

US Trade Representative, Executive Office of the President
2017 Summary of Objectives for the NAFTA Negotiation, July 17, Washington D.C.

Villarreal María de los Angeles y Ian F. Ferguson
2020 "NAFTA and the United States-Mexico-Canada Agreement (USMCA)" Congressional Research Service Report R44981 disponible en https.//www.crs.gov

Wang, Zhi, Shang-Jin Wei, y Kunfu Zhu 2013 "Quantifying international production sharing at the bilateral and sector levels" NBER Working Paper 19677.

WIOD, World Input-Output Database, WIOD Release 13 disponible en: http://www.wiod.org/release13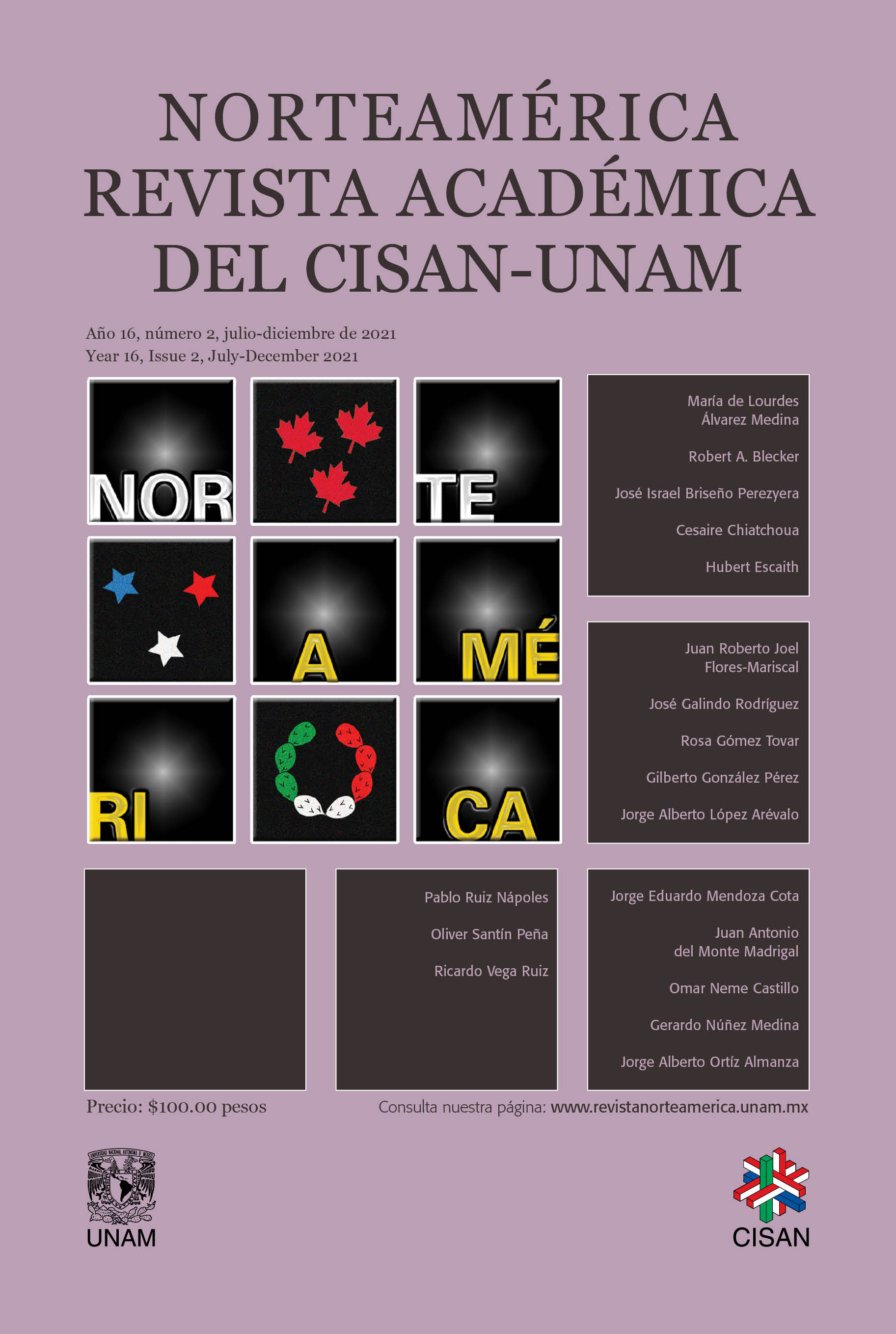 How to Cite
Ruiz Nápoles, P., & Tovar, R. (2021). Potential Effects on Mexico's Economy of the Changes from NAFTA to USMCA. Norteamérica, Revista Académica Del CISAN-UNAM, 16(2). https://doi.org/10.22201/cisan.24487228e.2021.2.518
Copyright (c) 2021 Pablo Ruiz Nápoles, Rosa Gómez Tovar
This work is licensed under a Creative Commons Attribution-NonCommercial-NoDerivatives 4.0 International License.
Authors who publish with this journal agree to the following terms:

Authors retain copyright and grant the journal right of first publication with the work simultaneously licensed under a Creative Commons Attribution License that allows others to share the work with an acknowledgement of the work's authorship and initial publication in this journal.
Authors are able to enter into separate, additional contractual arrangements for the non-exclusive distribution of the journal's published version of the work (e.g., post it to an institutional repository or publish it in a book), with an acknowledgement of its initial publication in this journal.
Authors are permitted and encouraged to post their work online (e.g., in institutional repositories or on their website) prior to and during the submission process, as it can lead to productive exchanges, as well as earlier and greater citation of published work.