Post-Revolutionary Cultural Diplomacy in the Mexico-United States Relationship During the 1920s
Abstract
The main international variable needed to understand Mexican foreign policy is its proximity to the United States. The entry into effect of Mexico's 1917 Constitution presented a particular-ly difficult scenario in that relationship in the 1920s. The general aim of this article is to deter-mine whether the argument that Mexico used cultural diplomacy successfully to contain tensions with the United States and facilitate bilateral negotiations should be accepted or discarded. Performing an exhaustive review of historical literature and a deep dive into archives using the theories of constructive and liberal institutional international relations, the authors begin by analyzing Mexico's cultural diplomacy strategies. They continue by studying the concrete actions carried out for disseminating Mexican culture in the United States. They then evaluate the application of these cultural diplomacy strategies, identifying significant changes in impor-tant U.S. actors' attitudes toward Mexico as well as the increased cooperation between the two countries. Their conclusion is that Mexican cultural diplomacy was a useful foreign policy in-strument for reducing tensions with the United States and facilitating negotiations between the two countries.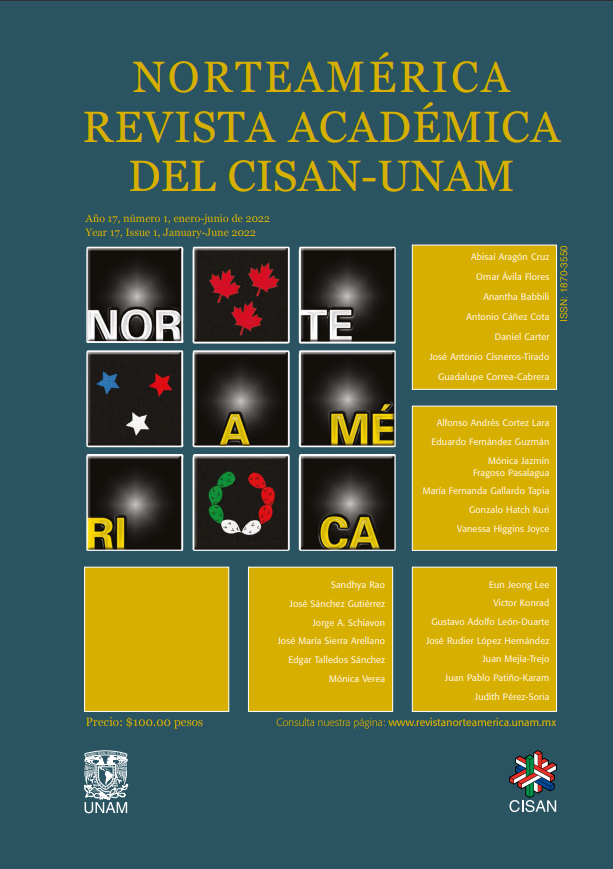 How to Cite
Sierra Arellano, J., & Schiavon, J. (2022). Post-Revolutionary Cultural Diplomacy in the Mexico-United States Relationship During the 1920s. Norteamérica, Revista Académica Del CISAN-UNAM, 17(1). https://doi.org/10.22201/cisan.24487228e.2022.1.481
Copyright (c) 2021 José María Sierra Arellano, Jorge A. Schiavon
This work is licensed under a Creative Commons Attribution-NonCommercial-NoDerivatives 4.0 International License.
Authors who publish with this journal agree to the following terms:

Authors retain copyright and grant the journal right of first publication with the work simultaneously licensed under a Creative Commons Attribution License that allows others to share the work with an acknowledgement of the work's authorship and initial publication in this journal.
Authors are able to enter into separate, additional contractual arrangements for the non-exclusive distribution of the journal's published version of the work (e.g., post it to an institutional repository or publish it in a book), with an acknowledgement of its initial publication in this journal.
Authors are permitted and encouraged to post their work online (e.g., in institutional repositories or on their website) prior to and during the submission process, as it can lead to productive exchanges, as well as earlier and greater citation of published work.