Russia and the 2020 Presidential Election in the United States
Daniela Sandoval Careaga

Universidad Nacional Autónoma de México

Alexander Alexeyevich Kornilov

Lobachevsky State University
Abstract
Given the outlook for the upcoming 2020 Presidential Election in the United States, where Donald Trump (Republican Party) seeks re-election, and Joe Biden holds the candidacy for the Democratic Party, questions arise regarding how this result may impact Russia in the international scenario. The aim of this analysis is to study that whether Republicans or Democrats win, for Russia the bilateral relationship with the United States -in geopolitical and security terms- will continue to be a challenge. If Trump is re-elected, US foreign policy will follow the line of defensive measures -economic and political-, as well as the retreat of geopolitical spaces and global leadership to guarantee his America First axis. If Biden is elected, Russia will not relax, because the Democrats seek to regain those lost or weakened spaces of leadership. To study this topic, this text will first analyze how Russia places itself in the 21st century, and that is related to its contemporary vision, geopolitical thinking and strategy. Second, from a neorealist perspective, the paper examines what happened in 2016 US Presidential Elections and why it has been alleged to Russian meddling. It is also necessary to go through the key concept of power and how Joseph Nye studies it from a global power shift perspective and how it is related with information technologies, and exploring how it has been related to the so-called Gerasimov Doctrine. Third, the paper continues with the geopolitical scenarios where the US and Russia have interests, agreements and disagreements, since these will help to explain the aim of this work.
References
Al Jazeera News
2020 February, "What is in Trump's Middle East plan?", in https://www.aljazeera.com/programmes/newsfeed/2020/02/trump-middle-east-plan-200203075824511.html [Accessed 5 July 2020]
Barkoukis, Leah
2016 November, "Emerson College Polling Predicts Clinton Wins By Landslide", in http://townhall.com/tipsheet/leahbarkoukis/2016/11/07/emerson-college-polling-predicts-clinton-wins-by-landslide-n2242543 [Accessed 4 July 2020]
Biden, Joe
2017 November, "Remarks by the Vice President on Nuclear Security", Washington DC, in https://obamawhitehouse.archives.gov/the-press-office/2017/01/12/remarks-vice-president-nuclear-security [Accessed 21 June 2020]
2020, Joe Biden for President and American Leadership, in https://joebiden.com/americanleadership/ [Accessed 21 June 2020].
Biden Jr, Joseph R. and Michael Carpenter
2018, "How to stand up to the Kremlin", Foreign Affairs, in https://www.foreignaffairs.com/articles/russia-fsu/2017-12-05/how-stand-kremlin [Accessed 15 June 2020]
Buskovitch, Paul
2012, Historia de Rusia, Akal Editorial, Spain.
Concept of the Russian Federation's State Policy in the Area of International Development Assistance (April 20, 2014)
Coutu, D.
2008, Smart Power. Harvard Business Review, 11. Retrieved 27 October 2020, from https://hbr.org/2008/11/smart-power.
De Pedro, Nicolás
2016, "La sombra del Kremlin en las elecciones de Estados Unidos", in Elecciones Presidenciales en Estados Unidos, Eckart Woertz (coord.), CIDOB, Barcelona, pp. 35-38
Dougherty, Jill
2017 May, "Relations between The US and Russia have reached rock bottom", in http://www.newsweek.com/relations-betweenus-and-russia-have-reached-rock-bottom-678612 [Accessed 11 June 2020]
Dunn Cavelty, M., & Mauer, V.
2010, The Routledge Handbook of Security Studies. Taylor and Francis Group.
Foreign Policy Activity state program (May 21, 2020)
Foreign Policy Concept of the Russian Federation (approved by President of the Russian Federation Vladimir Putin on November 30, 2016)
Gerasimov, V.
2013, Ценность науки в предвидении (The value of science in foresight). Военно-Промышленный Курьер (Military Industrial Courier), 41 (854). Retrieved 27 October 2020, from https://www.vpk-news.ru/articles/14632.
Gromyko, A.
2020 September, Russia-EU Modern Relations: Regional Features & Perspectives. Lecture, Lobachevsky University, Nizhny Novgorod, Russia.
Haushofer, Karl
1998, "Why Geopolitik", The Geopolitics Reader, Gearóid Ó Tuathail, Simon Dalby, Paul Routledge (editors), Routledge, United States, pp. 33-36.
Hermann, M.
1980, Explaining Foreign Policy Behavior Using the Personal Characteristics of Political Leaders. International Studies Quarterly, 24(1), 7-46. https://doi.org/10.2307/2600126
Kasymov, Shavkat
2012, "Statism in Russia: The implications for US–Russian relations", Journal of Eurasian Studies, (Vol. 3, Issue 1), pp.58-68.
Kemaev, K.
2020 September, History of Russian Foreign Policy & Diplomacy. Lecture, Lobachevsky University, Nizhny Novgorod, Russia
Kortunov, Andrey
2020 June, "President Joe Biden and Russia", in https://russiancouncil.ru/en/analytics-and-comments/analytics/president-joe-biden-and-russia/ [Accessed 21 June 2020]
Kravchenko, Ilya
2020 June, "Radical left-wing ideas taking root in the US", Russian Institute for Strategic Studies, in https://en.riss.ru/news/22865/ [Accessed 12 June 2020]
Laruelle, M.
2012, Larger, Higher, Farther North … Geographical Metanarratives of the Nation in Russia. Eurasian Geography and Economics, 53(5), 557-574. https://doi.org/10.2747/1539-7216.53.5.557
Lauter, David
2016 November, "The man behind the USC/L.A. Times poll that predicted Trump winning", in http://www.latimes.com/politics/la-na-pol-trump-polls-20161109-story.html [Accessed 3 July 2020]
Library of Congress. Congressional Research Service
2017 January, "Russia and the US Presidential Election", in https://www.hsdl.org/?view&did=798197 [Accessed 30 June 2020]
Lukyanov, F.
2020, Global Governance and World Order. RIAC Forecast 2019-2024. Retrieved 12 September 2020, from https://russiancouncil.ru/en/2019-globalgovernance.
Matos Franco, Rainer
2020 May, "Russia, socialism and other minutiae" YouTube Interview, in https://www.youtube.com/watch?v=V8wSOoKyerA&list=WL&index=115&t=0s [Accessed 1 July 2020]
Mearsheimer, J.
2001, The Tragedy of Great Power Politics. Norton.
Melʹvilʹ, Andrei and Tatiana Šakleina
2005, Russian Foreign Policy in Transition: Concepts and Realities, Budapest: CEU Press.
Milosevich-Juaristi, Mira
2017 June, "EEUU y Rusia, enemigos íntimos", Real Instituto Elcano, in http://www.realinstitutoelcano.org/wps/portal/rielcano_es/contenido?WCM_GLOBAL_CONTEXT=/elcano/elcano_es/zonas_es/ari54-2017-milosevichjuaristi-eeuu-rusia-enemigos-intimos [Accessed 3 June 2020]
Morgenthau, H.
1978, Politics Among Nations (5th ed.). Knopf.
National Research University Higher School of Economics
2018, World politics after the Cold War ended [Video]. Retrieved 19 August 2020, from https://www.coursera.org/learn/contemprorary-geopolitics/lecture/a7LHn/world-politics-after-the-cold-war-ended.
NATO (The North Atlantic Treaty Organization)
1999 April, "Membership Action Plan approved by the Heads of State and Government participating in the Meeting of the North Atlantic Council", in https://www.nato.int/cps/en/natohq/official_texts_27444.htm?selectedLocale=en [Accessed 27 June 2020]
2018 November, "Russian Meddling in Elections and Referenda in The Alliance", Science and Technology Committee, pp.1-17.
New York Times
2016 November, "Presidential Election Results: Donald J. Trump Wins", in http://www.nytimes.com/elections/results/president [Accessed 3 July 2020]
Nieto, María Isabel
2018, "Las relaciones Estados Unidos-Rusia en la era Trump", UNISCI Journal, No. 48, octubre, Universidad Complutense de Madrid, Madrid, pp. 91-128.
Nye, J. S.
2010, Prefacio y Capítulo 5: El poder blando y la política exterior americana, en Soft Power, Public Affairs, New Hampshire, 2004. Relaciones Internacionales, (14), 117-140. Recuperado a partir de https://revistas.uam.es/relacionesinternacionales/article/view/5019
2020, Technology is driving another global power shift. The Strategist. Retrieved 27 September 2020, from https://www.aspistrategist.org.au/technology-is-driving-another-global-power-shift/.
Orttung, Robert and Indra Overland
2011, "A limited toolbox: Explaining the constraints on Russia's foreign energy policy", Journal of Eurasian Studies, (Vol. 2, Issue 1), pp.74-85.
Prokop, Andrew
2016 October, "The polls are split between Hillary Clinton winning and Hillary Clinton winning in a landslide", in http://www.vox.com/2016/10/18/13311128/polls-trump-clinton-2016-winning [Accessed 4 July 2020]
Putin, Vladimir
2017 November, "Unveiling of monument to Alexander III", in http://en.kremlin.ru/events/president/news/56125 [Accessed 1 July 2020]
Sarquís, D.
1993, El neorrealismo en la reflexión teórica contemporánea: una reseña crítica. Revista Mexicana De Ciencias Políticas Y Sociales, 38(153), 9-47. Retrieved 26 October 2020, from.
Shapiro, Daniel et al.
2020 March, "2020 US Presidential Candidates on Russia: What have they said so far?", in https://www.russiamatters.org/analysis/2020-us-presidential-candidates-russia-what-have-they-said-so-far [Accessed 15 June 2020]
Suchkov, Maxim A.
2020 January, "How Russia is reading the killing of Qasem Soleimaini", in https://www.al-monitor.com/pulse/originals/2020/01/russia-soleimani-iran-us-strikes-iraq.html [Accessed 12 June 2020]
The Washington Post
2019 October, "The October Democratic debate transcript", in https://www.washingtonpost.com/politics/2019/10/15/october-democratic-debate-transcript/ [Accessed 21 June 2020]
The White House
2017 December, "National Security Strategy of The United States of America", Washington DC, pp.1-55.
Trenin, Dmitry V.
2001, The End of Eurasia: Russia on the Border Between Geopolitics and Globalization, Washington: Carnegie Endowment for International Peace.
2020 March, "U.S. Elections and Russia-U.S. Relations, Can the Two Countries Break the Vicious Circle of Confrontation?", Russia in Global Affairs, No. 1, January-March, in https://eng.globalaffairs.ru/articles/us-elections-russia-us-relations/ [Accessed 10 June 2020]
Trump, Donald
2020, Donald J. Trump for President, in [Accessed 21 June 2020].
Tumulty, Karen and Philip Rucker
2016 July, "The GOP's infomercial hopes to sell a likable Trump", The Washington Post, in https://www.washingtonpost.com/politics/republican-convention-aims-to-make-trump-likeable-and-heal-gop-wounds/2016/07/16/39485c14-4b4e-11e6-bdb9-701687974517_story.html [Accessed 11 June 2020]
Waltz, K.
1979, Theory of International Politics. Addison-Weasley.
Weber, M.
1989, Estructuras de Poder (p. 9). Editorial Leviatán.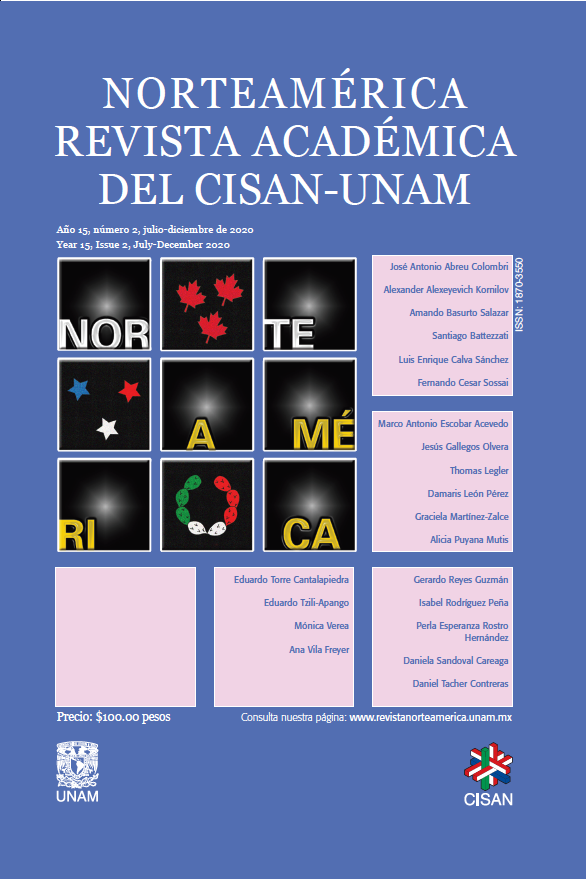 How to Cite
Sandoval Careaga, D., & Alexeyevich Kornilov, A. (2020). Russia and the 2020 Presidential Election in the United States. Norteamérica, Revista Académica Del CISAN-UNAM, 15(2). https://doi.org/10.22201/cisan.24487228e.2020.2.460
Copyright (c) 2020 Daniela Sandoval Careaga, Alexander Alexeyevich Kornilov
This work is licensed under a Creative Commons Attribution-NonCommercial-NoDerivatives 4.0 International License.
Authors who publish with this journal agree to the following terms:

Authors retain copyright and grant the journal right of first publication with the work simultaneously licensed under a Creative Commons Attribution License that allows others to share the work with an acknowledgement of the work's authorship and initial publication in this journal.
Authors are able to enter into separate, additional contractual arrangements for the non-exclusive distribution of the journal's published version of the work (e.g., post it to an institutional repository or publish it in a book), with an acknowledgement of its initial publication in this journal.
Authors are permitted and encouraged to post their work online (e.g., in institutional repositories or on their website) prior to and during the submission process, as it can lead to productive exchanges, as well as earlier and greater citation of published work.