The U. S. Presidential Elections from the Point Of View of the European Press
Carlos de las Heras-Pedrosa

University of Málaga

Carmen Jambrino-Maldonado

University of Málaga

Patricia Iglesias-Sánchez

University of Málaga

Jairo Lugo-Ocando

University of Leeds, England
Abstract
Public relations strategies based on dramatization are key tools to achieving success in electoral campaigns. Press offices play a fundamental role as theatre directors, turning their leaders into great actors. What at first glance would look like a theatrical performance is, more than ever, what happened in the US presidential elections. Newspapers are intensifying the use of visual elements to reinforce the news. This research paper analyses 2,463 articles from eight digital newspapers in four countries to learn about the impact of visuals and dramatization on the European press. It seems paradoxical that the progressive newspapers devoted more articles to Trump than the conservative newspapers. A lack of time on the part of the journalists? What is certain is that the visuals prepared by Trump's press office and his perfectly designed public appearances, were reproduced by the media. The study shows that the progressive newspapers analysed have contributed to giving Trump greater visibility in Europe.
References
AHMADIAN, SARA, SARA AZARSHAHI, & DELROY PAULHUS
"Explaining Donald Trump via communication style: Grandiosity, informality, and dynamism" in Personality and Individual Differences, núm. 107, pp. 49-53. doi:10.1016/j.paid.2016.11.018
ASHCROFT, ANTON
"Donald Trump: Narcissist, Psychopath or Representative of the People?" in Psychotherapy and Politics International, vol. 14, núm. 3, pp. 217-222. doi:10.1002/ppi.1395
BACCHETTA, PAOLA
"Book Review: Gender ironies of nationalism: Sexing the nation" in Cultura Geographies, vol. 9, núm. 3, pp. 367-368. doi:10.1177/147447400200900312
BERROCAL GONZALO, SALOME, EVA CAMPOS DOMÍNGUEZ & MARTA REDONDO GARCÍA
"Comunicación Política en Internet: La tendencia al "infoentretenimiento" político en "YouTube"" in Estudios sobre el Mensaje Periodístico, vol. 18, núm. 2, pp. 643-659. doi:10.5209/rev_esmp.2012.v18.n2.41037
BURKE, KENNETH
On Symbols and Society, The University of Chicago Press, Chicago.
BURRELL, BARBARA, LAUREL ELDER & BRIAN FREDERICK
"Polls and Elections: From Hillary to Michelle: Public Opinion and the Spouses of Presidential Candidates" in Presidential Studies Quarterly, vol. 41, núm. 1, pp. 156-176. doi:10.1111/j.1741-5705.2010.03835
CAMPOS DOMÍNGUEZ, EVA, LIDIA VALERA ORDAZ, & GUILLERMO LÓPEZ GARCÍA
"Emisores políticos, mediáticos y ciudadanos en internet: hacia un nuevo marco comunicativo en la jornada de reflexión en España" in História, Ciências, Saúde-Manguinhos, vol. 22(suppl), pp. 1621-1636. doi:10.1590/s0104-59702015000500005
COLLINS, ELIZA
September, "Trump´s "winning temperament" dominated Facebook, Twitter-Big league", available at USA Today, consulted: September 27, 2016. https://www.usatoday.com/story/news/politics/onpolitics/2016/09/27/trumps-winning-tempermant-won-facebook-twitter/91157680/
DE LAS HERAS-PEDROSA, CARLOS ET AL.
"Image of U.S. presidential candidates in Spanish digital press" in Revista Latina de Comunicación Social, vol. 72, pp. 975 -997. doi: 10.4185/RLCS-2017-1203en
DODD, MELISSA D. & STEVE J. COLLINS
"Public relations message strategies and public diplomac y 2.0: An empirical analysis using Central-Eastern European and Western Embassy Twitter accounts" in Public Relations Review, vol. 43, núm. 2, pp. 417-425. doi: 10.1016/j.pubrev.2017.02.004
EUROTOPICS
June, "Media Index", available at http://www.ifabc.org/, consulted June 12, 2017
GAUSBY, ALYSON
May, "Attention Spans. Consumer Insights", available at Marketing, consulted: May 19, 2015. http://marketingmag.ca/consumer/how-digital-is-affection-attention-spans-146742/
GÖKARIKSEL, BANU & SARA H. SMITH
""Making America great again"?: The fascist body politics of Donald Trump" in Political Geography, vol. 54, pp. 79-81. doi:10.1016/j.polgeo.2016.07.004
GOODELL, JOHN. & SAMY VÄHÄMAA
"U.S. Presidential Electioms and Implied Volatility: The Role of Political Uncertainty" in Journal of Banking and Finance, vol. 37, núm. 3, pp.1108-1117. doi:10.2139/ssrn.2014823
HALE, BRENT J., & MARÍA E. GRABE
"Visual War: A Content Analysis of Clinton and Trump Subreddits During the 2016 Campaign" in Journalism & Mass Communication Quarterly, vol. 95, núm. 2, pp. 449-470. doi:10.1177/1077699018766501
HAZLETON, VINCENT & LARRY W. LONG
"Concepts for public relations education, research and practice: A communication point of view" in Central States Speech Journal, vol. 39, núm. 2, pp. 77-87. doi:10.1080/10510978809363239
HAZLETON, VINCENT
"Symbolic resources processes in the development and use of symbolic resources" in Image und PR, pp. 87-100. doi:10.1007/978-3-322-85729-3_6.
IHLEN, OYVIND
"On Barnyard Scrambles: Toward a Rhetoric of Public Relations" in Management Communication Quarterly, vol. 25, núm. 3, pp. 455-473. doi:10.1177/0893318911409533
KRIPPENDORFF, KLAUS
Metodología de análisis de contenido. Teoría y Práctica, Paidos, Barcelona.
LEE, JAYEON & YOUNG-SHIN LIM
"Gendered campaign tweets: The cases of Hillary Clinton and Donald Trump" in Public Relations Review, vol. 42, núm. 5, pp. 849-855. doi:10.1016/j.pubrev.2016.07.004
LOSADA DÍAZ, JOSÉ C.
"Los medios de comunicación como generadores de imagen corporativa: los públicos internos" in Comunicación y Sociedad, vol. 15, núm. 2, pp. 95-113.
http://dadun.unav.edu/bitstream/10171/8003/1/20100226131610.pdf
MARSHALL, P. DAVID
"The promotion and presentation of the self: celebrity as market of presentational media" in Celebrity Studies, vol. 1, núm. 1, pp. 35-48. doi: 10.1080/1939239090351957
NAEGELE, KASPAR & ERVING GOFFMAN
"The Presentation of Self in Everyday Life" in American Sociological Review, vol. 21, núm. 5, pp. 631-632. doi:10.2307/2089106
ROSS, ANDREW S. & DAMIAN J. RIVERS
"Digital cultures of political participation: Internet memes and the discursive delegitimization of the 2016 U.S Presidential candidates" in Discourse, Context and Media, vol. 16, pp. 1-11. doi:10.1016/j.dcm.2017.01.001
RUSSELL, KAREN M. & MARGOT O. LAMME
"Theorizing public relations history: The roles of strategic intent and human agency" in Public Relations Review, vol. 42, núm. 5, pp. 741-747. doi:10.1016/j.pubrev-2016.04.002
SOTELO ENRÍQUEZ, CARLOS
Introducción a la Comunicación Institucional, Ariel, Barcelona.
STEIN, RANDY
""Trumping"conformity: Urges towards conformity to ingroups and nonconformity to morally opposed outgroups" in Journal of Experimental Social Psychology, vol. 70, pp. 34-40. doi:10.1016/j.jesp.2016.12.007
TAYLOR, MAUREEN
"Building Social Capital Through Rhetoric and Public Relations" in Management Communication Quarterly, vol. 25, núm. 3, pp. 436-454. doi:10.1177/0893318911410286
TOTH, ELIZABETH
The case for pluralistic studies of public relations: rhetorical, critical and excellence perspectives in Robert Heath, Elizabeth Toth, Damion Waymer, eds. (2009). Rhetorical and critical approaches to public relations II, pp. 48-60. Routledge, New York.
VAN DER MEER, TONI G.L.A.
"Automated content analysis and crisis communication research" in Public Relations Review, vol. 42, núm. 5, pp. 952-961. doi:10.1016/j.pubrev.2016.09.001
VISSER, B.A.; BOOK, A.S. & VOLK, A.A.
Is Hillary dishonest and Donald narcissistic? A HEXACO analysis of the presidential candidates' public personas. Personality and Individual Differences, 106(1), 281-286. doi.org/10.1016/j.paid.2016.10.053
WERDER, K. P.
Responding to Activism: An experimental analysis of public relations strategy influence on attributes of publics. Journal of Public Relations Research, 18(4), 335-356. doi:10.1207/s1532754xjprr1804_3.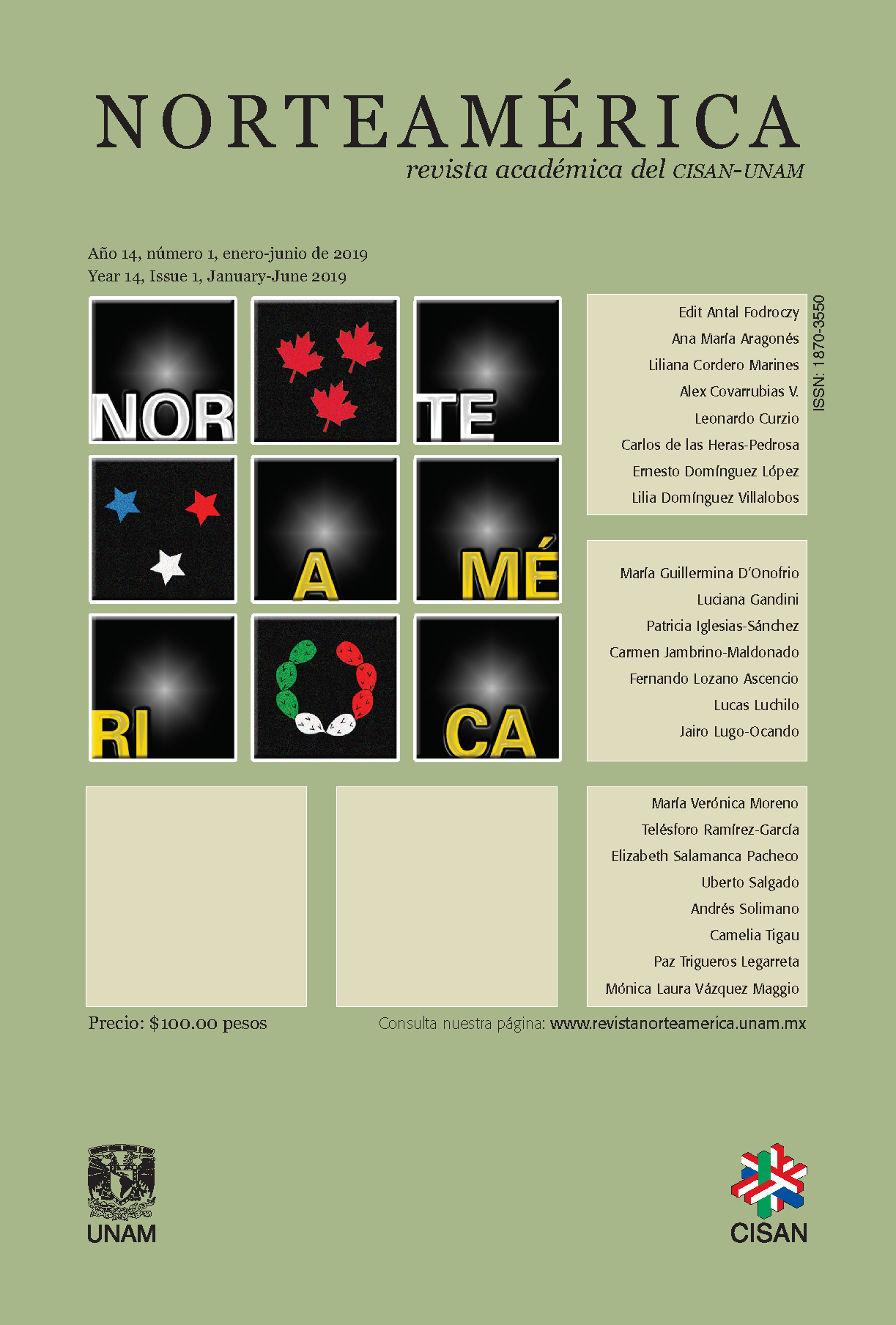 How to Cite
de las Heras-Pedrosa, C., Jambrino-Maldonado, C., Iglesias-Sánchez, P., & Lugo-Ocando, J. (2019). The U. S. Presidential Elections from the Point Of View of the European Press. Norteamérica, Revista Académica Del CISAN-UNAM, 14(1). https://doi.org/10.22201/cisan.24487228e.2019.1.374
Copyright (c) 2019 Carlos de las Heras-Pedrosa, Carmen Jambrino-Maldonado, Patricia Iglesias-Sánchez, Jairo Lugo-Ocando
This work is licensed under a Creative Commons Attribution-NonCommercial-NoDerivatives 4.0 International License.
Authors who publish with this journal agree to the following terms:

Authors retain copyright and grant the journal right of first publication with the work simultaneously licensed under a Creative Commons Attribution License that allows others to share the work with an acknowledgement of the work's authorship and initial publication in this journal.
Authors are able to enter into separate, additional contractual arrangements for the non-exclusive distribution of the journal's published version of the work (e.g., post it to an institutional repository or publish it in a book), with an acknowledgement of its initial publication in this journal.
Authors are permitted and encouraged to post their work online (e.g., in institutional repositories or on their website) prior to and during the submission process, as it can lead to productive exchanges, as well as earlier and greater citation of published work.