Anti-Immigrant and Anti-Mexican Attitudes And Policies during the First 18 Months Of the Trump Administration
Mónica Verea

Centro de Investigaciones sobre América del Norte (CISAN), Universidad Nacional Autónoma de México (UNAM)
Keywords:
immigration policies, anti-immigrant attitudes, Trump administration, DACA, TPS
Abstract
Trump's destructive anti-immigrant and "Mexican-phobic" rhetoric has been the common denominator justifying the wide variety of executive orders he has signed and the highly punitive directives he has established as part of his hard-line immigration policy, which has played a leading role during his first 18 months as president. The author describes how, without congressional approval, he has made several moves and imposed numerous actions such as significantly increasing the criminalization of immigrants; considerably raising the number of detentions of non-criminal undocumented migrants; responding aggressively to sanctuary policies; putting an end to the Deferred Action for Childhood Arrivals (DACA) and the Temporary Protected Status (TPS) of more than one million immigrants; appreciably decreasing refugee admissions; banning Muslims from entering the U.S.; and very inhumanly and cruelly separating families at the border, among other measures. As president, Trump has enjoyed broad discretion to implement his aggressive hard-line immigration policy as never before; nonetheless, divisions within Congress and some objections from the courts have been crucial for stopping his harsh anti-immigrant policies. Trump's actions have negatively affected immigrants, mainly of Mexican and Muslim origin, significantly damaging the historically strong bilateral relationship between the U.S. and Mexico.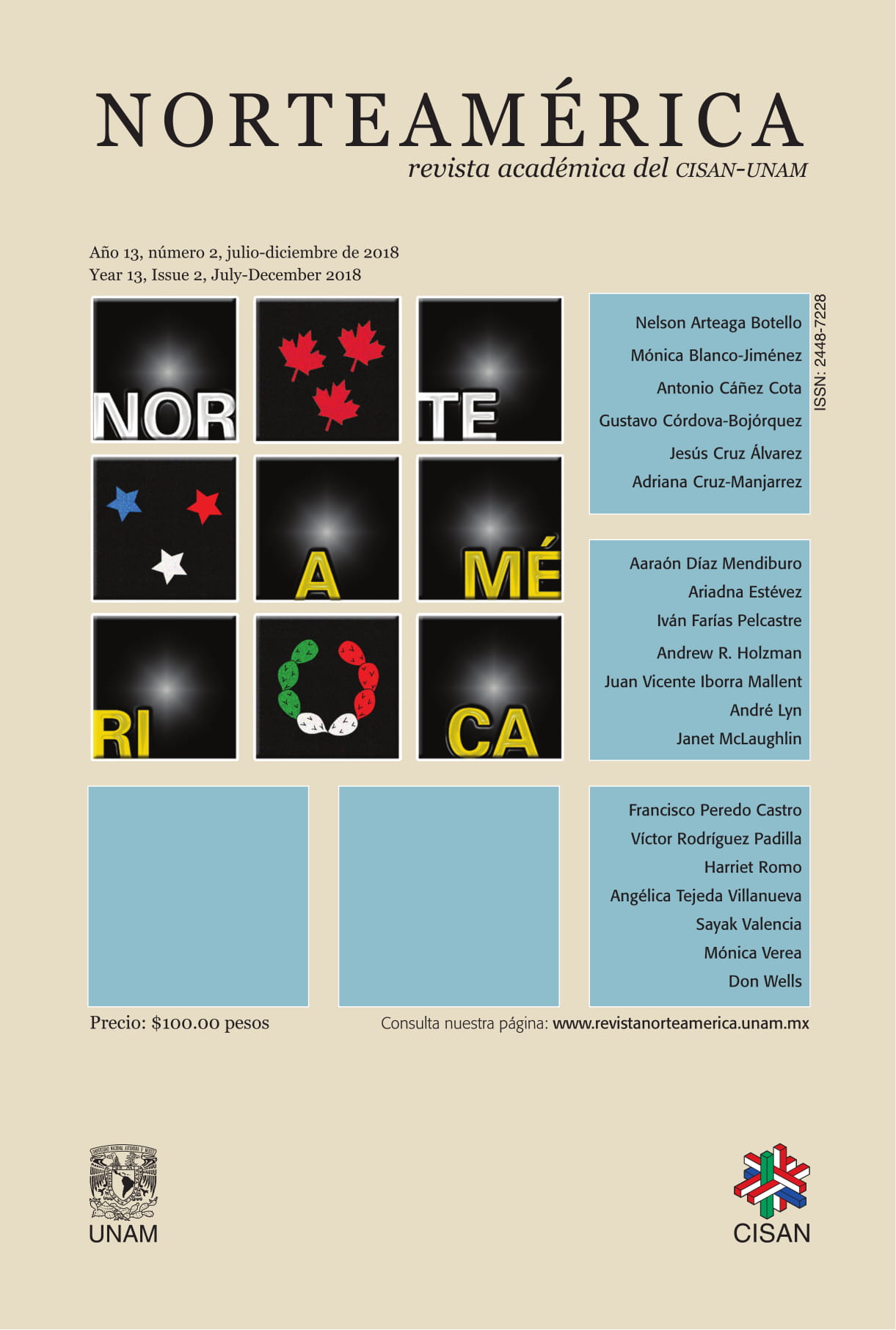 How to Cite
Verea, M. (2018). Anti-Immigrant and Anti-Mexican Attitudes And Policies during the First 18 Months Of the Trump Administration. Norteamérica, Revista Académica Del CISAN-UNAM, 13(2). https://doi.org/10.22201/cisan.24487228e.2018.2.335
Section
CONTEMPORARY ISSUES
Copyright (c) 2018 Mónica Verea
This work is licensed under a Creative Commons Attribution-NonCommercial-NoDerivatives 4.0 International License.
Authors who publish with this journal agree to the following terms:

Authors retain copyright and grant the journal right of first publication with the work simultaneously licensed under a Creative Commons Attribution License that allows others to share the work with an acknowledgement of the work's authorship and initial publication in this journal.
Authors are able to enter into separate, additional contractual arrangements for the non-exclusive distribution of the journal's published version of the work (e.g., post it to an institutional repository or publish it in a book), with an acknowledgement of its initial publication in this journal.
Authors are permitted and encouraged to post their work online (e.g., in institutional repositories or on their website) prior to and during the submission process, as it can lead to productive exchanges, as well as earlier and greater citation of published work.