Wage Inequalities among Latin American Migrants and U.S.-Born Workers (1980-2010)
Maritza Caicedo

Instituto de Investigaciones Sociales, UNAM
Keywords:
wage inequality, Latin American and Caribbean immigrants, labor market, United States.
Abstract
This article examines wage disparities among U.S. workers between 1980 and 2010. The author analyzes wage differences by sex, place of origin, and type of job. In general, wage differences between men and women and the native-born and immigrants persist over time and increase in both cases. There is a greater concentration of earnings among men than among women. Wage inequality increased in 2010 with the economic crisis, above all in certain groups: nonHispanic white native-born workers concentrate more income, whereas inequality is less among jobs requiring higher qualifications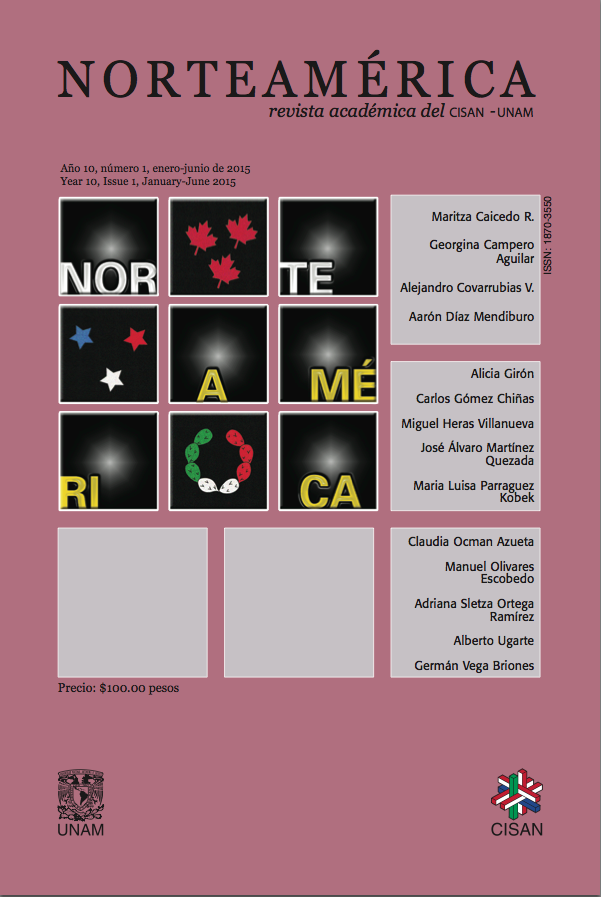 How to Cite
Caicedo, M. (1). Wage Inequalities among Latin American Migrants and U.S.-Born Workers (1980-2010). Norteamérica, Revista Académica Del CISAN-UNAM, 10(1). https://doi.org/10.20999/nam.2015.a005
Section
CONTEMPORARY ISSUES
Copyright (c) 2016 Maritza Caicedo
This work is licensed under a Creative Commons Attribution-NonCommercial-NoDerivatives 4.0 International License.
Authors who publish with this journal agree to the following terms:

Authors retain copyright and grant the journal right of first publication with the work simultaneously licensed under a Creative Commons Attribution License that allows others to share the work with an acknowledgement of the work's authorship and initial publication in this journal.
Authors are able to enter into separate, additional contractual arrangements for the non-exclusive distribution of the journal's published version of the work (e.g., post it to an institutional repository or publish it in a book), with an acknowledgement of its initial publication in this journal.
Authors are permitted and encouraged to post their work online (e.g., in institutional repositories or on their website) prior to and during the submission process, as it can lead to productive exchanges, as well as earlier and greater citation of published work.