Cuando la literatura quebequense vuela en Iberia: mitos y realidades de la traducción al español
María Sierra Córdoba Serrano

Profesora asociada, Monterey Institute of International Studies, Graduate School of Translation, Interpretation& Language Education
Keywords:
Literatura quebequense, intercambios literarios transatlánticos, sociología de la edición internacional, Pierre Bourdieu, estudios de traducción.
Abstract
La autora de este artículo pone a prueba el supuesto según el cual, en el caso de la narrativa quebequense traducida al español, España actúa como puerta de entrada al continente americano. Para ello, partiendo de una sociología de corte bourdieusiano, analiza la circulación en el espacio hispánico de traducciones de narrativa quebequense publicadas en España entre 1990 y 2012, y distribuidas o coeditadas en suelo americano. La autora concluye que, especialmente en el caso de los conglomerados editoriales internacionales, España actúa como barrera que impide una segunda vida a estas traducciones en el continente americano.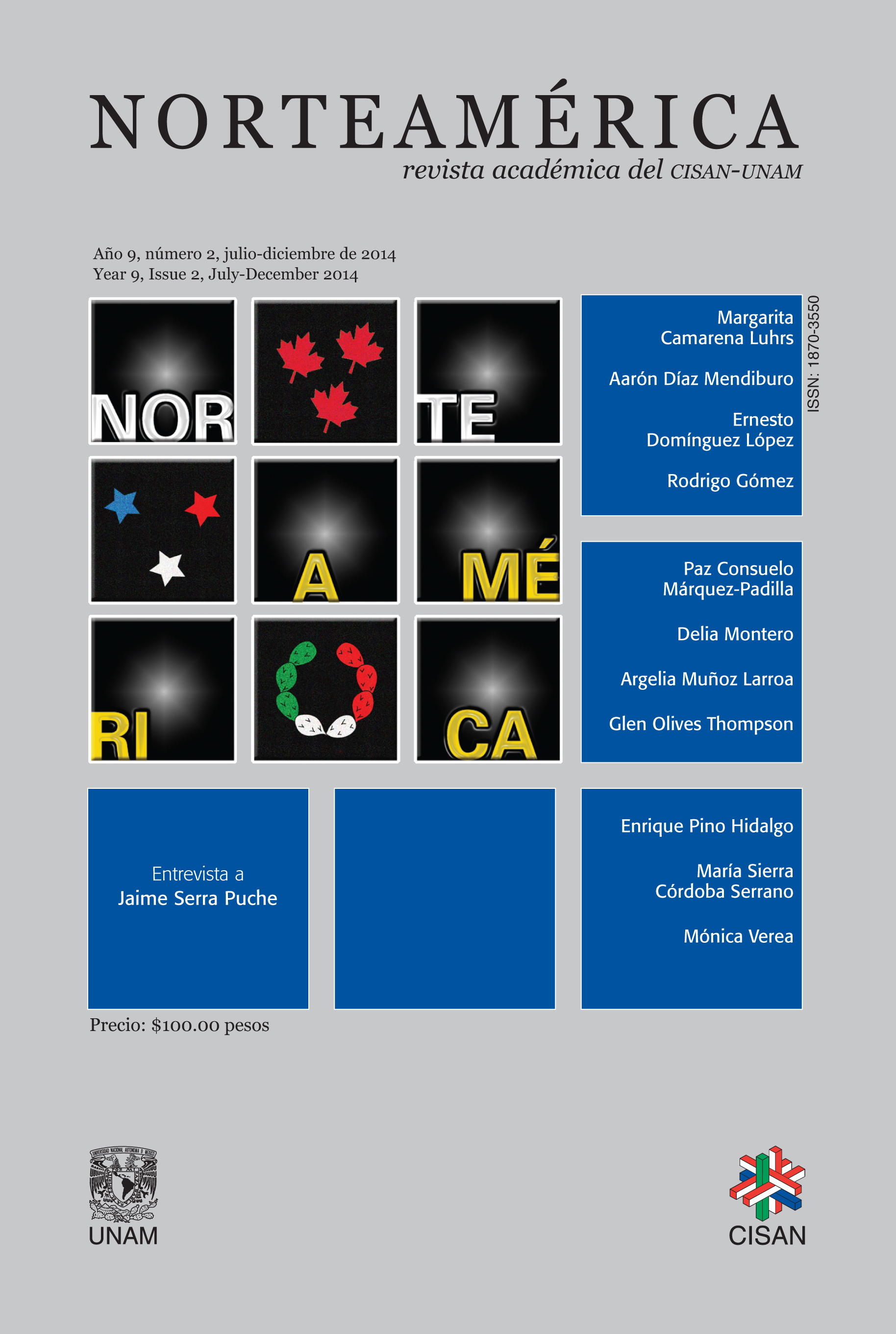 How to Cite
Sierra Córdoba Serrano, M. (2014). Cuando la literatura quebequense vuela en Iberia: mitos y realidades de la traducción al español. Norteamérica, Revista Académica Del CISAN-UNAM, 9(2). https://doi.org/10.20999/nam.2014.b004
Copyright (c) 2015 María Sierra Córdoba Serrano
This work is licensed under a Creative Commons Attribution-NonCommercial-NoDerivatives 4.0 International License.
Authors who publish with this journal agree to the following terms:

Authors retain copyright and grant the journal right of first publication with the work simultaneously licensed under a Creative Commons Attribution License that allows others to share the work with an acknowledgement of the work's authorship and initial publication in this journal.
Authors are able to enter into separate, additional contractual arrangements for the non-exclusive distribution of the journal's published version of the work (e.g., post it to an institutional repository or publish it in a book), with an acknowledgement of its initial publication in this journal.
Authors are permitted and encouraged to post their work online (e.g., in institutional repositories or on their website) prior to and during the submission process, as it can lead to productive exchanges, as well as earlier and greater citation of published work.