The Security and Prosperity Partnership And the Pitfalls of North American Regionalism
Alicja Gluszek

Post-doctoral fellow, Center for Research on North America, UNAM
Keywords:
North American integration, regional governance, Security and Prosperity Partnership.
Abstract
The article aims to describe in detail the essence of the Security and Prosperity Partnership (SPP), interpreting it as an initiative to overcome disfunctionalities and shortcomings of previous international arrangements among the United States, Canada, and Mexico. The SPP failed to deliver the results that its initiators had in mind; its outputs were limited in scope measured in terms of the issues tackled, joint policies, and regional regimes. It brought some policy integration into North America beyond economic issues, but did not transform itself into a regional governance mechanism that would bring about self-regulation norms and structures.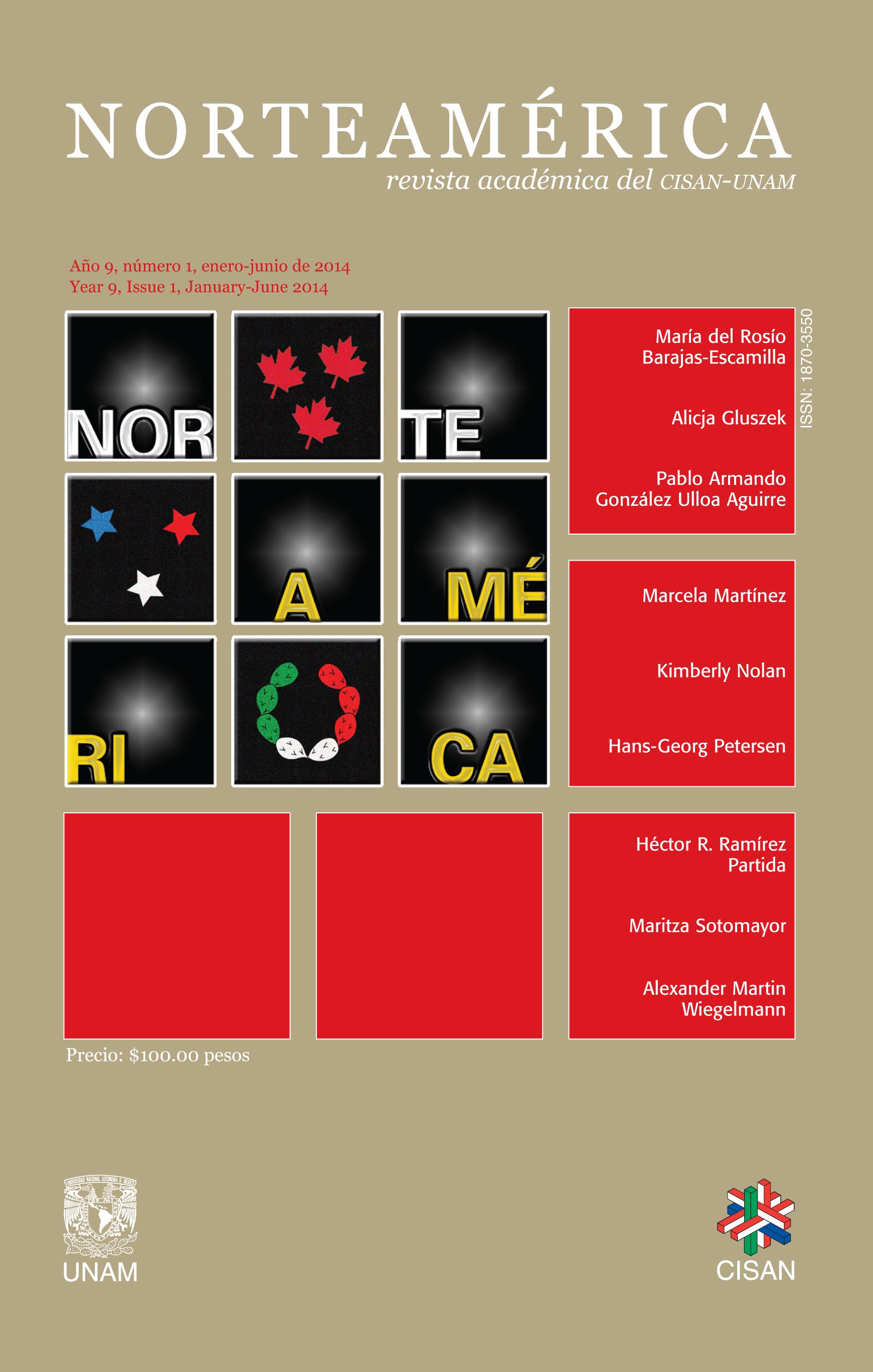 How to Cite
Gluszek, A. (2014). The Security and Prosperity Partnership And the Pitfalls of North American Regionalism. Norteamérica, Revista Académica Del CISAN-UNAM, 9(1). https://doi.org/10.20999/nam.2014.a001
Copyright (c) 2015 Alicja Gluszek
This work is licensed under a Creative Commons Attribution-NonCommercial-NoDerivatives 4.0 International License.
Authors who publish with this journal agree to the following terms:

Authors retain copyright and grant the journal right of first publication with the work simultaneously licensed under a Creative Commons Attribution License that allows others to share the work with an acknowledgement of the work's authorship and initial publication in this journal.
Authors are able to enter into separate, additional contractual arrangements for the non-exclusive distribution of the journal's published version of the work (e.g., post it to an institutional repository or publish it in a book), with an acknowledgement of its initial publication in this journal.
Authors are permitted and encouraged to post their work online (e.g., in institutional repositories or on their website) prior to and during the submission process, as it can lead to productive exchanges, as well as earlier and greater citation of published work.