National Governments, Transnational Actors, and their Roles in the Creation of the North American Environmental Agreements and Institutions
Iván Farías Pelcastre

Rothermere American Institute, University of Oxford, UK; Centro de Estudios Políticos y Constitucionales,Madrid, Spain
Keywords:
North American environment, regional integration, nafta, liberal intergovernmentalism, transnationalism.
Abstract
Most theoretical accounts in the current literature on North American integration consider the implementation of side and parallel environmental agreements to the North American Free Trade Agreement (NAFTA) and their corresponding institutions either a side-effect of the national governments' pursuit of their economic interests or the result of successful pressure by non-governmental organizations to include their socio-environmental demands in the treaty. These opposite explanations closely resemble liberal intergovernmentalist and transnational-focused accounts used to explain the occurrence and progression of regional integration in Europe. This article reviews and challenges both accounts and argues that they both assess inadequately the interests of governmental and transnational actors and their roles and relative influence in determining the outcome of the negotiations of the NAFTA side and parallel agreements on the environment. It proposes that a revised liberal intergovernmentalist account that considers the non-economic national interests of nation-states would explain better the pursuit and negotiation of NAFTA's environmental side and parallel agreements and the institutional structure that resulted from them.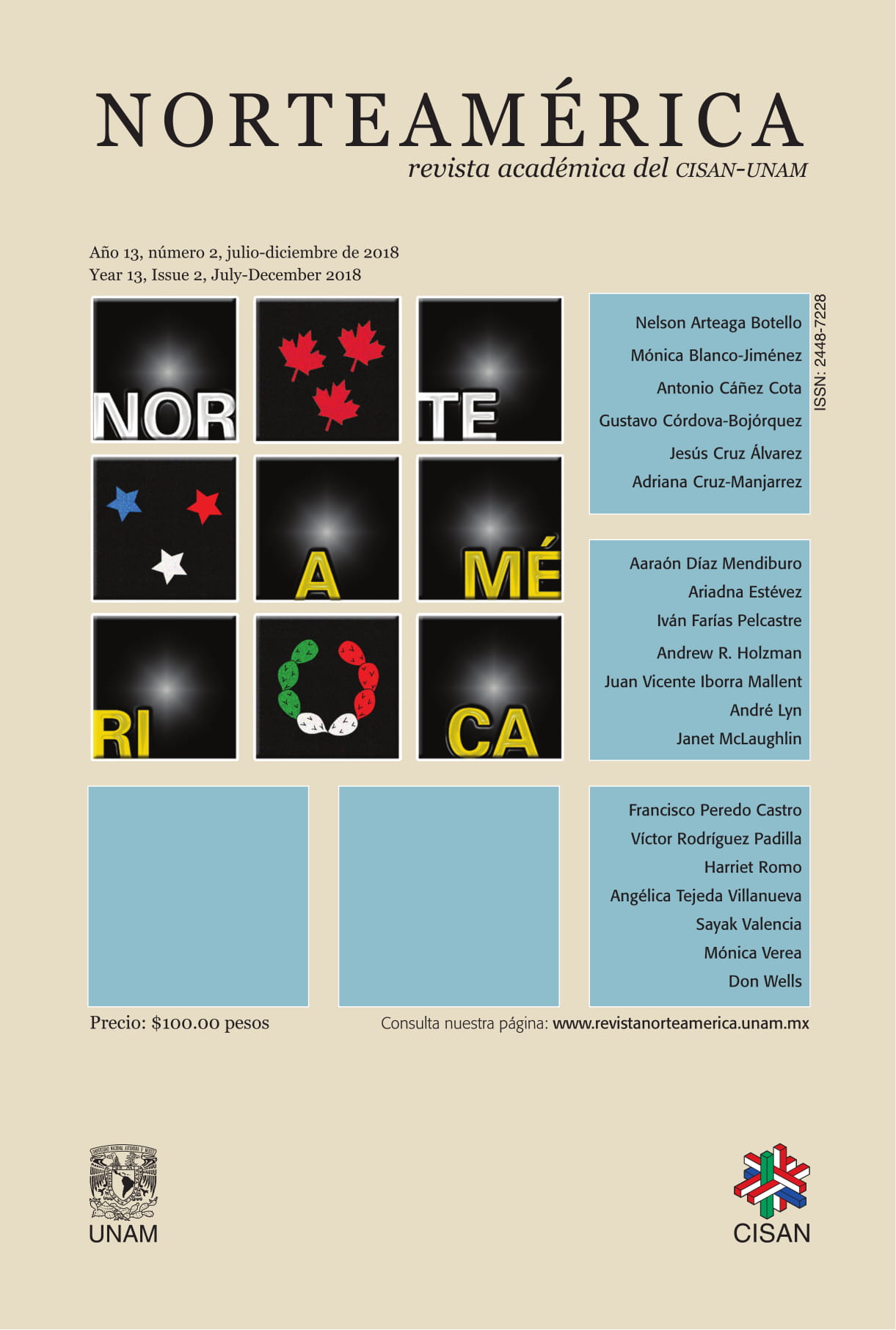 How to Cite
Farías Pelcastre, I. (2018). National Governments, Transnational Actors, and their Roles in the Creation of the North American Environmental Agreements and Institutions. Norteamérica, Revista Académica Del CISAN-UNAM, 13(2). https://doi.org/10.22201/cisan.24487228e.2018.2.331
Copyright (c) 2018 Iván Farías
This work is licensed under a Creative Commons Attribution-NonCommercial-NoDerivatives 4.0 International License.
Authors who publish with this journal agree to the following terms:

Authors retain copyright and grant the journal right of first publication with the work simultaneously licensed under a Creative Commons Attribution License that allows others to share the work with an acknowledgement of the work's authorship and initial publication in this journal.
Authors are able to enter into separate, additional contractual arrangements for the non-exclusive distribution of the journal's published version of the work (e.g., post it to an institutional repository or publish it in a book), with an acknowledgement of its initial publication in this journal.
Authors are permitted and encouraged to post their work online (e.g., in institutional repositories or on their website) prior to and during the submission process, as it can lead to productive exchanges, as well as earlier and greater citation of published work.