La conformación de la Cámara de los Comunes y los gobiernos de Canadá a través de cinco procesos electorales federales (2000-2011) Segunda parte
Oliver Santín Peña

CISAN-UNAM
Keywords:
Canadá, política, elecciones, Cámara de los Comunes.
Abstract
Este trabajo muestra la evolución reciente que ha experimentado el escenario político canadiense de 2000 a 2011, toda vez que durante ese periodo se ha transitado de un gobierno de mayoría absoluta liberal, con Jean Chrétien a la cabeza, a otro de mayoría conservadora con Stephen Harper como primer ministro. Este cambio ha sido producto de intensas batallas político-electorales, las cuales han requerido del voto ciudadano en cinco ocasiones, durante un periodo de once años, lo que implica un llamado electoral federal prácticamente cada dos años, situación que manifiesta el intenso activismo partidista que se ha desarrollado en el país durante la década pasada.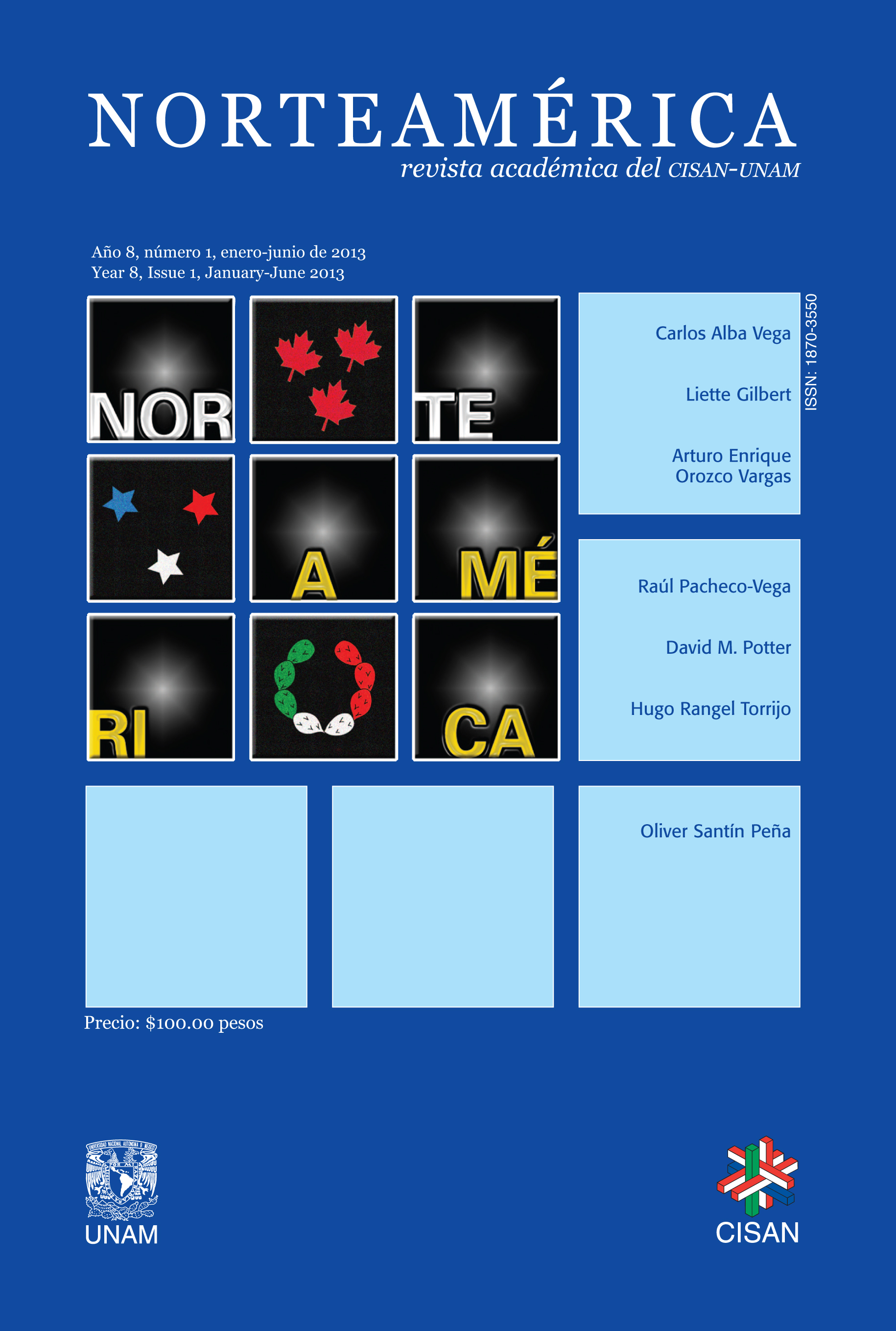 How to Cite
Santín Peña, O. (2012). La conformación de la Cámara de los Comunes y los gobiernos de Canadá a través de cinco procesos electorales federales (2000-2011) Segunda parte. Norteamérica, Revista Académica Del CISAN-UNAM, 8(1). https://doi.org/10.20999/nam.2013.a002
Copyright (c) 2016 Oliver Santín Peña
This work is licensed under a Creative Commons Attribution-NonCommercial-NoDerivatives 4.0 International License.
Authors who publish with this journal agree to the following terms:

Authors retain copyright and grant the journal right of first publication with the work simultaneously licensed under a Creative Commons Attribution License that allows others to share the work with an acknowledgement of the work's authorship and initial publication in this journal.
Authors are able to enter into separate, additional contractual arrangements for the non-exclusive distribution of the journal's published version of the work (e.g., post it to an institutional repository or publish it in a book), with an acknowledgement of its initial publication in this journal.
Authors are permitted and encouraged to post their work online (e.g., in institutional repositories or on their website) prior to and during the submission process, as it can lead to productive exchanges, as well as earlier and greater citation of published work.