United States Biofuel Production as Climate Policy: Tensions between Greenhouse Gas Reduction, Agricultural Economies, And Agro-ecological Practice
Sean Gillon

Postdoctoral researcher at the University of Wisconsin, Madison
Keywords:
Biofuels, climate change policy, agriculture, Iowa, political economy, agro-ecology.
Abstract
This article discusses U.S. biofuel production as a strategy for climate change mitigation, describing how energy independence and greenhouse gas emissions reduction goals may not be met as easily as initially hoped. Alternatively, it positions biofuel production as an "environmental fix," a socio-ecological project indicative of the contradictory imperatives to conserve, exploit, and create resources for accumulation. It examines how this "fix" has developed in rural production areas, focusing on Iowa, in the United States. It also describes how rural residents negotiate a biofuels future that bears significant ecological and economic risks, while it maintains accumulation opportunity for dominant energy and agro-industry actors.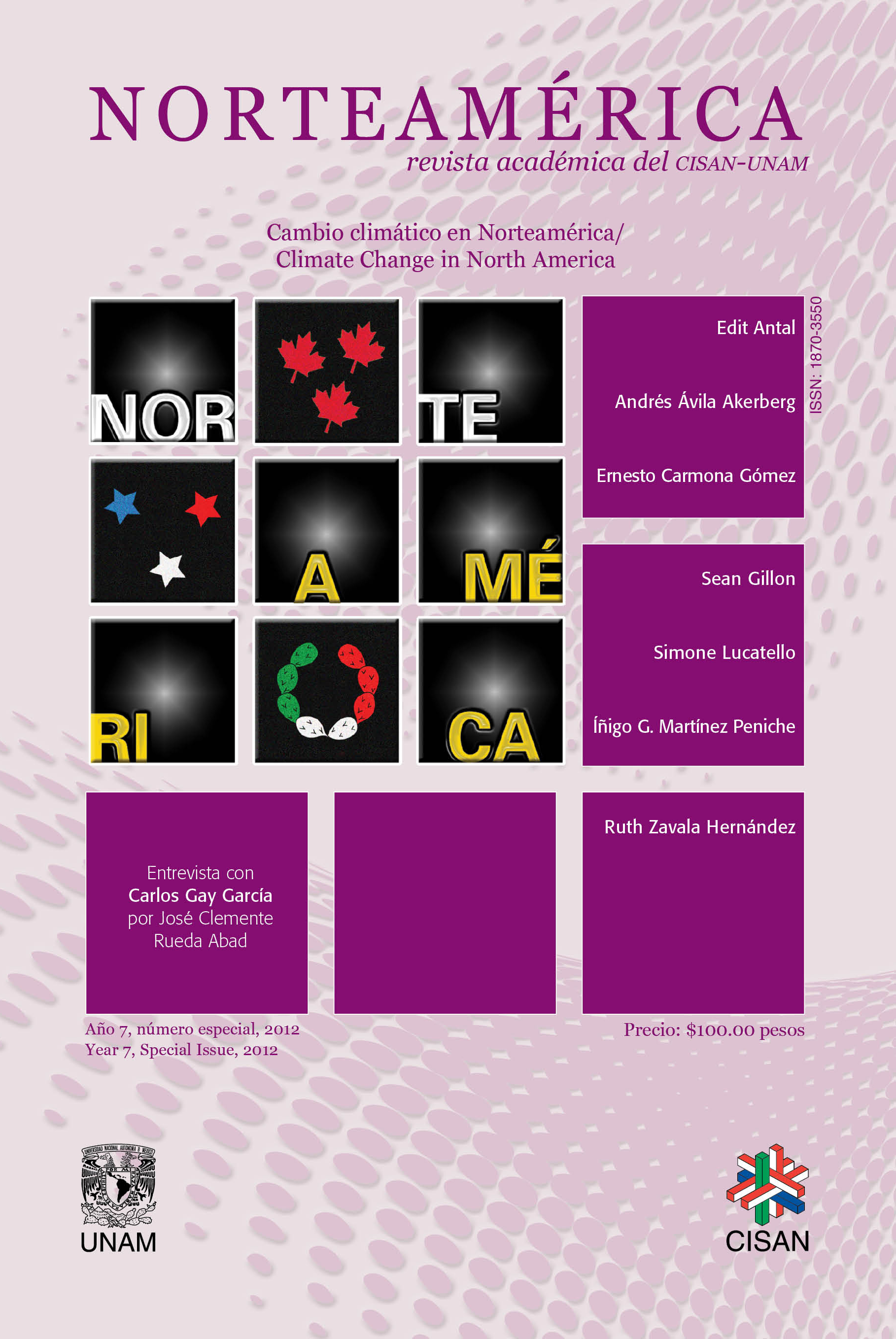 How to Cite
Gillon, S. (2012). United States Biofuel Production as Climate Policy: Tensions between Greenhouse Gas Reduction, Agricultural Economies, And Agro-ecological Practice. Norteamérica, Revista Académica Del CISAN-UNAM, 7(3). https://doi.org/10.22201/cisan.24487228e.2012.3.179
Copyright (c) 2015 Sean Gillon
This work is licensed under a Creative Commons Attribution-NonCommercial-NoDerivatives 4.0 International License.
Authors who publish with this journal agree to the following terms:

Authors retain copyright and grant the journal right of first publication with the work simultaneously licensed under a Creative Commons Attribution License that allows others to share the work with an acknowledgement of the work's authorship and initial publication in this journal.
Authors are able to enter into separate, additional contractual arrangements for the non-exclusive distribution of the journal's published version of the work (e.g., post it to an institutional repository or publish it in a book), with an acknowledgement of its initial publication in this journal.
Authors are permitted and encouraged to post their work online (e.g., in institutional repositories or on their website) prior to and during the submission process, as it can lead to productive exchanges, as well as earlier and greater citation of published work.