Dolores del Río and Lupe Vélez: Working in Hollywood, 1924-1944
Clara E. Rodríguez

Professor at the Department of Sociology and Anthropology of Fordham College at Lincoln Center
Keywords:
Medios de comunicación, etapa temprana de Hollywood, Dolores del Río, Lupe Vélez, estrellas de cine latinas, representación.
Abstract
El artículo se enfoca en Dolores del Río y Lupe Vélez. Sus carreras se contextualizan en relación con la recepción que tuvieron de sus audiencias. El texto se centra en cómo, a pesar de las representaciones opuestas que sobre ellas presentaron los medios y se formaban las personas, ambas tenían mucho en común, puesto que funcionaron en contextos económicos y políticos muy similares. La industria del cine contribuyó a estos aspectos en común al ponerlas en papeles que reflejaban la hipersexualidad atribuida a las latinas, aunque de manera agradable, congruente con la época. A pesar de sus diferentes trayectorias, ambas se involucraron en circuitos transnacionales, confrontaron asuntos de autonomía laboral, cláusulas contractuales, resistencia y control, y a las dos las presionaron para que representaran los estereotipos de Hollywood acerca de sus "comunidades". El análisis del autor se basa en el examen de materiales de primera mano que datan de entre 1924 y 1934, así como en lecturas relevantes de esa época y fuentes de la web. El artículo subraya la importancia de las vidas de estas actrices para los actores latinos contemporáneos.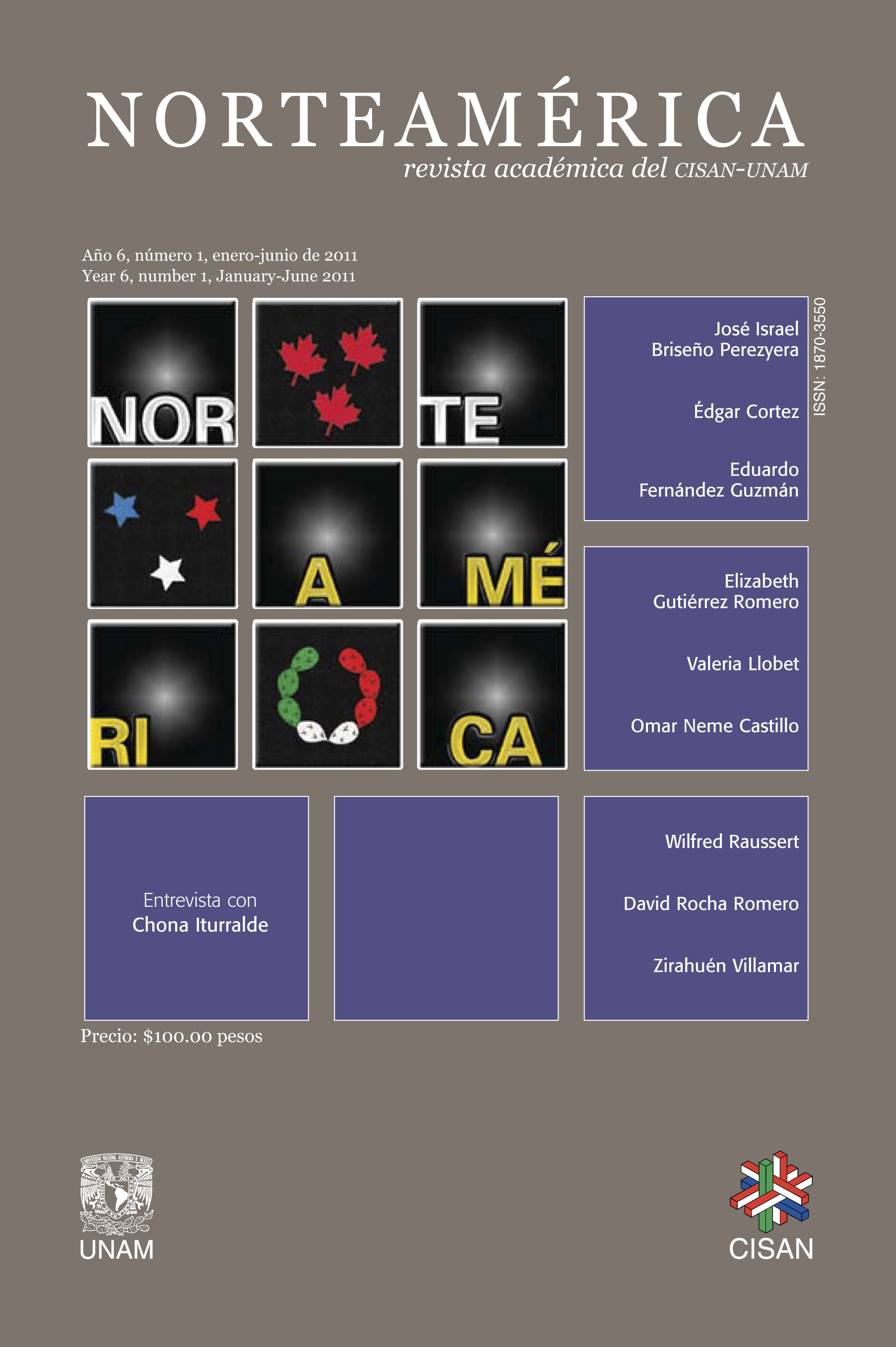 How to Cite
Rodríguez, C. (2011). Dolores del Río and Lupe Vélez: Working in Hollywood, 1924-1944. Norteamérica, Revista Académica Del CISAN-UNAM, 6(1). https://doi.org/10.22201/cisan.24487228e.2011.1.124
Copyright (c) 2015 Clara E. Rodríguez
This work is licensed under a Creative Commons Attribution-NonCommercial-NoDerivatives 4.0 International License.
Authors who publish with this journal agree to the following terms:

Authors retain copyright and grant the journal right of first publication with the work simultaneously licensed under a Creative Commons Attribution License that allows others to share the work with an acknowledgement of the work's authorship and initial publication in this journal.
Authors are able to enter into separate, additional contractual arrangements for the non-exclusive distribution of the journal's published version of the work (e.g., post it to an institutional repository or publish it in a book), with an acknowledgement of its initial publication in this journal.
Authors are permitted and encouraged to post their work online (e.g., in institutional repositories or on their website) prior to and during the submission process, as it can lead to productive exchanges, as well as earlier and greater citation of published work.