Trumpian Populism: Legitimizing Chaos and Right-wing Nationalism as a Political Strategy
José Antonio Cisneros Tirado

Anantha Babbili
Abstract
Since 2015, Donald Trump has impacted American politics and the international system with his incendiary rhetoric. During his campaign and administration, Trump broke with convention in his communication style. Trump rose to power by championing white, conservative Christians, using a highly nationalistic narrative, maintaining a populist ideology, and drawing support from least privileged sectors in rural areas. The 45th president was able to mobilize the impoverished white vote, but also different sectors of the most affluent classes by implementing favorable fiscal policies benefiting the richest sector of the population. In this article, we explore the creation of Trumpian populism as a concept originated by this political leader and his influence on the American electorate. We use storytelling to examine how Trump has successfully polarized the United States' political arena, and undoubtedly, cast a shadow on the legitimacy of the electoral system.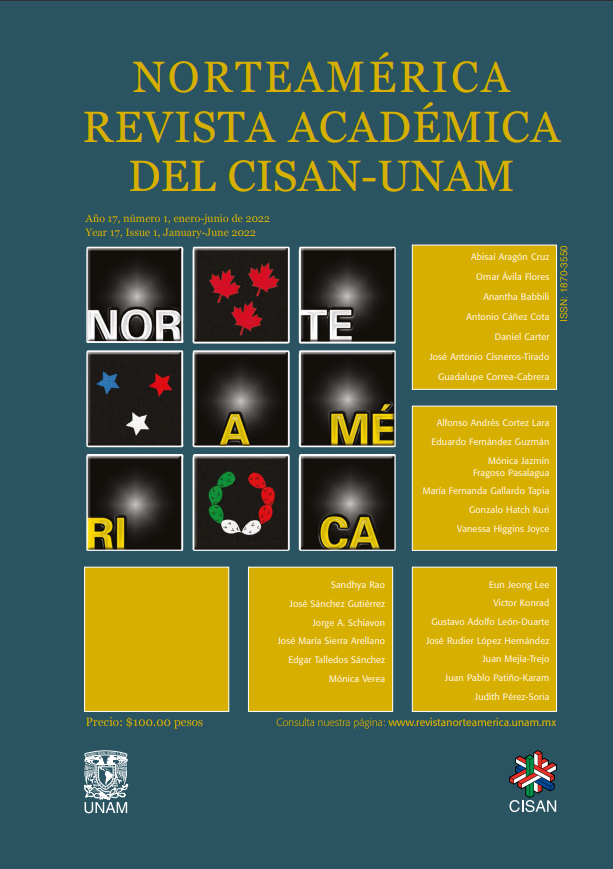 How to Cite
Cisneros Tirado, J. A., & Babbili, A. (2021). Trumpian Populism: Legitimizing Chaos and Right-wing Nationalism as a Political Strategy. Norteamérica, Revista Académica Del CISAN-UNAM, 17(1). https://doi.org/10.22201/cisan.24487228e.2022.1.524
Section
CONTEMPORARY ISSUES
Copyright (c) 2021 José Antonio Cisneros Tirado
This work is licensed under a Creative Commons Attribution-NonCommercial-NoDerivatives 4.0 International License.
Authors who publish with this journal agree to the following terms:

Authors retain copyright and grant the journal right of first publication with the work simultaneously licensed under a Creative Commons Attribution License that allows others to share the work with an acknowledgement of the work's authorship and initial publication in this journal.
Authors are able to enter into separate, additional contractual arrangements for the non-exclusive distribution of the journal's published version of the work (e.g., post it to an institutional repository or publish it in a book), with an acknowledgement of its initial publication in this journal.
Authors are permitted and encouraged to post their work online (e.g., in institutional repositories or on their website) prior to and during the submission process, as it can lead to productive exchanges, as well as earlier and greater citation of published work.