Groundwater in North America, a Studycase: Contamination Risk and Use of Springs in San Simón Almolongas, Oaxaca, Mexico
Abisaí Aragón Cruz

Universidad de la Sierra Sur

José Rudier López Hernández

Instituto de Estudios Municipales, Universidad de la Sierra Sur,

Omar Ávila Flores
Abstract
The countries that make up North American region tackle water problems related with health of water, where rural communities and indigenous population are the most affected. The diverse use given to supply sources complicates the scenario, so the use of polluted water significantly affects access and sufficient, acceptable and affordable disposal. Under this point of view, the research to identifying the use and risk of contamination of natural spring in San Simon Almolongas, Oaxaca, Mexico. The main outcomes point out the predominant utilization of this resource is for human consumption and agriculture activities, moreover, there are potential factors of pollution such as the use of fertilizers and the presence of inhabited dwelling, therefore it is necessary to strengthen the management systems and institutions for the adequate management of resource.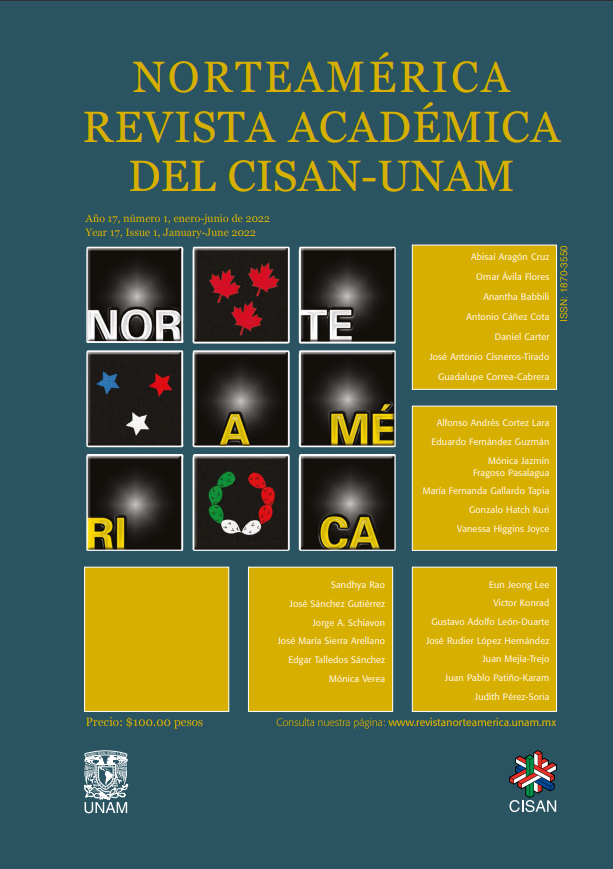 How to Cite
Aragón Cruz, A., López Hernández, J. R., & Ávila Flores, O. (2022). Groundwater in North America, a Studycase: Contamination Risk and Use of Springs in San Simón Almolongas, Oaxaca, Mexico. Norteamérica, Revista Académica Del CISAN-UNAM, 17(1). https://doi.org/10.22201/cisan.24487228e.2022.1.522
Copyright (c) 2022 Abisaí Aragón Cruz, José Rudier López Hernández, Omar Ávila Flores
This work is licensed under a Creative Commons Attribution-NonCommercial-NoDerivatives 4.0 International License.
Authors who publish with this journal agree to the following terms:

Authors retain copyright and grant the journal right of first publication with the work simultaneously licensed under a Creative Commons Attribution License that allows others to share the work with an acknowledgement of the work's authorship and initial publication in this journal.
Authors are able to enter into separate, additional contractual arrangements for the non-exclusive distribution of the journal's published version of the work (e.g., post it to an institutional repository or publish it in a book), with an acknowledgement of its initial publication in this journal.
Authors are permitted and encouraged to post their work online (e.g., in institutional repositories or on their website) prior to and during the submission process, as it can lead to productive exchanges, as well as earlier and greater citation of published work.