User Engagement and Activism on the DACA Hashtag: An Analysis of Tweets
Sandhya Rao

Daniel Carter

Vanessa de Macedo Higgins Joyce

Texas State University

Eun Jeong Lee
Abstract
Deferred Action for Childhood Arrivals directly impacts about 700,000 people residing in the United States, most of whom immigrated from Mexico. This research presents a content analysis of tweets from the DACA hashtag on three crucial days pertaining to ending DACA, examining stakeholders' uses of the hashtag and engagement with it. Results showed significant differences in the level of engagement by different stakeholders but not between those who supported, opposed or were neutral toward DACA. However, there were significant differences between the different stakeholders as well as between the groups with regards to call for action. The study provides a better understanding of user engagement and activism via Twitter in public debate that could potentially result in policy changes.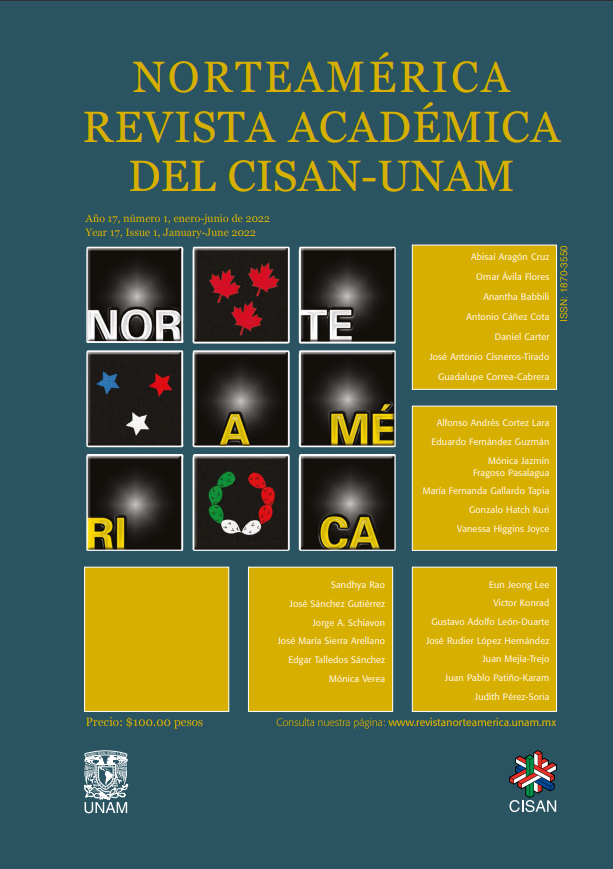 How to Cite
Rao, S., Carter, D., Higgins Joyce, V., & Lee, E. J. (2021). User Engagement and Activism on the DACA Hashtag: An Analysis of Tweets. Norteamérica, Revista Académica Del CISAN-UNAM, 17(1). https://doi.org/10.22201/cisan.24487228e.2022.1.498
Section
CONTEMPORARY ISSUES
Copyright (c) 2021 Vanessa de Macedo Higgins Joyce
This work is licensed under a Creative Commons Attribution-NonCommercial-NoDerivatives 4.0 International License.
Authors who publish with this journal agree to the following terms:

Authors retain copyright and grant the journal right of first publication with the work simultaneously licensed under a Creative Commons Attribution License that allows others to share the work with an acknowledgement of the work's authorship and initial publication in this journal.
Authors are able to enter into separate, additional contractual arrangements for the non-exclusive distribution of the journal's published version of the work (e.g., post it to an institutional repository or publish it in a book), with an acknowledgement of its initial publication in this journal.
Authors are permitted and encouraged to post their work online (e.g., in institutional repositories or on their website) prior to and during the submission process, as it can lead to productive exchanges, as well as earlier and greater citation of published work.