Impact of the United States-Mexico-Canada Agreement (USMCA) Rules of Origin on the Automotive Sector in Mexico
María de Lourdes Álvarez Medina

Universidad Nacional Autónoma de México
Abstract
The article aims to analyze the changes in the free trade agreement of the United States, Mexico, and Canada (USMCA) for the automotive industry, explaining the origin and impact on light vehicle production in Mexico. The new rules affect the drivers of location decisions for companies and positively influence the growth rate of the automotive industry in the region, but unevenly for the countries and companies involved. The regional content value of each automobile assembled in Mexico and sold in the United States in 2020 is analyzed to understand the dynamics of competition and protectionism. There is a strategy to increase automotive manufacturing in the region, especially in the United States. The agreement promotes import substitution, increasing the regionalization of the supply chain. German and Asian carmakers producing in Mexico will need more adjustments.
Keywords: Automotive Industry, USMCA, industry relocation, rules of origin, protectionism.
References
American Automakers, AAPC
2020 American Automotive Labeling Act (AALA). http://www.americanautocouncil.org/domestic-content
Álvarez, Lourdes
2014 "La industria automotriz a veinte años del Tratado de Libre Comercio de América del Norte. Evaluación y perspectivas", en Arturo Oropeza (coord.), TLCAN 20 años. ¿Celebración, desencanto o replanteamiento?, Instituto de Investigaciones Jurídicas, UNAM.
Alvarez, Lourdes y Maria Luísa, Gonzalez
2015 "Reestructuración productiva en la industria automotriz mundial y su efecto en los costos laborales a partir de 2008", en coord. María Luisa González, El costo de la mano de obra en la industria automotriz y sus estrategias productivas, IIEc, DEGAPA, México.
Alvarez, Lourdes y Jorge Carrillo
2017 "Estrategias de la industria automotriz ante la crisis: relocalización de plantas y modelos de automóviles en 2007, 2011, 2013 y 2015", en Coord. Lourdes Álvarez y González Marín, Reestructuración productiva de la industria automotriz en la región del TLCAN 2008 -2015, Facultad de Contaduría y Administración, UNAM
Automotive News
2021 "Mexico wants talks with U.S. over vehicle content rules in trade pact" https://www.autonews.com/manufacturing/mexico-wants-talks-us-over-vehicle-content-rules-trade-pact
Carbajal, Yolanda, and Laura Del-Moral
2014 "El desempeño del sector automotriz en México en la era TLCAN. Un análisis a 20 años." Paradigma Económico, vol. 6, number, pp 95-126.
Csíki, Ottó, Horvath, Reka, Szász, Levente
2019 "A Study of Regional-Level Location Factors of Car Manufacturing Companies in the EU" Acta Económica, 69(S2):13-39 DOI:10.1556/032.2019.69.S2.2
Covarrubias, Alex
2019 "La ventaja competitiva de México en el TLCAN: un caso de dumping social visto desde la industria automotriz," Norteamérica, Revista Académica Del CISAN-UNAM, 14 (1), pp. 89-118. DOI: https://doi.org/10.22201/cisan.24487228e.2019.1
Covarrubias, Alex
2021 "The USMCA and the third generation of labor arrangements. Probable Scenarios for Regional Labor and Industry," Norteamérica, Revista Académica Del CISAN-UNAM, 16(1). https://doi.org/10.22201/cisan.24487228e.2021.1.470
Curran, Louise and Jappe Eckhardt
2020 "Mobilizing against the anti-globalization backlash : An integrated framework for Corporate Non-Market Strategy", Business and Politics. ISSN 1469-3569
https://doi.org/10.1017/bap.2020.9
De-Gortari, Alonso
2017 "Disentangling Global Value Chain." Job Market Paper, WTO. https://www.wto.org/english/news_e/news18_e/agortaripaper.pdf
DOF
2020 "DECRETO Promulgatorio del Protocolo por el que se Sustituye el Tratado de Libre Comercio de América del Norte por el Tratado entre los Estados Unidos Mexicanos, los Estados Unidos de América y Canadá. México."
Dunning John
1980 "Toward an Eclectic Theory of International Production: Some Empirical Tests". J Int Bus Stud 11, 9–31 (1980). https://doi.org/10.1057/palgrave.jibs.8490593
Dunning, John
1998 "Location and the multinational enterprise: a neglected factor? Journal of international business studies, 29,1 (first quarter 1998): 45-66.
Dussel-Peters, Enrique, and Kevin Gallagher
2013 "Nafta's uninvited guest: China and the disintegration of North American trade," CEPAL Review 110, pp. 83-108.
Estevadeordal y Suominen
2003 "Rules of Origin: A World Map and Trade Effects" Paper prepared for the workshop The Origin of Goods: A Conceptual and Empirical Assessment of Rules of Origin in PTAs, INRA-DELTA, Paris, 23-24 May.
Freyssenete, Michel (2017)
"Wrong forecast and unexpected changes" Coord. Michele Freyssenete, The second automobile revolution. Trajectories of the world carmakers in the 21 century, Palgrave Macmillan, New York, pp.7-37
González, María-Luisa
2015 El costo de la mano de obra en la industria automotriz y sus estrategias productivas, México, IIEc, UNAM. http://ru.iiec.unam.mx/id/eprint/3131
Hurley, Neil.
1959 "The Automotive Industry: A Study in Industrial Location", University of Wisconsin Press. Vol. XXXV, Number 1. Pp. URL: https://www.jstor.org/stable/3144703,
IMLEB
2020 "Interim report," Independent Mexico labor expert board, December 15, 2020.
INA
2020 Implementación de las reglas de origen del sector automotriz del T-MEC. https://www.youtube.com/watch?v=_aMddTrPyZ4 Video accessed June, 2021.
INEGI, 2021, job pandemic
AMIA-INEGI
2018 "Conociendo a la industria automotriz"
inegi.org.mx/contenidos/saladeprensa/boletines/2018/OtrTemEcon/CndoIndAuto.pdf
Jetín, Bruno
2017 "Strategies of internationalization of automobile firms in the new century: a new leap forward?" Coor. Michele Freyssenete, The second automobile revolution, Palgrave Macmillan, New York, pp.38-65..
Klier, Thomas
2019 "North America trade and the auto industry. – Trade protectionism, regional integration and labor disparities in the North American Automotive industry," paper presented at the International workshop. Flacso, México. .
Lung, Y., and Rob Van Tudler
2004 "In search of a viable automobile space," in Coord. Carrillo Jorge, Yannick Lung and Rob Van Tudler, Cars, Carriers of Regionalism? Palgrave Macmillan, New York, p.309. ISBN 1-4039-2144-X
Martínez, Adriana, and Jorge Carrillo
2019. "Evolución de la política industrial en regiones emergentes: el caso de la industria automotriz en Guanajuato, México," Revista de alimentación contemporánea y desarrollo regional, 29(54), pp. 4-30. https://doi.org/10.24836/es.v29i54.757.
Ministry of Labor and Social Security
2019 Reforma Laboral, https://reformalaboral.stps.gob.mx/
Office of the United States Trade Representative, Executive Office of the President
2019 "Estimated impact of the United States- Mexico- Canada agreement USMCA, on the US automotive sector"
OICA
2020 "World automotive production" http://www.oica.net/
Reinsch, W., Caporal J., Waddoups, M., and Tekarli, N.,
2019 "The Impact of Rules of Origin on Supply Chains", USMCA's Auto Rules as a Case Study, center for strategic international studies.
Rubenstein, Jim, Thomas Klier
2019. "Powertrain Sourcing in North America Example of Regional Integration, Forging a New Path for North American Trade: The Auto Sector," Federal Reserve Bank of Chicago.
Secretaría de Economía
2019 "Flujos por tipo de inversion," México.
https://datos.gob.mx/busca/dataset/informacion-estadistica-de-la-inversion-extranjera-directa
Statista database
2020 "Producción de aluminio secundario en el mundo." https://es.statista.com/estadisticas/1140519/produccion-de-aluminio-secundario-en-el-mundo-por-pais/
Sturgeon Timothy et al.,
2010 "The prospects for Mexico in the North American automotive industry: a global value chain perspective", Actes du GERPISA n°42 . p 11-22.
Trade Map
2020 "Foreign trade database,", https://www.trademap.org/Index.aspx
USITC
2019 "USA-Mexico-Canada Trade Agreement: Likely Impact on the USA Economy and on Specific Industry Sectors."
Williamson, Oliver E.
1979 "Economía del costo de transacción: El gobierno de las relaciones contractuales" The Journal of Law and Economics 22, no. 2 (Octubre de 1979): 233-261, https://doi.org/10.1086/466942.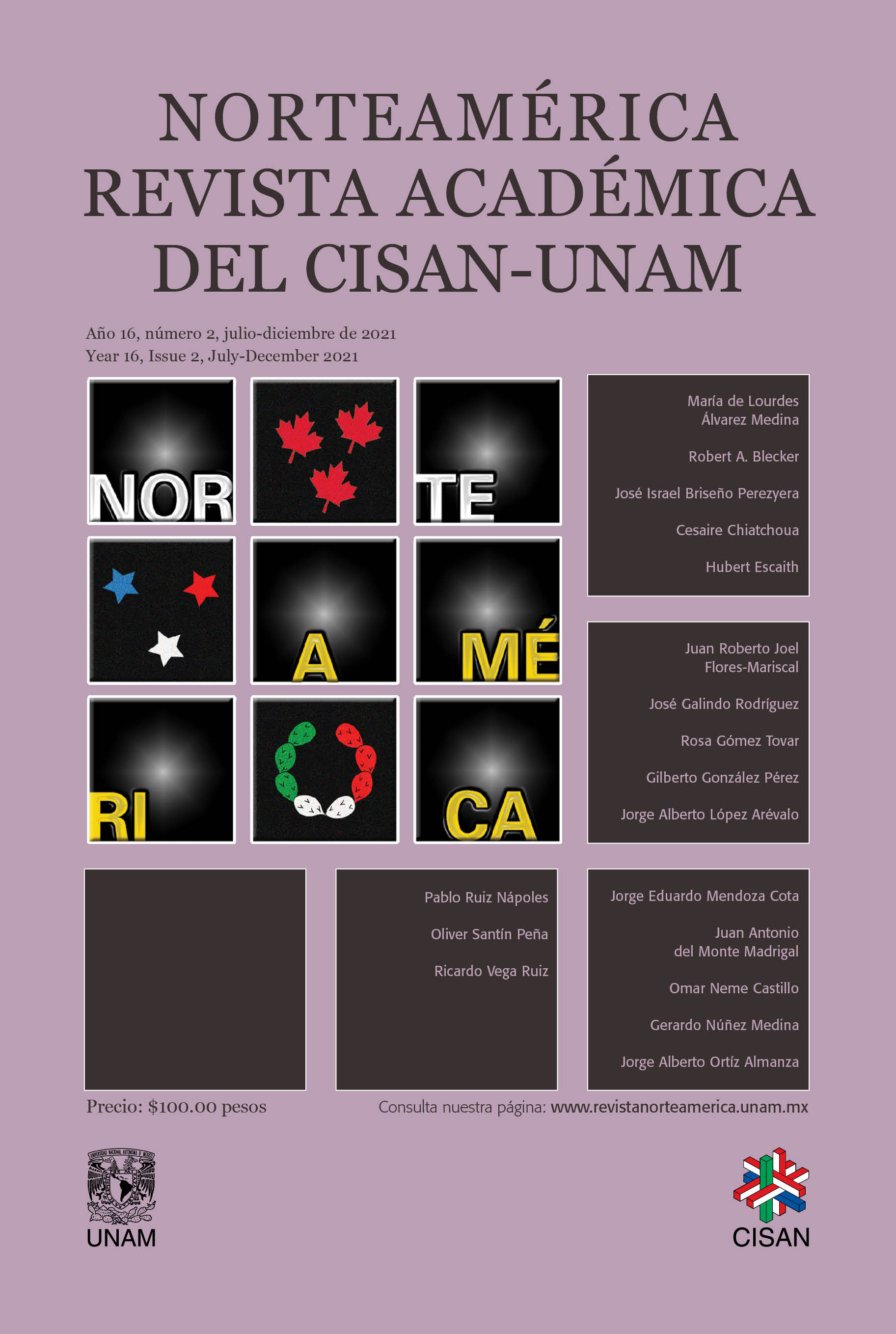 How to Cite
Medina, M. de L. (2021). Impact of the United States-Mexico-Canada Agreement (USMCA) Rules of Origin on the Automotive Sector in Mexico. Norteamérica, Revista Académica Del CISAN-UNAM, 16(2). https://doi.org/10.22201/cisan.24487228e.2021.2.489
Copyright (c) 2021 María de Lourdes Alvarez Medina
This work is licensed under a Creative Commons Attribution-NonCommercial-NoDerivatives 4.0 International License.
Authors who publish with this journal agree to the following terms:

Authors retain copyright and grant the journal right of first publication with the work simultaneously licensed under a Creative Commons Attribution License that allows others to share the work with an acknowledgement of the work's authorship and initial publication in this journal.
Authors are able to enter into separate, additional contractual arrangements for the non-exclusive distribution of the journal's published version of the work (e.g., post it to an institutional repository or publish it in a book), with an acknowledgement of its initial publication in this journal.
Authors are permitted and encouraged to post their work online (e.g., in institutional repositories or on their website) prior to and during the submission process, as it can lead to productive exchanges, as well as earlier and greater citation of published work.