The USMCA and the third generation of labor arrangements. Probable Scenarios for Regional Labor and Industry.
Abstract
Under the America first precept, Trump pushed for a trade agreement that would curb the flight of jobs and investment because of low wages in Mexico. The new treaty increased the rule of regional content in the automotive industry and introduced a chapter on labor rights with unprecedented control mechanisms. These rules are so unprecedented that they constitute a new generation -the third, and most complete and binding- of labor rules introduced by the United States in its trade agreements. With these elements, The US is expecting net profits in an industry as strategic as as the automotive industry. Andrés Manuel López Obrador substantially modified the labor law and has increased wages, encouraging the existence of a new model of employment relations. This article revises several scenarios for assessing whether these expectations will be met. It argues that, in opposition to expectations, it will continue to attract jobs and investments to Mexico's AI, further completing the emptying and deterritorialization of the US industry.
References
Alcalde, Julio 27, 2013), "El outsourcing en la reforma laboral". Periódico La Jornada.
Álvarez, Lourdes. Carrillo, Jorge y González, María Luisa. (Coord.) (2014) "El auge de la industria automotriz en México en el siglo XXI. Reestructuración y catching up. México: UNAM.
AMIA, AMDA, ANPACT, INA (2018), Diálogos con la Industria Automotriz 2018-2024. México.
Bensusán, Graciela and Alex Covarrubias (2016), "Relaciones laborales y salariales en la IAM: ¿vendrá el cambio de fuera?" Covarrubias Alex, Graciela Bensusán,
Bensusán, Graciela y Kevin Middlebrook (2013). Sindicatos y Política en México: Cambios, Continuidades y Contradicciones. UAM-CLacso-Flacso.
Bermúdez A., Katerine (2012). TLC Estados Unidos: Qué implica en lo laboral. Revista Actualidad Laboral NO. 169.
Brooks, Dario (2019), ¨Crisis migratoria: 3 factores que explican porque se ha disparado el número de personas que llegan a la frontera sur de Estados Unidos". BBC News. En bbc.com, accesado junio 22, 2019.
Bureau of Labor Statistics (BLS), May 2018, Occupational Employment Statistics. Online, https://www.bls.gov/oes/current/naics4_336100.htm. Accesado Julio 12, 2019.
Camarillo, Vanessa (2020), TradeTankMX, en https://tradetankmx.com/mexico-frente-al-mecanismo-laboral-de-respuesta-rapida/. June 30, 2020.
Carrillo V., Jorge (2016), "Oportunidades y retos en la inserción en cadenas de valor global La industria automotriz y aeroespacial en México, " TECHIT 352.
Center for Automotive Research (CAR) (2018), NAFTA Briefing. Review of current NAFTA proposals and potential impacts on the North American Automotive Industry. Ann Arbor, MI.
Compa, Lance and Tequila Brooks, (2015) NAFTA and the NAALC: Twenty Years of Trade-Labour Linkage in the Americas, Wolters Kluwer Publishers.
Cook, Maria Lorena (2007), The Politics of Labor Reform in Latin America: Between Flexibility and Rights. University Park, PA: Pennsylvania State University Press.
Covarrubias Alex & Sigfrido Ramirez, editors, (2020) New Frontiers of the Automobile Industry - Exploring Geographies, Technology, and Labor Challenges. Palgrave-McMillan.
Covarrubias, Alex (2019). "La ventaja competitive de México en el TLCAN: Un caso de dumping social visto desde la Automotriz." en Norteamérica. Revista Académica del CISAN- UNAM. Vol 14 No 1. ISSN: 2448-7228. México.
Covarrubias, Alex & Alfonso Bouzas (2017), "Employment and Labor Policies in the Auto Industry in Mexico." In Rudolf Traub-Merz (ed.) The Automotive Sector in Emerging Economies: Industrial Policies, Market Dynamics and Trade UnionsTrends & Perspectives in Brazil, China, India, Mexico and Russia. Friedrich-Ebert Stiftung, Berlin.
Compa, Lance and Tequila Brooks, (2015) NAFTA and the NAALC: Twenty Years of Trade-Labour Linkage in the Americas, Wolters Kluwer Publishers.
Coneval (2018), Pobreza en México. Resultados de pobreza en México a nivel nacional y por entidad federativa. En https://www.coneval.org.mx/Medicion/Paginas/PobrezaInicio.aspx. Accesado mayo 10, 2019.
Dewan, Sabina and Lucas Ronconi (2014), U.S. free trade agreements and enforcement of labor law in Latin America. IDB Working Paper Series; 543.
(U.S.) Department of Labor (DOL-ILAB) (2019) United States-Mexico-Canada Agreement (USMCA). Labor Rights Report. Bureau of International Labor Affairs.
Dussel Peters, Enrique (2017) Efectos del TPP en la economía de México: impacto general y en las cadenas de valor de autopartes-automotriz, hilo-textil-confección y calzado." Cuadernos de Trabajo 4. Centro de Estudios Internacionales Gilberto Bosques e Instituto Belisario Domínguez, Senado de la República.

Frey, Carl y Michael, Osborne, 2017, "The future of employment: how susceptible are jobs to computerization?" Technological Forecasting and Social Change, 114, 254-280.
Giménez Cacho, Luis Emilio (2013), La transparencia sindical, otra larga marcha.
Fundación Friedrich Ebert en México. Análisis No. 2.
________________(20007). Transparencia y Derechos Laborales. México. IFAI.
Goldfarb, Avi and Catherine Tucker (2019). "Digital Economics". Journal of Economic Literature 57(1), 3–43 https://doi.org/10.1257/jel.20171452. Online, https://pubs.aeaweb.org/doi/pdf/10.1257/jel.20171452
INEGI (2019), Censo Económico 2019. México.
INEGI (2015), La Industria Automotriz en México. Estadísticas Sectoriales. México.
Kynge, James (2015), "Mexico steals a march on China in car manufacturing". FDI Markets. Emerging Markets, April 21-2015) Accesado en http://www.ft.com/cms/s/2/0bc33e06-e81e-11e4-894a-00144feab7de.html#axzz3wRdokUyg. Accesado Oct 12, 2016.
McGinnis, Devon (2018). What is the Fourth Industrial Revolution? Online, https://www.salesforce.com/blog/2018/12/what-is-the-fourth-industrial-revolution-4IR.html
McKinsey Global Institute (2018). AI, automation, and the future of work: Ten things to solve for. Washington DC.
Merton, Robert K. (1936). "The Unanticipated Consequences of Purposive Social Action" (PDF). American Sociological Review. 1 (6): 895.
Muller, Joan, 2016. "America's Car Capital Will Soon Be … Mexico," Forbes. Autos, August 20. Online, https://www.forbes.com/sites/joannmuller/2014/08/20/americas-car-capital-will-soon-be-mexico/#18ed986948ce. Accesado Septiembre 10, 2016.
OECD (2019), "Vectors of digital transformation", OECD Digital Economy Papers, No. 273, OECD Publishing, Paris, https://dºoi.org/10.1787/5ade2bba-en. (4a-30)
Oficina Internacional del Trabajo (2019) Trabajar para un futuro más prometedor – Comisión Mundial sobre el Futuro del Trabajo– Ginebra: OIT.
OIT (1998). Declaración de la OIT relativa a los principios y derechos fundamentales en el trabajo y su seguimiento. Adoptada por la Conferencia Internacional del Trabajo en su octogésima sexta reunión, Ginebra, 18 de junio de 1998. https://www.ilo.org/declaration/thedeclaration/textdeclaration/lang--es/index.htm
Office of the United States Trade Representative, July, 17 2017, Summary of Objectives for the NAFTA Renegotiation. Executive Office of the President.
Ortega, Ariadna (Abril 30, 2019) 9 claves de la reforma laboral aprobada en la Cámara de Diputados. Expansión. Política. En https://politica.expansion.mx/congreso/2019/04/12/8-claves-para-entender-la-reforma-laboral-aprobada-en-la-camara-de-diputados, accesado mayo 14, 2019.
Osler, Riyas Datu et al., (August 15, 2017): "Canada unveils its top priorities for NAFTA renegotiations," online, https://www.osler.com/en/resources/cross-border/2017/canada-unveils-its-top-priorities-for-nafta-renego. Accesado Abril 12, 2019.
Powell, Naomi (Feb 22, 2019), Half of Canadian executives say old NAFTA better for our economy than USMCA. En Financial Post, https://business.financialpost.com/news/economy/half-of-canadian-executives-say-old-nafta-better-for-canadian-economy-than-usmca. Accesado Junio 14, 2019.
Promexico (2018). Tratados de Comercio. www.promexico.mx/es/mx/tratados-comerciales, En línea, Accesado junio 14, 2018.
Rodriguez A., Mauricio & Landy Sanchez P. (2017). El Futuro del Trabajo Automotriz en Mexico. El Colegio de Mexico. Apuntes Para la Equidad No 1. Seminario sobre Trabajo y Desigualdades. Landy Sanchez P., editora. El Colegio de Mexico
Ruiz Duran, Clemente (2016), Desarrollo y Estructura de la Industria Automotriz en México. Friedrich-Ebert-Stiftung (FES). México.
Schwab, Klaus (2016). The Fourth Industrial Revolution. World Economic Forum. Penguin, UK.
The Conference Board, 2017, International Labor Comparisons, online, https://www.conference-board.org/ilcprogram/. Accesado Junio 15, 2017.
The International Organization of Automobile Manufacturers (OICA) (2019). Production Statistics. Onlinr, http://www.oica.net/, Marzo 22, 2019.
UNCTAD. Digital Economy Report 2019. Value Creation and Capture. Implications for Developing Countries. Geneva, United Nations Conference on Trade and Development.
UNIFOR (2017). Unifor-UAW statement on auto and the re-negotiation of NAFTA
posted 13-July-2017. Online http://www.bilaterals.org/?unifor-uaw-statement-on-6auto-and&lang=en. Accesado Julio 20, 2017.
United States Census Bureau (2017). U.S. Census Bureau Economic Indicators, online, https://www.census.gov/. Accesado Abril 25, 2017.
United States International Trade Commission (2019), US-Mexico-Canada Trade Agreement. Likely Impact on the U.S. Economy and Specific Industry Sectors. Publication Number: 4889. Investigation Number: TPA 1-5-003.
WEF (World Economic Forum), 2018, The Future of Jobs Report 2018, Cologny/Geneva.
Weisbrot, Mark, et al. (2018), "Did Nafta Help Mexico? An Update After 23 Years". En Mexican Law Review, Vol 11 No. 1, Mexico.
World Bank 2019, The Changing Nature of Work, World Development Report 2019, Washington, D.C.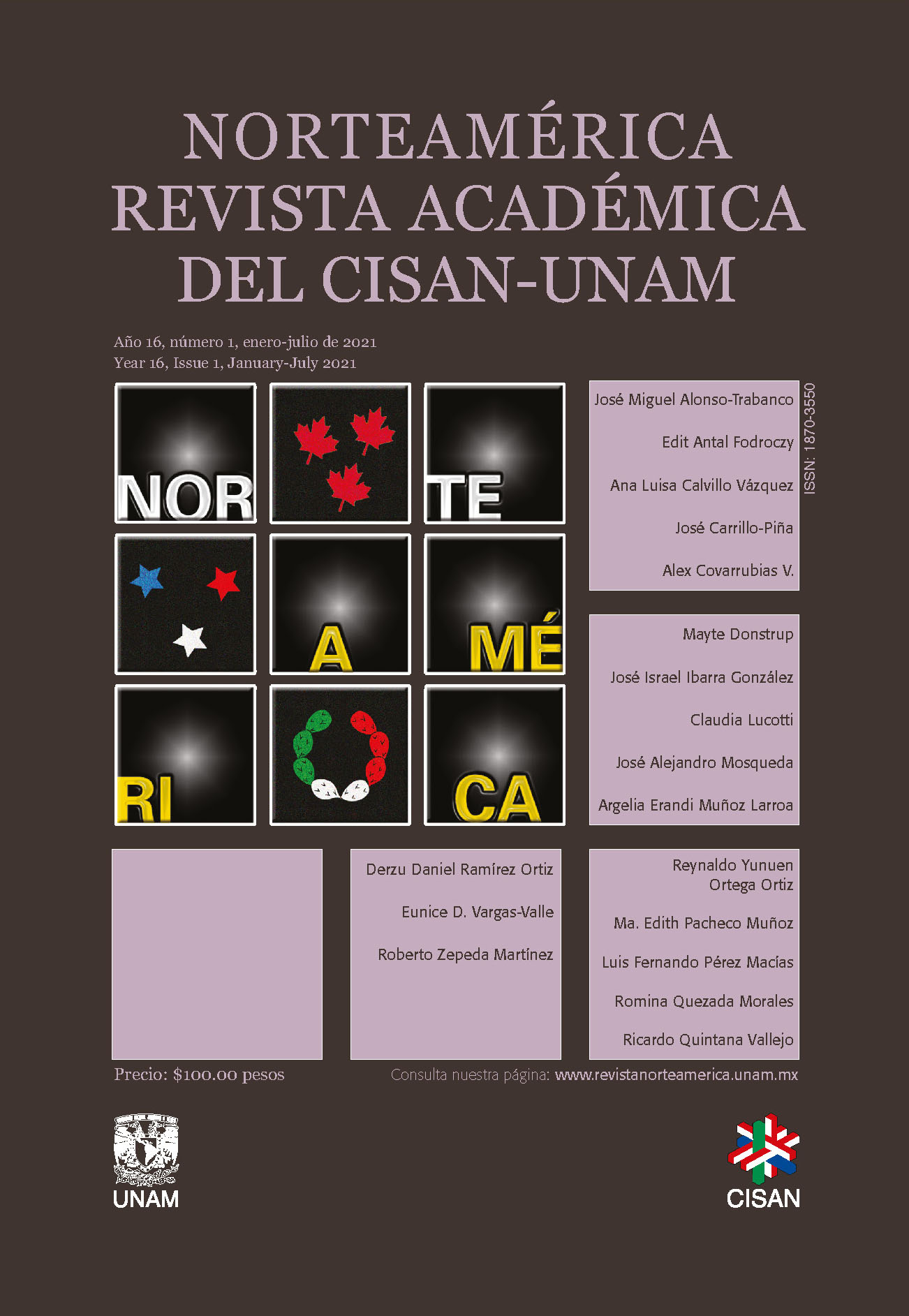 How to Cite
Covarrubias V., A. (2021). The USMCA and the third generation of labor arrangements. Probable Scenarios for Regional Labor and Industry. Norteamérica, Revista Académica Del CISAN-UNAM, 16(1). https://doi.org/10.22201/cisan.24487228e.2021.1.470
Section
CONTEMPORARY ISSUES
Copyright (c) 2021 Alex Covarrubias V.
This work is licensed under a Creative Commons Attribution-NonCommercial-NoDerivatives 4.0 International License.
Authors who publish with this journal agree to the following terms:

Authors retain copyright and grant the journal right of first publication with the work simultaneously licensed under a Creative Commons Attribution License that allows others to share the work with an acknowledgement of the work's authorship and initial publication in this journal.
Authors are able to enter into separate, additional contractual arrangements for the non-exclusive distribution of the journal's published version of the work (e.g., post it to an institutional repository or publish it in a book), with an acknowledgement of its initial publication in this journal.
Authors are permitted and encouraged to post their work online (e.g., in institutional repositories or on their website) prior to and during the submission process, as it can lead to productive exchanges, as well as earlier and greater citation of published work.