The U.S. Strategy for Exporting Liquified Natural Gas And Its Project for Establishing Energy Domination
Luis Fernando Pérez Macías

Posgrado en Estudios Latinoamericanos, UNAM
Abstract
The 2016 launch of the new maritime terminals for the exportation of liquefied natural gas from the United States opened a new chapter in that country's quest to dominate energy world-wide. This has made for a denser natural gas network and its link-up with maritime routes for exporting gas to Latin America, Northeast Asia, and Europe. This article explains the recent U.S. strategy for becoming an exporter of this fossil fuel and industrial raw material, strategic for inter-capitalist competition. The author analyzes the expansion of the shale gas industry in the United States and its role as the basis for the hoped-for energy dominance, identifying the latter as a fundamental link in the dispute for world economic hegemony.
References
Barteau, Mark y Srichar Kota
2014 "Shale Gas: A Game-changer for U.S. Manufacturing", University of Michigan, en .

Bellamy, Brent y Jeff Diamanti, coords.
2018 Materialism and the Critique of Energy, Chicago, mcm Publishing.

Berman, Art
2017 "Shale Gas Is Not a Revolution", en , consultada el 13 de noviembre de 2018.

Bernstein, Leandra
2019 "U.S. as 'The Energy Superpower': Trump Touts Energy Independence at New lng Export Facility", WJLA, en , consultada el 8 de agosto de 2019.

Boersma, Tim y Corey Johnson
2018 U.S. Energy Diplomacy, Columbia, Center on Global Energy Policy.

Cahoy, Daniel, Joel Gehman y Zhen Lei
2013 "Fracking Patents: The Emergence of Patents as Information-Containment Tools in Shale Drilling", Michigan Telecommunications and Technology Law Review, vol. 19, no. 2, primavera, pp. 279-330.

Caputo, Orlando
2007 "La economía mundial a inicios del siglo xxi", en Narco Gandásegui, hijo, coord., Crisis de hegemonía de Estados Unidos, México, Siglo xxi, pp. 25-38.

Ceceña, Ana Esther y Andrés Barreda
1995 "La producción estratégica como sustento de la hegemonía mundial. Aproximación metodológica", en Ana Esther Ceceña y Andrés Barreda, coords., Producción estratégica y hegemonía mundial, México, Siglo xxi, pp. 15-51.

DiSavino, Scott
2019 "U.S. Natural Gas Prices Turn Negative in Texas Permian Shale Again", en , consultada el 23 de mayo de 2019.

Echeverría, Bolívar
2011 "La 'forma natural' de la reproducción social", en Antología. Bolívar Echeverría, La Paz, Bolivia, Vicepresidencia del Estado Plurinacional de Bolivia, pp. 471-492.

Energy Information Administration (eia)
2019a "U.S. lng Exports to Europe Increase Amid Declining Demand and Spot lng Prices in Asia", en , consultada el 27 de septiembre de 2019.
2019b "Natural Gas Prices", en , consultada el 27 de septiembre de 2019.
2019c "Natural Gas Summary", en , consultada el 19 de septiembre de 2019.
2019d "Annual Generator-level Capacity Information", en , consultada el 27 de septiembre de 2019.
2019e "U.S. Exports by Country", en , consultada el 27 de septiembre de 2019.
2019f "Annual Energy Outlook with Projections to 2050", en , consultada el 26 de septiembre de 2019.
2018 "Unconventional Dry Natural Gas Production", en , consultada el 27 de septiembre de 2019.

Federal Energy Regulatory Commission (ferc)
2005 "Existing, Proposed and Potential North American lng Terminals", en , consultada el 10 de febrero de 2018.

Foss, Michelle Michot y Gürcan Gülen
2016 "Is U.S. lng Competitive?", International Association for Energy Economics-iaee Energy Forum, en .

Groupe international des importateurs de gaz naturel liquéfié (giignl)
2019 "The lng industry Annual Report 2019", en .

Hengel, Douglas
2019 "The Energy Dominance Agenda: Myth vs. Reality", en , consultada el 3 de octubre de 2019.

Hughes, David
2019 Shale Reality Check 2019. Drilling into the U.S. Government´s Optimistic Forecasts for Shale Gas & Tight Oil Production through 2050, Washington, D.C., Post Carbon Institute.

ihs Markit
2018 "US Petrochemicals. The Growing Importance of Exports Markets", en , consultada el 12 de agosto de 2019.

International Energy Agency (iea)
2019 "Data and Statistics", en , consultada el 25 de octubre de 2019.

Ladislaw, Sarah
2017 "Dissecting the Idea of US Energy Dominance", en Oxford Energy Forum -What´s Next for US Energy Policy?, no. 111, en .

Lawrence Livermore National Laboratory
2017 "Estimated U.S. Energy Consumption in 2017", en , consultada el 22 de marzo de 2018.

León, Efraín
2016 Geografía crítica. Espacio, teoría social y geopolítica, México, unam/Ítaca.

Malm, Andreas
2018 "Long Waves of Fossil Development: Periodizing Energy and Capital", en Meditations, vol. 31, no. 2.
2016 Fossil Capital. The Rise of Steam Power and the Roots of Global Warming, Nueva York, Verso.

Marx, Karl

1975 El capital. Crítica de la economía política [1867], tomo 1, vol. 2, México, Siglo xxi.

McIntosh, Andrew, Peter G. Noble, Jim Rockwell y Carl D. Ramlakhan
2008 "El transporte de gas natural a través de los océanos", Oilfield Review, vol. 20, no. 2, pp. 50- 63.

McLean, Beyhany
2018 Saudi America. The Truht about Fracking and How It´s Changing the World, Nueva York, Columbia Global Reports.

Miller, Greg
2019 "The Future of the Panama Canal: What´s Next for lng, lpg and Oil Tankers", en , consultada el 28 de abril de 2019.

Mills, Mark
2015 "Shale 2.0 Technology and the Coming Big-data Revolution in America´s Shale Oil Fields", Energy Policy & The Environment Report No. 16, Center for Energy and the Environment, Manhattan Institute.

Mistré, Mélodie, Morgan Crénes y Manfred Hafner
2018 "Shale Gas Production Costs: Historical Developments and Outlook", Energy Strategy Reviews, vol. 20, pp. 2-25.

National Economic Research Associates (nera)
2018 Macroeconomic Outcomes of Market Determined Levels of U.S. lng Exports, en , consultada el 24 de febrero de 2019.

Nikiforuk, Andrew
2015 Slick Water. Fracking and One Insider´s Satand against the World´s Most Powerful Industry, Vancouver, Greystone Books.

Ornelas, Raúl
2012 "La hegemonía mundial y su disputa", en .

Parraguez Kobek, Maria Luisa, Alberto Ugarte y Georgina Campero Aguilar
2015 "Shale Gas in the United States: Transforming Energy Security in the Twenty-first Century", Norteamérica, año 10, no. 1, enero-junio, pp. 7-38.

Perry, Rick, Ryan Zinke y Scott Pruitt
2017 "Paving the Path to U.S. Energy Dominance", en , consultada el 3 de noviembre de 2019.

Saxe-Fernández, John
2018 "Colapso climático y explotación de fósiles no convencionales en Estados Unidos: lecciones para América Latina", en John Saxe-Fernandez, coord., Sociología política del colapso climático antropogénico: capitalismo fósil, explotación de combustibles no convencionales y geopolítica de la energía, México, Centro de Investigaciones Interdisciplinarias en Ciencias y Humanidades (ceiich)-unam, pp. 11-38.

U.S. Department of Energy (usdoe)
2020 "Recently Approved lng export authorizations", en , consultada el 10 de enero de 2020.
2019 "Department of Energy Authorizes Additional lng Imports from Freeport lng", en , consultada el 9 de agosto de 2019.
s. f. .

U.S. Department of State (usdoe)
2019 "Energy Resource Governance Initiative", junio, en , consultada el 15 de enero de 2020.

Vakhshouri, Sara
2017 The America First Energy Plan, Atlantic Council, Washington, Global Energy Center, en .

Vargas, Rosío
2019 "Revolución energética de Estados Unidos de América: dominio energético en la región de América del Norte", en Marisol Anglés y Margarita Palomino, coords., Aportes sobre la configuración del derecho energético en México, México, Instituto de Investigaciones Jurídicas-unam/Comisión Reguladora de Energía, pp. 3-41.

Vera Vázquez, Rodrigo
2017 "Eagle Ford Shale Play: geografía industrial minero-petrolera en el sur de Texas, 2008-2015", Trayectorias, vol. 19, no. 45, pp. 3-36.

Wang, Zhongmin y Alan Krupnick
2014 "A Retrospective Review of Shale Gas Development in the United States. What Led to the Boom?", en , consultada el 10 de septiembre de 2019.

Weiner, Valeria, Andrea Makón y Carolina Espinosa
2002 "El petróleo en la estrategia hegemónica de los Estados Unidos", Cuaderno de Trabajo no. 7, Departamento de Economía y Política Internacional, en .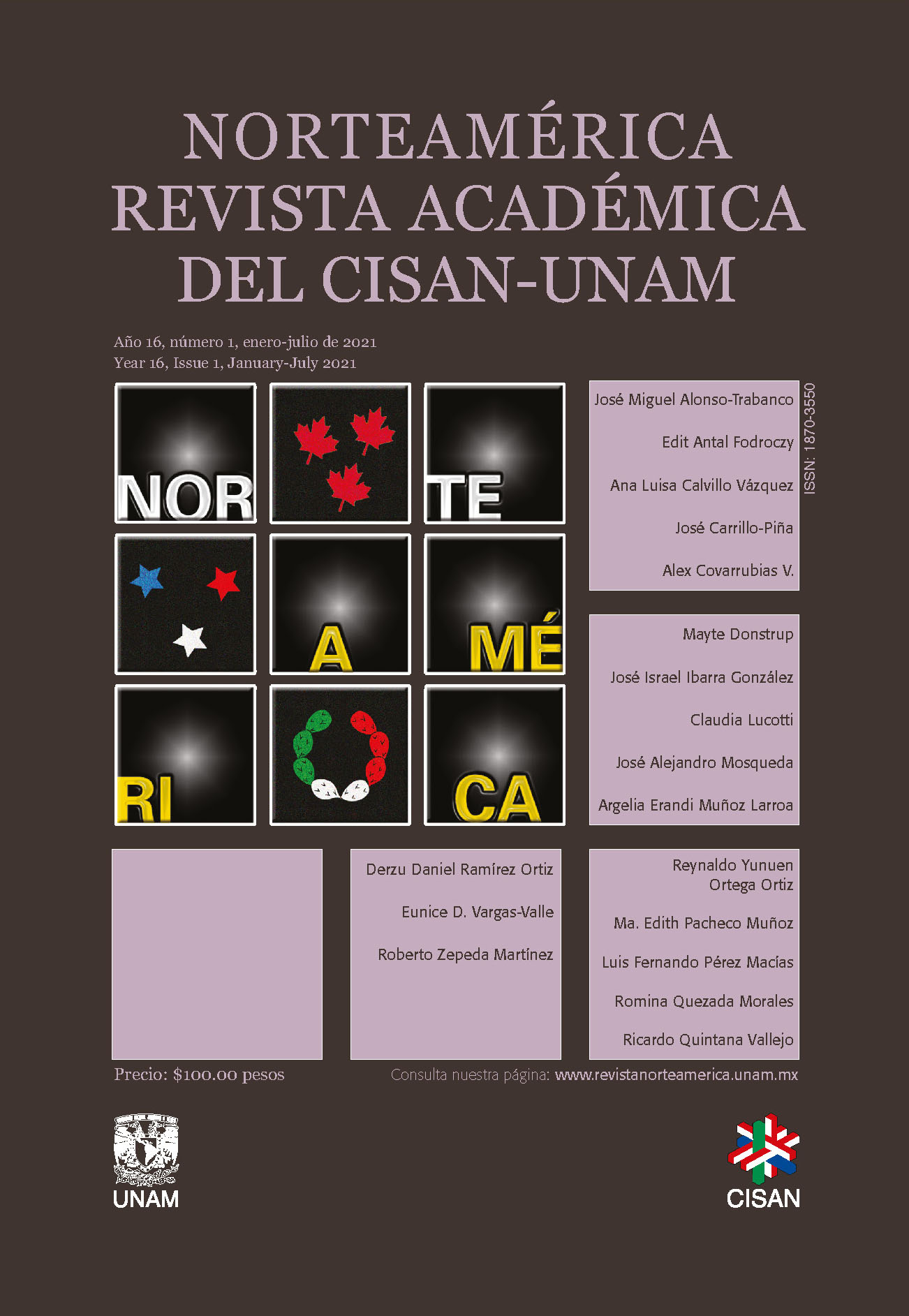 How to Cite
Pérez Macías, L. (2020). The U.S. Strategy for Exporting Liquified Natural Gas And Its Project for Establishing Energy Domination. Norteamérica, Revista Académica Del CISAN-UNAM, 16(1). https://doi.org/10.22201/cisan.24487228e.2020.1.424
Copyright (c) 2020 Luis Fernando Pérez Macías
This work is licensed under a Creative Commons Attribution-NonCommercial-NoDerivatives 4.0 International License.
Authors who publish with this journal agree to the following terms:

Authors retain copyright and grant the journal right of first publication with the work simultaneously licensed under a Creative Commons Attribution License that allows others to share the work with an acknowledgement of the work's authorship and initial publication in this journal.
Authors are able to enter into separate, additional contractual arrangements for the non-exclusive distribution of the journal's published version of the work (e.g., post it to an institutional repository or publish it in a book), with an acknowledgement of its initial publication in this journal.
Authors are permitted and encouraged to post their work online (e.g., in institutional repositories or on their website) prior to and during the submission process, as it can lead to productive exchanges, as well as earlier and greater citation of published work.