Trump's US-Mexico Border Agenda: An Agenda-Building Examination of Candidate-Generated Messages
María de los Ángeles Flores

Manuel Chavez

Michigan State University
Keywords:
2016 U.S. presidential election, agenda-building effect, Donald Trump, political communication, U.S.-Mexico border studies,
Abstract
On June 16, 2015, Donald J. Trump announced his candidacy for president of the United States, stating that he would build a wall on the southern border and Mexico would pay for it. From that moment on, the U.S.-Mexico border region became the news epicenter in the nation throughout the 2016 presidential campaign. This article examines Trump's candidate-generated messages in relation to the border as part of his political communication strategy. The authors perform a content analysis of his political ads and his Twitter posts along with a textual analysis of his official website and his first 100 day contract. The Spearman's rank-order correlation coefficient was then used to assess the degree of interdependence of issue positions for each issue. Outcomes showed that Trump presented 16 issues, six related to the border (the economy, foreign policy, immigration, regulations, taxes, and trade). Results found 28 issue positions relating to the border, with the highest number of solutions offered via Trump's Twitter agenda and his 100 day agenda. The strongest degree of interdependence between agendas was observed on immigration between Trump's TV-ad agenda and his 100 day agenda (rho = +0.545), and on the economy between Trump's TV-ad agenda and his Twitter agenda (rho = +0.538). In both instances, the messages transmitted to voters on those political communication venues were very similar to each other.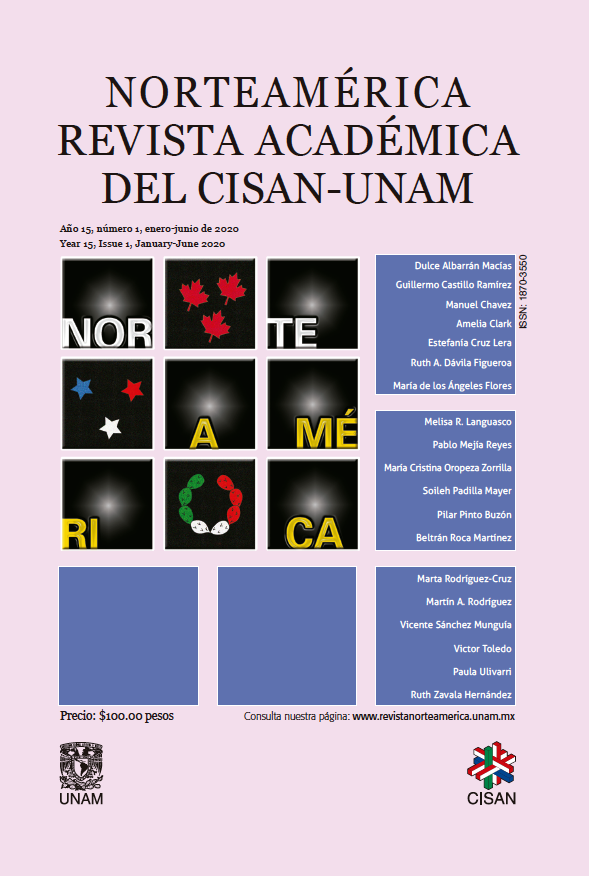 How to Cite
Flores, M. de los Ángeles, & Chavez, M. (2020). Trump's US-Mexico Border Agenda: An Agenda-Building Examination of Candidate-Generated Messages. Norteamérica, Revista Académica Del CISAN-UNAM, 15(1). https://doi.org/10.22201/cisan.24487228e.2020.1.414
Section
CONTEMPORARY ISSUES
Copyright (c) 2020 María de los Ángeles Flores, Manuel Chavez
This work is licensed under a Creative Commons Attribution-NonCommercial-NoDerivatives 4.0 International License.
Authors who publish with this journal agree to the following terms:

Authors retain copyright and grant the journal right of first publication with the work simultaneously licensed under a Creative Commons Attribution License that allows others to share the work with an acknowledgement of the work's authorship and initial publication in this journal.
Authors are able to enter into separate, additional contractual arrangements for the non-exclusive distribution of the journal's published version of the work (e.g., post it to an institutional repository or publish it in a book), with an acknowledgement of its initial publication in this journal.
Authors are permitted and encouraged to post their work online (e.g., in institutional repositories or on their website) prior to and during the submission process, as it can lead to productive exchanges, as well as earlier and greater citation of published work.