Explanations of Qualified Migration: The Role of Women seen from the Perspective of the North American Experience. Stereotypes, Biases, and Challenges
Luciana Gandini

Instituto de Investigaciones Jurídicas / SUDIMER (UNAM) y Red Migrāre (CONACYT)
Abstract
Explanations of skilled migration have followed their own research path, relatively distanced from the theoretical explanations of migration in general and thus have failed to produce a dialogue, reproducing categories, concepts, and assumptions that replicate gender stereotypes without sufficient discussion. Based on the analysis of empirical evidence from the case of skilled migrants in the North American region —specifically, Mexico and the United States—, this article presents information that contributes to the discussion.
References
ALARCÓN, RAFAEL
"Los mexicanos con estudios universitarios y el debate sobre el sitema de admisión de inmigrantes calificados en Estados Unidos", Norteamérica, vol. 11, No. 1, pp.131-157.
"The Free Circulation of Skilled Migrants in North America", en Antoine Pécoud y Paul de Guchteneire, eds., Migration Without Borders. Essays on the Free Movement of People, París, UNESCO-Publishing and Oxford-New York Berhahn Books.
AMARO, M.
"De la ilusión de la calificación al desencanto de la ocupación: un análisis integral de la decaluación del trabajo de hombres y mujeres migrantes calificados de México y Estados Unidos", tesis de maestría, México: Flacso, Sede México
ARAGONÉS, ANA MARÍA Y SALGADO, UBERTO
"¿Competencia internacional por la migración altamente calificada?", Comercio Exterior, vol. 64, no. 2, marzo-abril,.pp. 18-26.
ARIZA, MARINA
"Ya no soy la que dejé atrás… Mujeres migrantes en República Dominicana", México, IIS-UNAM / Plaza y Valdés Editores.
ÁVILA, JOSÉ LUIS
"Highly Skilled Mexiican Women Migrants to the United States", Voices of Mexico, no. 99, pp. 107-110.
BAUDER, HARALD
""Brain abuse" or the devaluation of immigrant labour in Canada", Antipode, vol. 35, no. 4.
CALVA, LUIS ENRIQUE
La migración calificada de mexicanos a Estados Unidos y su inserción al mercado laboral, tesis de doctorado, El Colegio de la Frontera Norte.
CALVA, LUIS ENRIQUE
"Increasing Numbers of Qualified Mexican Women in the United States", Voices of Mexico, no. 99, pp. 110-115.
CARRIÓN, V.
"La migración de ingenieros mexicanos a Estados Unidos: un análisis de trayectorias profesionales", tesis de doctorado inédita, El Colegio de la Frontera Norte.
CERVANTES, MARIO Y GUELLEC, DOMINIQUE
"The brain drain: old myths, new realities (Brain drain). OECD Observer, pp. 40+. Academic OneFile https://link.galegroup.com/apps/doc/A85012950/AONE?u=googlescholar&sid=AONE&xid=b7b7f6a3
CUBAN, S.
«I don't want to be stuck as a carreer": 2 The effects of deskilling on the livelihoods and opportunities of migrant care workers in England», en Mollard, B. y Umar, S. (eds.), Crushed Hopes: Underemployment and Deskilling among Skilled Migrant Women, Génova: OIM.
DE HAAS, HEIN
"Migration and Develpment: A Theoretical Perspective", International Migration Review, vol. 44, núm. 1, 227-264.
DELGADO, RAUL
A Critical Overview of Migration and Development: The Latin American Challenge. The Annual Review of Sociology, 40 (2014), pp. 643-663.
DUMITRU, SPERANTA
From "brain drain" to "care drain": Women's labor migration and methodological sexism. Editorial Board, Vol. 47, Part B., pp. 203-212. https://doi.org/10.1016/j.wsif.2014.06.006.
FINDLAY, A.
A Migration Channels Approach to the Study of High Level Manpower Movements: A Theoretical Perspective. International Migration, vol. 28, 1. https://doi.org/10.1111/j.1468-2435.1990.tb00132.x
GANDINI, LUCIANA
"Calificados: ¿Informales y precarizados? Un análisis comparado de las condiciones laborales pre y post crisis de los mexicanos con posgrado en Estados Unidos", en Reíos Granados Gabriela (Coord.). Derecho y Economía Informal. Retos de política pública del Estado mexicano, México: UNAM/ Tirant lo Blanch, ISBN: 978-84-9033.
GANDINI, LUCIANA
Migración calificada, desarrollo… y derechos. ¿La incógnita de la ecuación?, en Iztapalapa: Revista de Ciencias Sociales y humanidades, México, Universidad Autónoma Metropolitana, vol. 84, enero-junio 2018.
GANDINI LUCIANA Y LOZANO, FERNANDO
Migrantes calificados de América Latina y el Caribe, ¿capacidades desaprovechadas?, México, CRIM/UNAM
GANDINI, LUCIANA Y LOZANO, FERNANDO
"The effects of the crisis on occupational segregation of skilled migrants from Latin America and the Caribbean in the United States, 2006-2012", en Population Space and Place, Estados Unidos, Population Studies Center, Michigan´s Population Studies Center, Special Issue on Highly Skilled Migration: Risks and Economic Cirses, DOI: 10.1002/psp. 1909, pp. 1-16. http://dx.doi.org/10.1002 /psp.1909
GANDINI, LUCIANA Y RAMÍREZ, TELÉSFORO
Trabajadoras calificadas: las mujeres mexicanas en el mercado de trabajo estadounidense en perspectiva comparada. Revista Latinoamericana de Población, vol. 10, núm. 19, julio-diciembre, 2016. pp. 33-56. http://www.redalyc.org/pdf/3238/323849595003.pdf
GASPAR, SELENE
¿Estudiar para emigrar o emigrar para estudiar? Procesos de integración de los inmigrantes mexicanos calificados en Estados Unidos. Tesis de Maestría, UNAM, México
IREDALE, ROBYN
The Need to Import Skilled Personnel: Factors Favouring and Hindering its International Mobility. https://doi.org/10.1111/1468-2435.00067
ISAAKYAN, IRINA Y TRIANDAFYLLIDOU, ANNA
High Skill Migration and Recession. New York: Palgrave Macmillan
JASSO, GUILLERMINA, ROSENZWEIG, MARK R. Y SMITH, JAMES, P.
"The Earnings of U.S. Immigrants: World Skill prices, Skill Transferability and Selectivity" EconWPA, Labor and Demography, pp. 1-41.
KOFFMAN, ELEONORE
The invisibility of skilled female migrants and gender relations in studies of skilled migration in Europe. International Journal of Population Geography 6(1): 45–59.
Koffman, Eleonore
"Gender and skilled migration in Europe", en Cuadernos de Relaciones Laborales, 30 (1). Universidad Complutense de Madrid.
KOFFMAN, ELEONORE
Towards a Gendered Evaluation of (Highly) Skilled Immigration Policies in Europe, en International Migration, vol. 52, nº 3, pp. 116-128.
LOZANO-ASCENCIO, FERNANDO Y RAMÍREZ-GARCÍA, T.
a Obama's Immigration Executive Action and STEM Workers. Voices of Mexico, (99), 99-104.
b Subutilización de las capacidades de los profesionales mexicanos de las ciencias y la tecnología y su vínculo con la migración a los Estados Unidos. Notas de Población, 42 (101), 157-186.
MARTÍNEZ PIZZARO, JORGE Y PELLEGRINO, ADELA
Una aproximación al diseño de políticas sobre la migración internacional calificada en América Latina. Santiago de Chile: CEPAL
MATTO, AADITYA, ILEANA NEAGU Y CAGLAR ÖZDEN
"Brain waste? Educated immigrants in the U.S. Labor Market", en Journal of Development Economics, vol. 87
MOLLARD, BLANDINE Y SANOBER UMAR
Crushed Hopes: Underemplyment and Deskilling among Skilled Migrant Women, International Organization for Migration, Genova 19, Switzerland, http://eprints.lancs.ac.uk/62075/1/Crushed_Hopes_3Jan2013.pdf
NYBERG-SORENSEN, N., N. VAN HEAR Y P. ENGBERG-PEDERSEN
The migration-development nexus evidence and policy options. Satte-of-the-art overview, International Migration, Vol. 40 (5).
OIM
Informe sobre las migraciones en el mundo. Ginebra, Suiza: Organización Internacional para las Migraciones, ISBN 978-92-9068-762-7
Migración calificada y desarrollo: Desafíos para América del Sur Cuadernos Migratorios Nº 7, ISSN 2225-689X.
PANDE, AMBA
Women in Indian Diaspora: Redefining Self Between Dislocation and Relocation. In Women in the Indian Diaspora (pp. 1-12). Springer, Singapore.
PELLEGRINO, ADELA
Trends in Latin American Skilled Migration: <> or <>, Blackewell Publishers, vol. 39, 5, pp. 111-132. https://onlinelibrary.wiley.com/doi/pdf/10.1111/1468-2435.00174
PIORE, MICHAEL J.
Birds of Passage: Migrant Labor and Industrial Societies. Cambridge, UK: Cambridge University Press, ISBN 0-521-22452-7.
RAMÍREZ-GARCÍA, TELÉSFORO
Del precio de un sueño. Trayectorias de vida y trabajo de mujeres esposas de migrantes, México: Porrúa.
RAMÍREZ GARCÍA, TELÉSFORO Y FERNANDO LOZANO ASCENCIO
Selectividad y precariedad laboral en la migración calificada de América Latina y El Caribe, 2000-2010. REMHU - Revista Interdisciplinar da Mobilidade Humana [en linea] 2017, no. 25, (enero-abril): [Fecha de consulta: 6 de diciembre de 2018] Disponible en:<http://www.redalyc.org/articulo.oa?id=407050842007> ISSN 1980-8585
RAMÍREZ-GARCÍA, T. Y TIGAU, C.
"Mujeres mexicanas altamente calificadas en el mercado laboral estadounidense: ¿integradas o segregadas?", Sociedad y Economía, no. 34, 75-101. https://www.doi.org/10.25100/sye.v0i34.6475
RAVENSTEIN, E. G.
The Laws of Migration. Journal of the Satiscal Society of London, vol. 48, no. 2, pp. 167-235. https://www.jstor.org/stable/2979181
ROSALES MARTÍNEZ, YETZI Y HUALDE ALFARO ALFREDO
"Profesionales que emigran. Una comparación entre enfermeras e ingenieros mexicanos en Estados Unidos", Espiral. Estudios Sobre Estado y Sociedad Universidad de Guadalajara, vol. 24, núm. 70, pp. 181-219.
SALAMI, BUKOLA Y SIOBAN NELSON
"The Downward Occupational Mobility of Internationally Educated Nurses to Domestic Workers", Nursing Inquiry, vol. 21, no. 2.
SALT, JOHN
Migration Processes among the Highly Skilled in Europe. International Migration Review, vol. 26, 2, pp. 484-505. https://doi.org/10.1177/019791839202600216
SIAR, SHEILA, V.
"From highly skilled to low skilled: revisiting the deskilling of migrant labor", Discussion Paper Series, N° 2013-30, Instituto de Estudios para el Desarrollo de Filipinas.
VÁZQUEZ-MAGGIO, LAURA
"Migration of Mexicans to Australia", tesis de doctorado.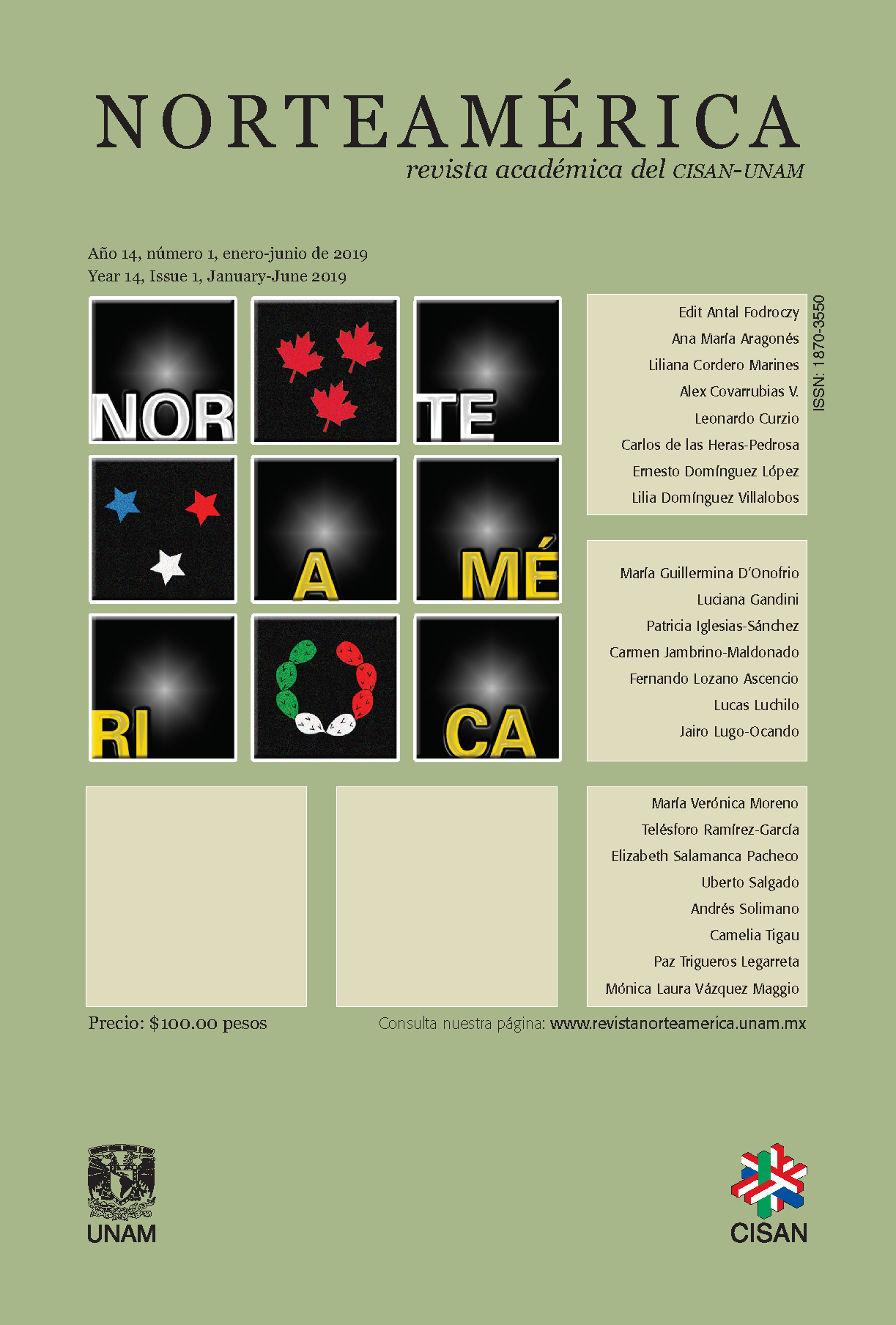 How to Cite
Gandini, L. (2018). Explanations of Qualified Migration: The Role of Women seen from the Perspective of the North American Experience. Stereotypes, Biases, and Challenges. Norteamérica, Revista Académica Del CISAN-UNAM, 14(1). https://doi.org/10.22201/cisan.24487228e.2019.1.371
Copyright (c) 2018 Luciana Gandini
This work is licensed under a Creative Commons Attribution-NonCommercial-NoDerivatives 4.0 International License.
Authors who publish with this journal agree to the following terms:

Authors retain copyright and grant the journal right of first publication with the work simultaneously licensed under a Creative Commons Attribution License that allows others to share the work with an acknowledgement of the work's authorship and initial publication in this journal.
Authors are able to enter into separate, additional contractual arrangements for the non-exclusive distribution of the journal's published version of the work (e.g., post it to an institutional repository or publish it in a book), with an acknowledgement of its initial publication in this journal.
Authors are permitted and encouraged to post their work online (e.g., in institutional repositories or on their website) prior to and during the submission process, as it can lead to productive exchanges, as well as earlier and greater citation of published work.