History as Reality and Fiction: The Different Worlds of The Man in the High Castle
Nelson Arteaga Botello

Flacso-México
Keywords:
uchronia, visual icons, colonial, post-colonial, television series
Abstract
The author analyzes the television series The Man in the High Castle. A uchronia inspired by the novel of the same name by science fiction writer Philip K. Dick, the series poses an alternate history in which Germany and Japan have vanquished the Allies in World War II. The show allows viewers to examine how spaces of domination and power are linked, how they are different in a historical fiction, and how this makes it possible to express a catharsis and a model of interpretation for actors, events, and ongoing risks in societies of today, particularly in the U.S. To do this, the series alters and inverts the current geography of global power, identity, and the culture of groups, hierarchies, and social relations, the functioning of cities, and technological development. This allows it to take a political and social position about our present from the standpoint of an alternative past.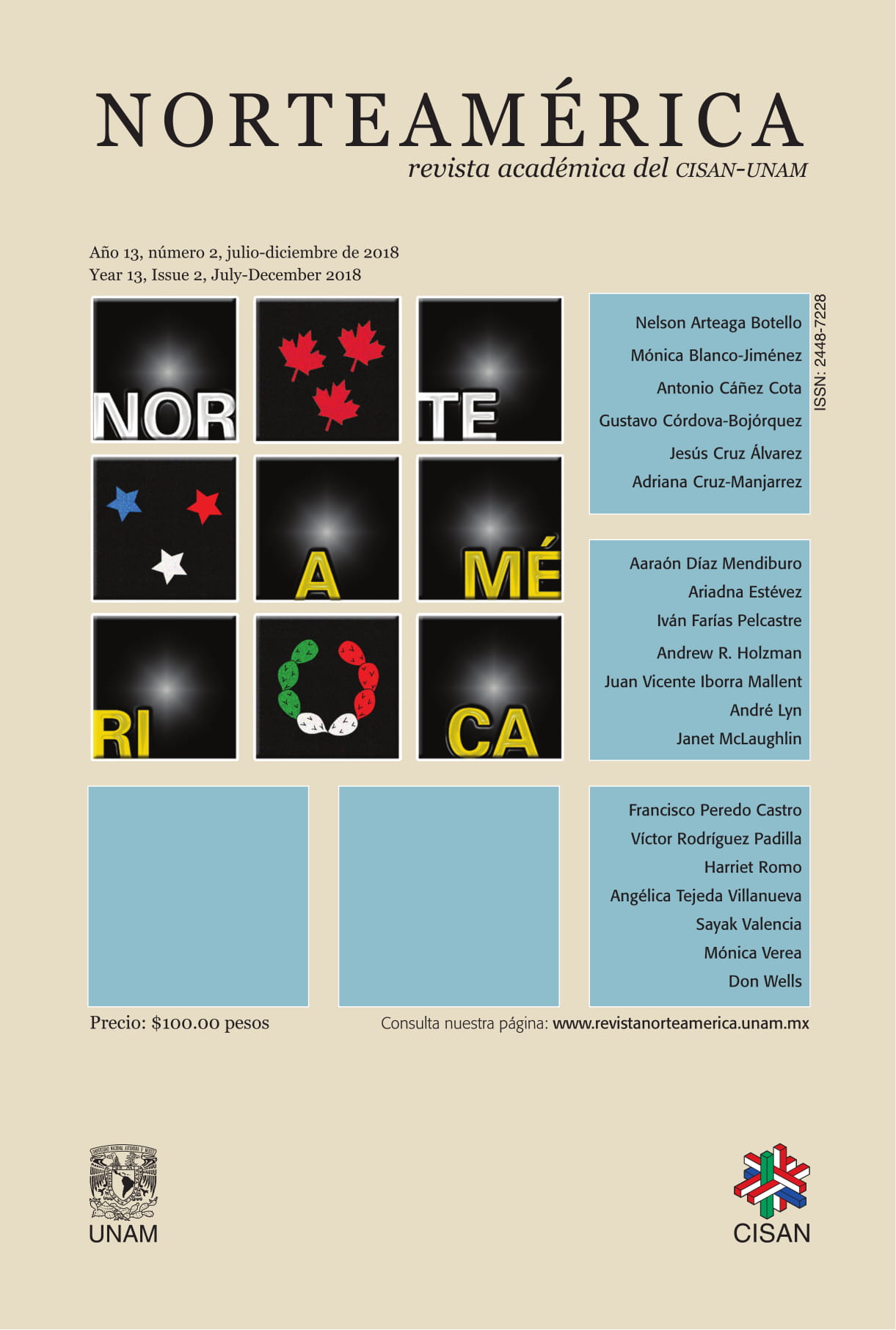 How to Cite
Arteaga Botello, N. (2018). History as Reality and Fiction: The Different Worlds of The Man in the High Castle. Norteamérica, Revista Académica Del CISAN-UNAM, 13(2). https://doi.org/10.22201/cisan.24487228e.2018.2.342
Copyright (c) 2018 Nelson Arteaga Botello
This work is licensed under a Creative Commons Attribution-NonCommercial-NoDerivatives 4.0 International License.
Authors who publish with this journal agree to the following terms:

Authors retain copyright and grant the journal right of first publication with the work simultaneously licensed under a Creative Commons Attribution License that allows others to share the work with an acknowledgement of the work's authorship and initial publication in this journal.
Authors are able to enter into separate, additional contractual arrangements for the non-exclusive distribution of the journal's published version of the work (e.g., post it to an institutional repository or publish it in a book), with an acknowledgement of its initial publication in this journal.
Authors are permitted and encouraged to post their work online (e.g., in institutional repositories or on their website) prior to and during the submission process, as it can lead to productive exchanges, as well as earlier and greater citation of published work.