Canada´s Resource Curse: Too Much of a Good Thing
Keywords:
Canada's resources, capitalism, Canadian economy, mixed goods, market policies, Canadian model
Abstract
Canada has been both blessed and cursed by its vast resource wealth. Immense resource riches send the wrong message to the political class that thinking and planning for tomorrow is unnecessary when record high global prices drive economic development at a frenetic pace. Short-termism, the loss of manufacturing competitiveness ('the Dutch disease') and long term rent-seeking behavior from the corporate sector become, by default, the low policy standard. This article contends that Canada is not a simple offshoot ofAnglo-American, hyper-commercial capitalism, but is subject to the recurring dynamics of social Canada and for this reason the Northern market model of capitalism needs its own theoretical articulation. Its distinguishing characteristic is that there is a large and growing role formixed goods and non-negotiable goods in comparison to the United States even when the proactive role of the Canadian state had its wings clipped to a degree that stunned many observers. The article also examines the uncoupling of the Canadian and U.S. economies driven in part by the global resource boom. The downside of the new staples export strategy is that hundreds of thousands of jobs have disappeared fromOntario and Quebec. Ontario, once the rich "have" province of the Confederation, is now a poor cousin eligible for equalization payments. Unlike earlier waves of deindustrialization, there is little prospect for recovering many of these better paying positions. Without a focused government strategy, the future for Canada's factory economy is grim. The final section addresses the dynamics of growing income polarization and its lessons for the future. With a global slowdown or worse on the horizon, Canada's unique combination of mixed goods and orthodox market-based policies is likely to be unsustainable in its current form. For countries with a similar endowment, the Northern model is unexportable.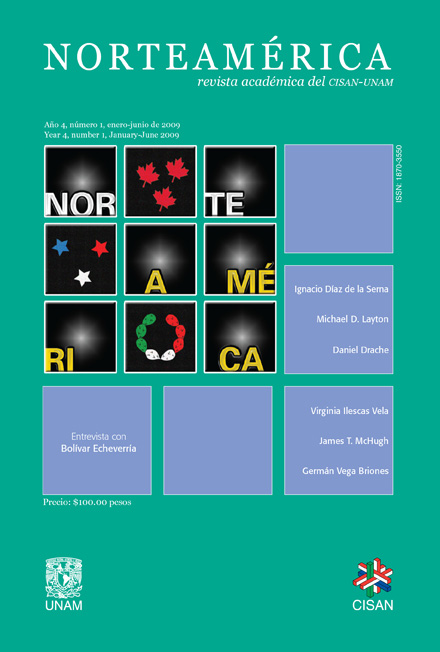 How to Cite
Drache, D. (2010). Canada´s Resource Curse: Too Much of a Good Thing. Norteamérica, Revista Académica Del CISAN-UNAM, 4(01). https://doi.org/10.22201/cisan.24487228e.2009.01.32
Copyright (c) 2010 Daniel Drache
This work is licensed under a Creative Commons Attribution-NonCommercial-NoDerivatives 4.0 International License.
Authors who publish with this journal agree to the following terms:

Authors retain copyright and grant the journal right of first publication with the work simultaneously licensed under a Creative Commons Attribution License that allows others to share the work with an acknowledgement of the work's authorship and initial publication in this journal.
Authors are able to enter into separate, additional contractual arrangements for the non-exclusive distribution of the journal's published version of the work (e.g., post it to an institutional repository or publish it in a book), with an acknowledgement of its initial publication in this journal.
Authors are permitted and encouraged to post their work online (e.g., in institutional repositories or on their website) prior to and during the submission process, as it can lead to productive exchanges, as well as earlier and greater citation of published work.