Republicanism, Liberalism, and Exceptionalism: The United States and the Racial Question in the Nineteenth Century
Keywords:
republicanism, liberalism, racialization, otherness
Abstract
 The nineteenth century was crucial for the global expansion of republicanism and liberal political culture, and with them, modernity/coloniality. In this context, the rise of the United States as a new actor in global politics brought with it a re-composition of imperial, colonial, and racial imaginaries. This article looks at how white supremacy became rooted in the liberal republican imaginary of U.S. identity and discusses how this has been maintained on the basis of racializing black populations and making them seem foreign and understanding them as the domestic otherness. 
References
Ahmed, Sara
The Cultural Politics of Emotions, Edinburgh University Press, Edimburgo.
Appadurai, Arjun
El rechazo de las minorías. Ensayo sobre la geografía de la furia, Tusquets, Barcelona.
Beaumont, Gustave de
Marie, ou l'esclavage aux États-Unis; tableau des moeurs américaines, Charles Gosselin, París.
Bell, Duncan, "What is Liberalism?," en Political Theory, Vol. 42, No. 6, pp. 688-698.
Burin, Eric
Slavery and the Peculiar Solution: A History of the American Colonization Society. University Press of Florida, Gainesville.
Campbell, David
"Global Inscription: How Foreign Policy Constitutes the United States," en Alternatives, Vol. 15, No. 3, pp. 263-286.
Carlyle, Thomas
"Occasional Discourse on the Negro Question," en Fraser's Magazine, Vol. 40, pp. 670-679.
Castro-Gómez, Santiago
"Michel Foucault y la colonialidad del poder," en Tabula Rasa, No. 6, pp. 153-172.
Chateuabriand, François René de
Memorias de ultratumba, [1848-1850], vol. I, Libro VIII, Acantilado, Barcelona.
Constant, Benjamin
Discurso sobre la libertad de los antiguos comparada con la de los modernos
Godoy Arcaya, Oscar, "Selección de textos políticos de Benjamin Constant," en Revista de Estudios Públicos, No. 59, pp. 1-68.
De Salas Ortueta, Javier
"Ideales ilustrados y realidad histórica: Jefferson ante la esclavitud y los indios," en Villaverde Rico, María José y Gerardo López Sastre (eds.), Civilizados y Salvajes. La mirada de los Ilustrados sobre el mundo no europeo, Centro de Estudios Políticos y Constitucionales, Madrid.
De Sousa Santos, Boaventura
Para descolonizar occidente. Más allá del pensamiento abismal, CLACSO y Prometeo Libros, Buenos Aires.
Donnelly, Jack
"Sovereign Inequalities and Hierarchy in Anarchy: American Power and International Society," en European Journal of International Relations, Vol. 12, No. 2, pp. 139-170.
Du Bois, W.E.B.
"Worlds of Color," en Foreign Affairs, Vol. 3, No. 3, pp. 423-444.
Du Bois, W.E.B.
The Souls of the Black Folk, [1903] Penguin Books, Nueva York.
Dubois, Laurent
Avengers of the New World. The Story of the Haitian Revolution, The Belknap Press of Harvard University, Cambridge y Londres.
Fanon, Frantz
Piel Negra. Máscaras Blancas, Akal, Madrid.
Fanon, Frantz
Los condenados de la Tierra, Fondo de Cultura Económica, México D.F.
Fonseca, Melody
Raza, poder e identidad en las prácticas discursivas de Estados Unidos sobre Haití: una perspectiva decolonial, Tesis Doctoral, Universidad Autónoma de Madrid, Madrid.
Foucault, Michel
Seguridad, territorio y población: Curso en el Collège de France, 1977-1979, Akal, Tres Cantos.
Franzé, Javier
"Tocqueville y la ciudadanía como pilar de la libertad (apuntes sobre El Antiguo Régimen y la Revolución)," en Sistema, No. 117, pp. 109-115.
Grafenstein, Johanna Von
Haití, una historia breve, Instituto de Investigaciones José María Luis Mora, Alianza Editorial Mexicana, Guadalajara.
Gruffydd Jones, Branwen
"Race in the Ontology of International Order," en Political Studies, Vol. 56, No. 4, pp. 907-927.
Jefferson, Thomas
Notes on the State of Virginia, J.W. Randolph, Richmond.
Jordan, Winthrop D.
The White Man's Burden. Historical Origins of Racism in the United States, Oxford University Pres, Nueva York.
Koselleck, Reinhart
Futuro pasado. Por una semántica de los tiempos históricos, Paidós, Barcelona.
Maldonado-Torres, Nelson
"Sobre la colonialidad del ser: contribuciones al desarrollo de un concepto," en Castro-Gómez, Santiago y Ramón Grosfoguel (eds.), El giro decolonial: reflexiones para una diversidad epistémica más allá del capitalismo global, Siglo del Hombre Editores, Bogotá.
Manent, Pierre
Tocqueville et la nature de la démocratie, l'esprit de la cité, Fayard, París.
May, Ernest R.
Imperial Democracy: The Emergence of America as a Great Power, Imprint Publications, Nueva York.
Mehta, Uday S.
"Liberal Strategies of Exclusion," en Politics and Society, Vol. 18, No. 4, pp. 427-454.
Mehta, Uday S.
Liberalism and Empire, University of Chicago Press, Chicago.
Mill, John Stuart
"M. de Tocqueville on Democracy in America," en Dissertations and discussions political, philosophical, and historical, John W. Parker and Son, Londres.
Mill, John Stuart
"The Negro Question," en Essays on Equality, Law, and Education, Toronto University Press, Toronto, pp. 85-95.
Mill, John Stuart
"A Few Words on Non-Intervention," en Foreign Policy Perspectives, No. 8, pp. 1-6.
Pocock, John G.A.
a El momento maquiavélico. El pensamiento político florentino y la tradición republicana atlántica, Tecnos, Madrid.
Pocock, John G.A.
b Historia e Ilustración. Doce estudios, Marcial Pons, Madrid.
Quijano, Aníbal
"Coloniality of Power, Eurocentrism and Latin America," en Nepantla: Views from South, Vol. 1, No. 3, pp. 533-580.
Rodríguez, Gabriela y Matías Esteban Ilivitzky
"La 'Democracia' de Tocqueville: las potencialidades y los problemas de una palabra antigua para dar cuenta de una forma de vida "radicalmente nueva'," en Astrolabio. Revista internacional de filosofía, No. 3, pp. 74-95.
Ros Cherta, Juan Manuel
Los dilemas de la democracia liberal. Sociedad y democracia en Tocqueville, Crítica, Barcelona.
Ruiz-Gimenez Arrieta, Itziar
La historia de la intervención humanitaria. El imperialismo altruista, La Catarata, Madrid.
Said, Edward W.
Cultura e Imperialismo, Anagrama, Barcelona.
Sullivan, Eileen P.
"Liberalism and Imperialism: J.S. Mill's Defense of the British Empire," en Journal of the History of Ideas, Vol. 44, No. 4., pp. 609-610.
Tocqueville, Alexis de
De la Démocratie en Amérique, Oeuvres Complètes Vol. I, (publicadas por Mme. de Tocqueville y prefacio de Gustave de Beaumont), Michel Lévy Frères, París
Watson, Hilbourne
"Theorizing the Racialization of Global Politics and the Caribbean Experience," en Alternatives, Vol. 26, No. 4, pp. 449-483.
"Documento núm. 9: La Doctrina Monroe: Mensaje del Presidente Monroe al Senado de los Estados Unidos (2 de diciembre de 1823)," en Martínez Lillo, Pedro y Juan Carlos Pereira (comps.), Documentos básicos sobre Historia de las Relaciones Internacionales 1851-1991, Editorial Complutense, Madrid.
"John L. O' Sullivan Proclaims America's Manifest Destiny," en Merrill, Dennis y Thomas G. Paterson (eds.), Major Problems in American Foreign Relations, Volume I: To 1920, 5ta edición, Houghton Mifflin Company, Boston.
"Carta al embajador estadounidense en Reino Unido, Rufus King, 13 de Julio de 1802", publicada en Dubois, Laurent y John D. Garrigus, Slave Revolution in the Caribbean 1789-1804, A Brief History with Documents, Bedford/St. Martin's. Boston.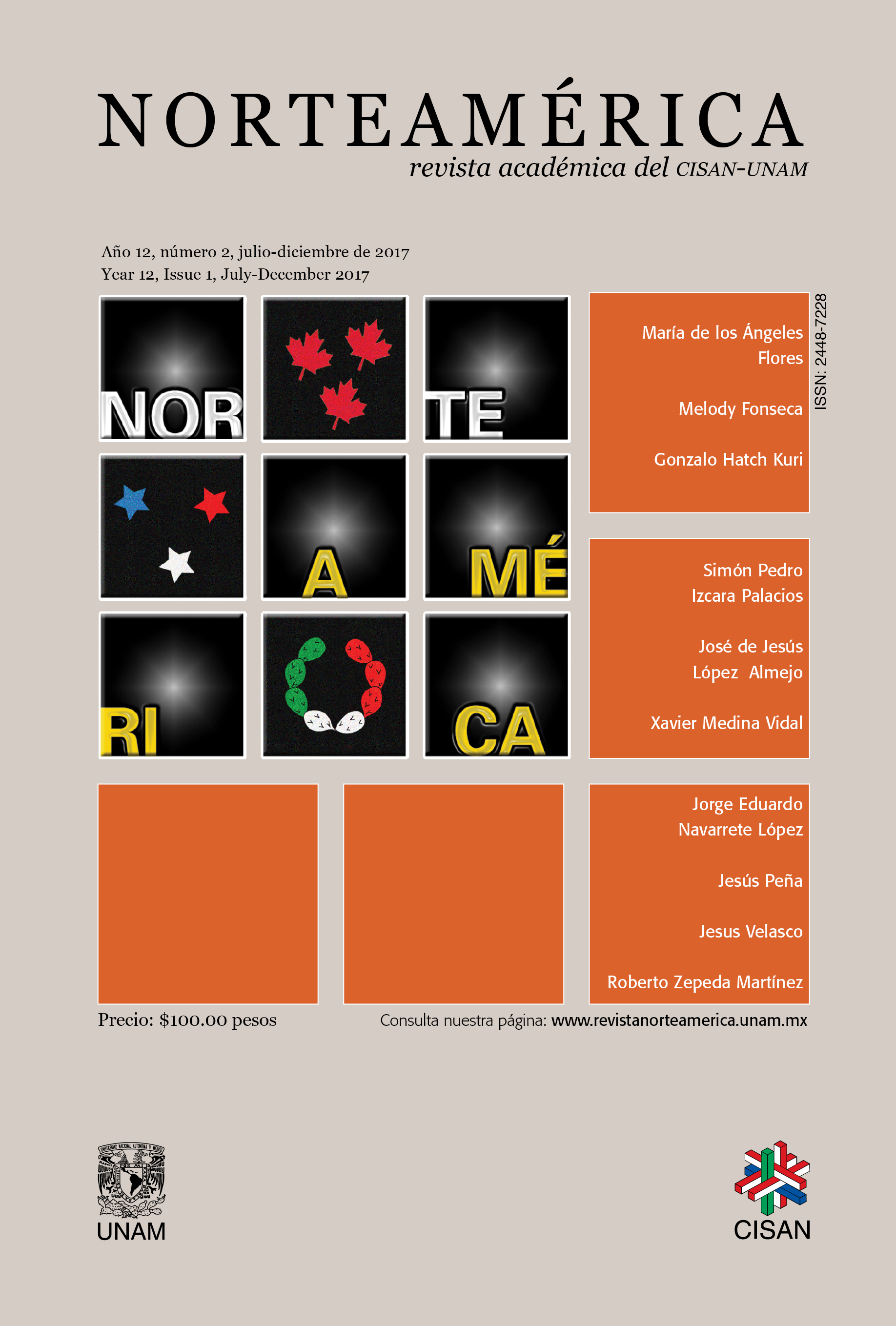 How to Cite
Fonseca, M. (2017). Republicanism, Liberalism, and Exceptionalism: The United States and the Racial Question in the Nineteenth Century. Norteamérica, Revista Académica Del CISAN-UNAM, 12(2). https://doi.org/10.20999//nam.2017.b003
Copyright (c) 2017 Melody Fonseca
This work is licensed under a Creative Commons Attribution-NonCommercial-NoDerivatives 4.0 International License.
Authors who publish with this journal agree to the following terms:

Authors retain copyright and grant the journal right of first publication with the work simultaneously licensed under a Creative Commons Attribution License that allows others to share the work with an acknowledgement of the work's authorship and initial publication in this journal.
Authors are able to enter into separate, additional contractual arrangements for the non-exclusive distribution of the journal's published version of the work (e.g., post it to an institutional repository or publish it in a book), with an acknowledgement of its initial publication in this journal.
Authors are permitted and encouraged to post their work online (e.g., in institutional repositories or on their website) prior to and during the submission process, as it can lead to productive exchanges, as well as earlier and greater citation of published work.