Propaganda, Competitive Advantage, and National Security: Elements for Critically Putting Canadian Multiculturalism in Context
Alexandre Beaudoin Duquette

Instituto de Investigaciones Antropológicas - Universidad Nacional Autónoma de México
Keywords:
Canadian multiculturalism, migration to Canada, Canadian migration propaganda, migratory policies, Latin American migration to Canada,
Abstract
This article contributes elements for a critique of Canadian multiculturalism that takes into account the concerns of the Latin American Diasporas established in Canada. The author argues that it is necessary to understand how three aspects are incorporated into this policy: propaganda, the aspiration to turn the country's cultural diversity into a competitive advantage, and the concern for national security. To understand this, the ideology that orients Canada's immigration and cultural diversity policies must be put in perspective.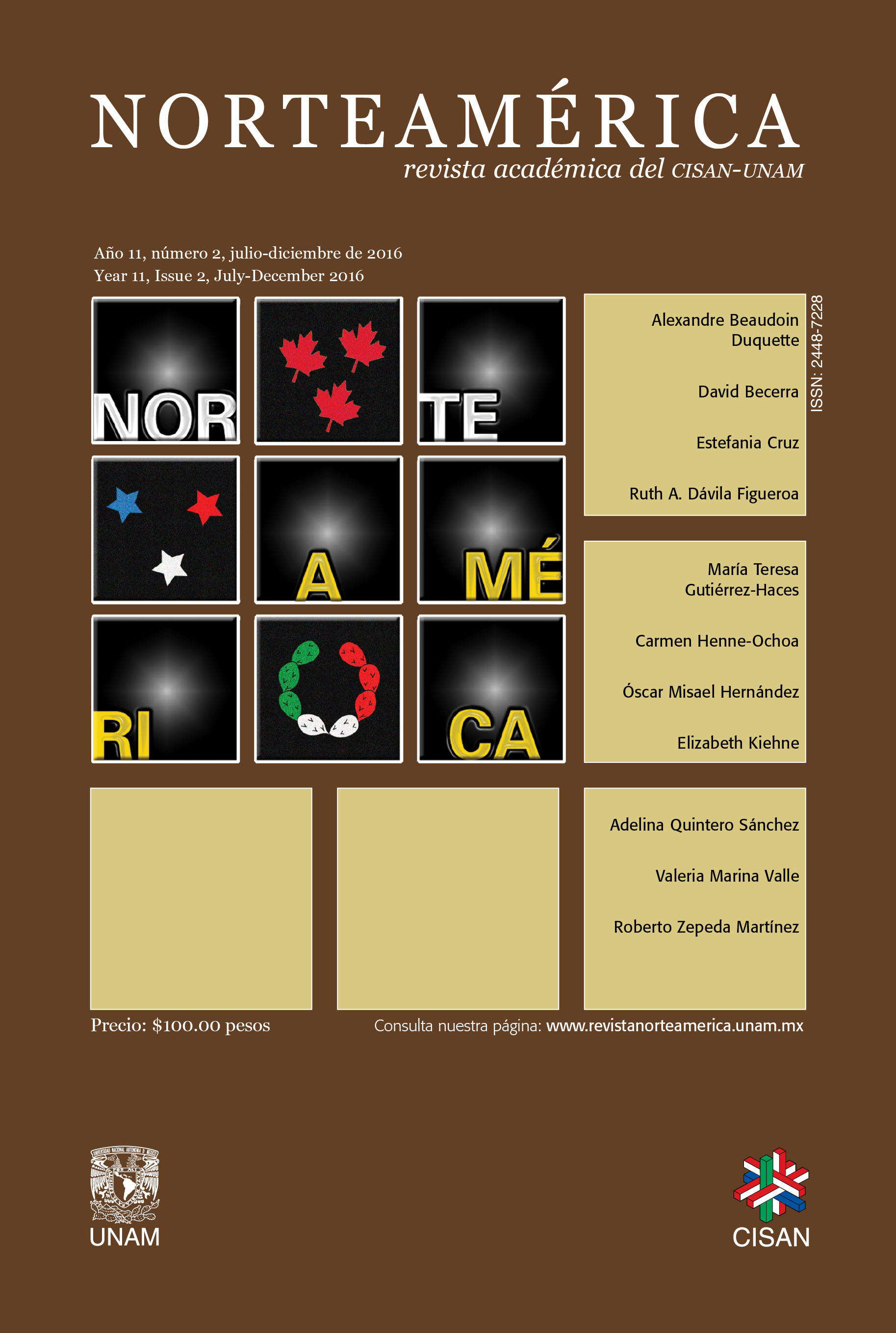 How to Cite
Beaudoin Duquette, A. (2016). Propaganda, Competitive Advantage, and National Security: Elements for Critically Putting Canadian Multiculturalism in Context. Norteamérica, Revista Académica Del CISAN-UNAM, 11(2), 85-108. https://doi.org/10.20999/nam.2016.b004
Copyright (c) 2016 Alexandre Beaudoin Duquette
This work is licensed under a Creative Commons Attribution-NonCommercial-NoDerivatives 4.0 International License.
Authors who publish with this journal agree to the following terms:

Authors retain copyright and grant the journal right of first publication with the work simultaneously licensed under a Creative Commons Attribution License that allows others to share the work with an acknowledgement of the work's authorship and initial publication in this journal.
Authors are able to enter into separate, additional contractual arrangements for the non-exclusive distribution of the journal's published version of the work (e.g., post it to an institutional repository or publish it in a book), with an acknowledgement of its initial publication in this journal.
Authors are permitted and encouraged to post their work online (e.g., in institutional repositories or on their website) prior to and during the submission process, as it can lead to productive exchanges, as well as earlier and greater citation of published work.