Young Immigrants Association and the Future Latino Leadership in the United States. Social Capital and Political Engagement of Dreamers in perspective.
Estefania Cruz

Universitat Autonoma de Barcelona
Keywords:
Young immigrants, Dreamers' association, social capital, group consciousness, Latino leadership, political opportunity,
Abstract
This work analyzes Dreamers' political participation as a civic association movement, as well as their pathway for social change in the U.S. The article reflects on their social capital and the challenges facing them to explain the possible scenarios for a movement that has politicized a considerable number of contemporary young U.S. Americans. The aim is to complement the existing work in the field, contributing with explanations grounded in political sociology approaches, focused on the politicization of undocumented youth, the analysis of minority association, the influence and leadership of the movement, and, especially, Dreamers' opportunities and challenges in U.S. politics. 
References
ABRAHAM, SARA
"The Dreamers: How the Undocumented Youth Movement Transformed the Immigrant Rights Debate," Ethnic and Racial Studies vol. 38, no.3, September, pp. 452-454.
BARERO, MARIA VICTORIA
DACA, Immigrant Youth, and Education: An Analysis of Elite Narratives on Nationhood, Citizenship, and Belonging in the U.S., Dissertation, Ohio State University.
BIRD, KAREN
"The Political Representation of Visible Minorities in Electoral Democracies: A Comparison of France, Denmark, and Canada," Nationalism and Ethnic Politics vol. 11, no. 4, January, pp. 425–465.
BRYSON, DIANA
"'Bring Them Home' Undocumented Activism: Week One in Otay," NACLA Report on the Americas.
CIGARROA, MARIA CRISTINA
"Silence Isn't Helping and We Need to Put Our Stories into Action": The Role of Narratives for the Dreamers, doctoral thesis, University of Texas at Austin.
COHEN, JEAN L., and ANDREW ARATO
Civil Society and Political Theory, New Baskerville, Massachusetts, MIT Press.
EISEMA, DIRK, TARA FIORITO, and MARTHA MONTERO-SIEBURTH
"Beating the Odds: The Undocumented Youth Movement of Latinos as a Vehicle for Upward Social Mobility," New Diversities, vol.16, no. 1, pp. 23–39.
FERGUSON, ADAM
An Essay on the History of Civil Society, London, T.Cadell.
FOX NEWS LATINO
"Thirty-Two DREAMers Detained by U.S. Authorities After Attempted Re-Entry Without Documentation," September, http://latino.foxnews.com/latino/politics/2013/09/30/thirty-more-dreamers-to-attempt-entering-us-to-protest-immigration-laws/.
HAMILTON, ALEXANDER, JAMES MADISON, and JOHN JAY
The Federalist Paper, New York, Yale University Press.
HUNTINGTON, SAMUEL P.
Who are We?: The Challenges to America's National Identity, New York, Simon and Schuster.
LESKO, NANCY, and SUSAN TALBURT
"Citizenship, Mobilities and the Transnationalization of Youth Cultures," Keywords in Youth Studies: Tracing Affects, Movements, Knowledges, New York, Routledge, p. 339.
LIPSET, SEYMOUR
Political Man: The Social Bases of Politics, John Hopkins University Press.
LOCKE, JOHN
Two treatises of government, London, Awnsham Churchill.
LOUIE, ANDREA
"Creating Histories for the Present: Second-generation (re)definitions of Chinese American Culture," in P. Levitt and M. C. Waters, eds. The Changing Face of Home: The Transnational Lives of the Second Generation, New York, Russell Sage Publishers, pp. 312–340.
MAHATMYA, DUHITA, and LISA GRING-PEMBLE
"DREAMers and Their Families: A Family Impact Analysis of the DREAM Act and Implications for Family Well-being," Journal of Family Studuies vol. 20, no. 1, December, pp. 79–87.
MARTINEZ, LISA M.
"Dreams Deferred: The Impact of Legal Reforms on Undocumented Latino Youth," American Behavioral Scientist vol. 58, no. 14, October, pp. 1873–1890.
MARTINEZ, RAFAEL A.
Counter Culture Youth: Immigrant Rights Activism and the Undocumented Youth Vanguard, thesis, California State University.
MASUOKA, NATALIE
"Together They Become One: Examining the Predictors of Panethnic Group Consciousness among Asian Americans and Latinos," Social Science Quarterly vol. 87, no. 5, December, pp. 993-1011.
MCDEVITT, MICHAEL, and SHANNON SINDORF
"Casting Youth as Information Leaders: Social Media in Latino Families and Implications for Mobilization," American Behavioral Scientist vol. 58, no. 5, pp. 701-714.
MENA ROBLES, JORGE, and RUTH GOMBERG-MUÑOZ
"Activism after DACA: Lessons from Chicago's Immigrant Youth Justice League," North American Dialogue vol. 19, no. 1, Spring, pp. 46–54.
MEYER, DAVID S., and DEBRA C. MINKOFF
"Conceptualizing Political Opportunity," Social Forces vol. 82, no. 4, June, pp. 1457–1492.
MIGRATION POLICY INSTITUTE
"Who and Where the Dreamers Are: A Demographic Profile of Immigrants Who Might Benefit from the Obama Administration's Deferred Action Initiative," American Inmigration Council, July, Washington, D. C.
MILKMAN, RUTH
"Millennial Movements: Occupy Wall Street and the Dreamers," Dissent, Summer, University of Pennsylvania Press, pp. 55–60.
MOULAERT, FRANK, BOB JESSOP, and ABID MEHMOOD
"Agency, Structure, Institutions, Discourse (ASID) in Urban and Regional Development," International Journal of Urban Sciences vol. 20, no. 2, May, pp. 167-187.
NICHOLLS, WALTER J.
"From Political Opportunities to Niche-openings: the Dilemmas of Mobilizing for Immigrant Rights in Inhospitable Environments," Theory and Society vol. 43, no. 1, January, pp. 23-49.
NICHOLLS, WALTER, and TARA FIORITO
"Dreamers Unbound: Immigrant Youth Mobilizing," New Labor Forum vol. 24, no. 1, Winter, pp. 86–92.
PALLARES, AMALIA
Family Activism: Immigrant Struggles and the Politics of Noncitizenship, New Brunswick, New Jersey, Rutgers University Press.
PASSEL, JEFFREY S. , and MARK H. LOPEZ
"Up to 1.7 Million Unauthorized Immigrant Youth May Benefit from New Deportation Rules," Pew Hispanic Center no. 202, August, pp. 1–11.
PATLER, CAITLIN, and JORGE A.CABRERA
"From Undocumented to DACAmented Impacts of the Deferred Action for Childhood Arrivals (DACA) Program: Three Years Following its Announcement," Institute for Research on Labor and Employment, June, http://www.chicano.ucla.edu/files/Patler_DACA_Report_061515.pdf.
PÉREZ ESPINOSA, CÉSAR
El congreso de Estados Unidos: pragmatismo y pluralismo, Mexico City, UNAM-CISAN.
PEW HISPANIC CENTER
Between Two Worlds: How Young Latinos Come of Age in America, July, http://www.pewhispanic.org/files/reports/117.pdf.
PORTES, ALEJADRO, LUIS GUARNIZO, and PATRICIA LANDOT
La Globalización desde abajo: Transnacionalismo inmigrante y desarrollo, Mexico City, Flacso.
PRESTON, JULIA
"Illegal Immigrant Students Protest at McCain Office," New York Times, May 18, http://www.nytimes.com/2010/05/18/us/18dream.html.
PUTNAM, ROBERT D.
Bowling Alone: The Collapse and Revival of American Community, New York, Simon and Schuster.
SANCHEZ, GABRIEL R.
"The Role of Group Consciousness in Political Participation Among Latinos in the United States," American Politics Research vol. 34, no. 4, July, pp. 427–450, doi:10.1177/1532673X05284417.
SCHROVER, MARLOU, and FLORIS VERMEULEN
"Immigrant Organisations," Journal of Ethnic and Migration Studies vol. 31, no. 5, pp. 823–832.
SEIF, HINDA
"We Define Ourselves: 1.5-Generation Undocumented Immigrant Activist Identities and Insurgent Discourse," North American Dialogue vol. 19, no. 1, Spring, pp. 23–35, doi:10.1111/nad.12039.
SIEMIATYCKI, MYER
"Governing Immigrant City: Immigrant Political Representation in Toronto," American Behavioral Scientist vol. 55, no. 9, pp. 1214–1234. doi: 10.1177/0002764211407840.
SRE (SECRETARÍA DE RELACIONES EXTERIORES)
"Dreamers without borders program," https://www.gob.mx/sre/prensa/programa-dreamers-without-borders.
STOKES, ATICA KAI
"Latino Group Consciousness and Political Participation," American Politics Research vol. 31, no. 4, July, pp. 361-378, doi: 10.1177/1532673X03031004002.
SUÁREZ-NAVAS, LILIANA, RAQUEL MACIÁ, ANGELA GARCÍA M., ALAIN MORICE, ZENIA HELLGREN, BARBARA LAUBENTHAL, SUSAN COUTIN, AMARELA VARELA, and PEIO ARBIDE
Las luchas de los sin papeles y la extensión de la ciudadanía. Perspectivas críticas desde Europa y Estados Unidos, Madrid, Traficantes de sueños.
SURO, ROBERTO
Strangers Among Us: How Latino Immigration is Transforming America, New York, A. Alfred Knopf.
TOCQUEVILLE, ALEXIS DE
Democracy in America, Chicago, University of Chicago Press.
TRIVIÑO, JUAN CARLOS
Immigrant Organizations and the Politicization of Cultural Diversity in the City, Migration Policy Centre, http://cadmus.eui.eu/handle/1814/31979.
UNITED WE DREAM
n.d. About Us: Take Action, http://unitedwedream.org/about/our-missions-goals/.
U.S. Congress.
"H.R. 4437 (109th): Border Protection, Antiterrorism, and Illegal Immigration Control Act of 2005," December.
U.S. DEPARTMENT OF HOMELAND SECURITY
"Yearbook of Immigration Statistics," Washington, D.C.
"Deferred Action for Childhood Arrivals," July.
WANG, JO HSIN, ROBERT SMITH, LUIN GOLDRING, ROBERT WARREN, DONALD KERWIN, LUISA VERONIS, and JORGE MENA ROBLES
"Beyond DAPA and DACA: Revisiting Legislative Reform in Light of Long-Term Trends in Unauthorized Immigration to the United States," Immigrant Political Incorporation 49, no. 1, pp. 587–594.
WARREN, ROBERT, and DONALD KERWIN
"Beyond DAPA and DACA: Revisiting Legislative Reform in Light of Long-Term Trends in Unauthorized Immigration to the United States," Journal on Migration and Human Security vol. 3, no. 1, pp. 80-108, http://jmhs.cmsny.org/index.php/jmhs/article/view/45.
WASHINGTON POST
"'Dreamers' Protest on Anniversary Of Obama's Immigration Plan Announcement," November, https://www.washingtonpost.com/video/local/dreamers-protest-on-anniversary-of-obamas-immigration-plan-announcement/2015/11/20/f43b2630-8fc1-11e5-934c-a369c80822c2_video.html.
WEBER-SHIRK, JOAQUINA
"Deviant Citizenship: DREAMer Activism in the United States and Transnational Belonging," Social Sciences vol. 4, no. 3, pp. 582-597. doi:10.3390/socsci4030582.
WHITE HOUSE
"Remarks by the President on Immigration," The White House, June, https://www.whitehouse.gov/the-press-office/2012/06/15/remarks-president-immigration.
WHITE HOUSE PRESS OFFICE
"Meet the Guests in the First Lady's 2016 State of the Union Box," https://www.whitehouse.gov/blog/2016/01/10/meet-guests-first-ladys-2016-state-union-box.
ZIMMERMAN, ARELY M.
"Documenting Dreams: New Media, Undocumented Youth and The Immigrant Rights Movement," Media, Activism and Participatory Politics Project, Los Angeles, University of Southern California Annenberg School for Communication and Journalism.
"A Dream Detained: Undocumented Latino Youth and the DREAM Movement." NACLA Report on the Americas, http://nacla.org/sites/default/files/A04406016_5.pdf.
ZLOLNISKI, CHRISTIAN
"Political Mobilization and Activism among Latinas/os in the United States," in H. Rodriguez, R. Sáenz, and C. Menjivar, eds. Latinas/os in the United States: Changing the Face of America, Boston, Springer US, pp. 352–368.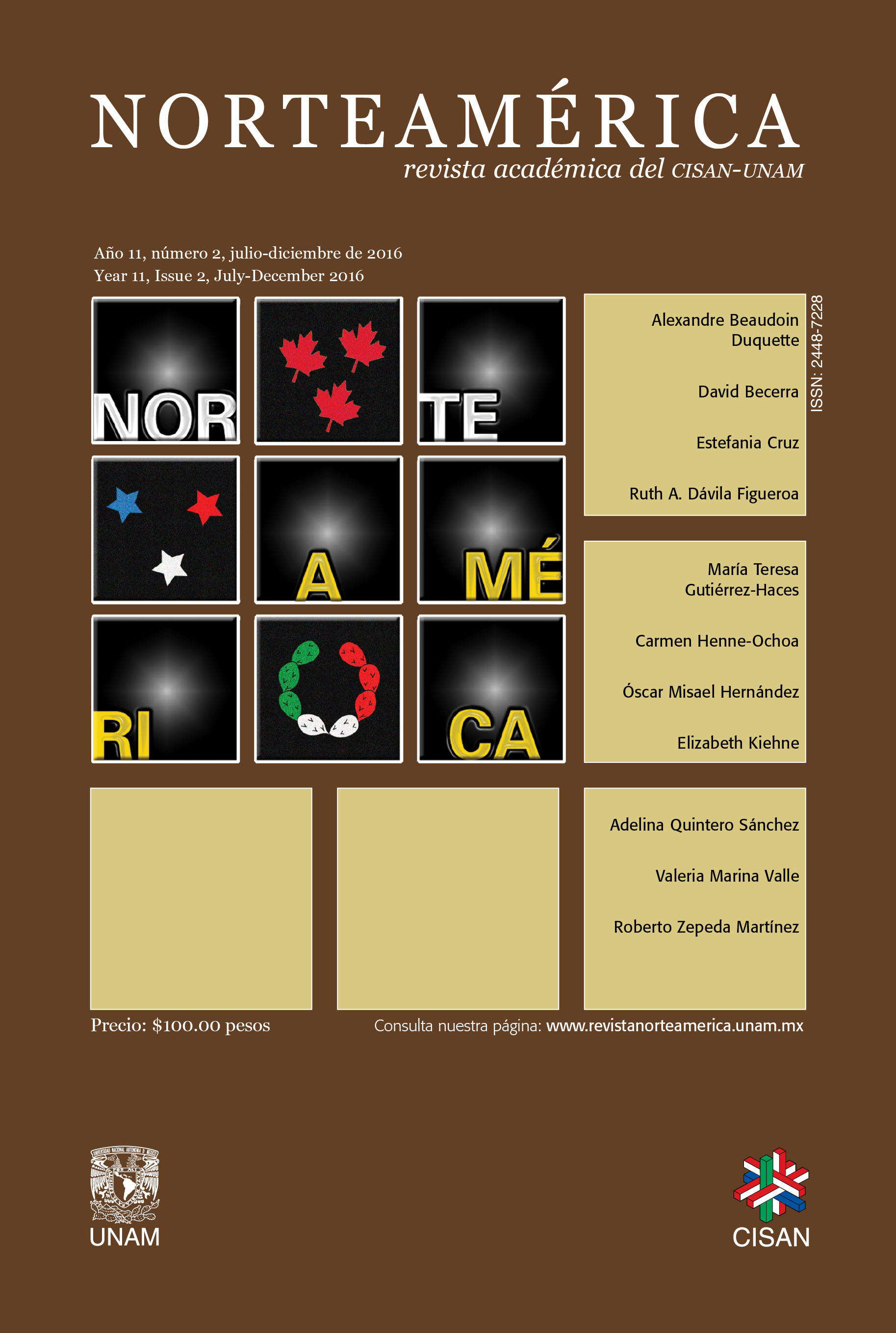 How to Cite
Cruz, E. (2016). Young Immigrants Association and the Future Latino Leadership in the United States. Social Capital and Political Engagement of Dreamers in perspective. Norteamérica, Revista Académica Del CISAN-UNAM, 11(2), 165-192. https://doi.org/10.20999/nam.2016.b007
Section
CONTEMPORARY ISSUES
Copyright (c) 2016 Estefania Cruz
This work is licensed under a Creative Commons Attribution-NonCommercial-NoDerivatives 4.0 International License.
Authors who publish with this journal agree to the following terms:

Authors retain copyright and grant the journal right of first publication with the work simultaneously licensed under a Creative Commons Attribution License that allows others to share the work with an acknowledgement of the work's authorship and initial publication in this journal.
Authors are able to enter into separate, additional contractual arrangements for the non-exclusive distribution of the journal's published version of the work (e.g., post it to an institutional repository or publish it in a book), with an acknowledgement of its initial publication in this journal.
Authors are permitted and encouraged to post their work online (e.g., in institutional repositories or on their website) prior to and during the submission process, as it can lead to productive exchanges, as well as earlier and greater citation of published work.