A Narrative Constellation of Resistance. Young Sons and Daughters Of Agricultural Workers on the Mexico-U.S. Border
Susana Vargas Evaristo

"UNAM, Programa de Becas Posdoctorales en la unam, becaria del Centro de Investigaciones sobre América del Norte"
Keywords:
Life histories, discrimination, resistance, ethnicity, narrative constellation, intersectionality
Abstract
This article deals with the life histories of young Oaxacans settled in two far-removed locations involved in intensive agriculture. The author proposes the notion of the narrative constellation of resistance as a methodological resource for analyzing the complexity of life histories on di- erent levels (geographical, collective, and individual). Resistance is dealt with as a narrative route produced by the subjects in response to the historic overarching ethnic, gender, racial, and class discrimination experienced over di erent generations. The article draws on a qualita- tive methodology, using in-depth interviews in a biographical cohort study. 
References
Aquino Moreschi, Alejanda
De las luchas indias al sueño americano. Experiencias migratorias de jóvenes zapotecos y tojolabales en Estados Unidos, Publicaciones de la Casa Chata, Universidad Autónoma Metropolitana, México, D.F. Pp. 358
Bhabha, K, Homi
The location of culture. New York, Editorial Routledge
Butler, Judith
"Restating the universal" en Butler, Judith; Laclau, Ernesto y Žižek, Slavoj Contingency, hegemony, universality. New York, Verso.
Castiblanco Lemus, Gladys
"Rap y prácticas de resistencia: una forma de ser joven. Reflexiones preliminares a partir de la interacción con algunas agrupaciones bogotanas" en Tabula Rasa, núm. 3, enero-diciembre, 2005, pp. 253-270 Universidad Colegio Mayor de Cundinamarca Bogotá, Colombia
Castoriadis, Cornelius
Histoire et création – textes philosophiques inédits (1945-1967) Paris, Moon Stone Publications.
Cruz-Salazar, Tania
"El joven indígena en Chiapas: el re-conocimiento de un sujeto histórico" en: Revista Liminar. Estudios Sociales y Humanísticos, vol. X, núm. 2, julio-diciembre, Pp. 145-162 Centro de Estudios Superiores de México y Centro América San Cristóbal de las Casas, México
Chávez, José Eduardo
Immigrant High School Students in Action En: Voices of Indigenous Oaxacan Youth in the Central Valley: Creating our Sense of Belonging in California. Realizado por el Oaxacalifornian Reporting Team/ Equipo de Cronistas Oaxacalifornianos (ECO). Universidad de California, Center for Collaborative Research for an Equitable California, Research Reporte Número 1, Julio de 2013.
Dube, Saurabh
"Identidades culturales y sujetos históricos: estudios subalternos y perspectivas poscoloniales" en: Revista Estudios de Asia y África [en línea], XLV (Sin mes) : [Fecha de consulta: 4 de diciembre de 2013] Disponible en:<http://www.redalyc.org/articulo.oa?id=58620930001> ISSN 0185-0164
Erikson, E. H.
Sociedad y adolescencia. Siglo XXI, México.
Foucault Michel,
"Verdad y Poder. Diálogo con M. Fontana", en Un diálogo sobre el poder y otras conversaciones. Barcelona: Altaya.
Fuller, Norma
Maternidad e identidad femenina: relato de sus desencuentros. En: Donas, Solum (Comp.) "Adolescencia y juventud en América Latina", Cartago, LUR.
Gama, Federico
Mazahuacholoskatopunk. Instituto Mexicano de la Juventud.
Garcés Montoya, Ángela et., al.,
Territorialidad e identidad hip hop raperos en Medellín. Rev. Anagramas, Volumen 5, Nº 10, pp. 125-138, Consultado: [21-03-2014] Disponible en: http://148.206.107.15/biblioteca_digital/estadistica.php?id_host=6&tipo=ARTICULO&id=1747&archivo=7-125-1747rpp.pdf&titulo=Territorialidad%20e%20identidad%20hip%20hop:%20Raperos%20en%20Medell%C3%ADn
Giraldo Díaz, Reinaldo
Poder y resistencia en Michel Foucault. Tabula Rasa, 4, 103-112.
Gloria Anzaldúa
Borderlands/La Frontera: The New Mestiza. Hypatia12 105-24.
Pérez Ruíz, Maya Lorena (coord.)
, Jóvenes indígenas y globalización en América Latina, Colección Científica, México: Instituto Nacional de Antropología e Historia, pp. 286.
Rieiro, Anabel
"El sujeto: entre relaciones de dominación y resistencia." El Uruguay desde la sociología Núm. 8 Pp. 271-289. Consultado [18/02/2014] Disponible en: http://www.fcs.edu.uy/archivos/Anabel%20Rieiro%20El%20sujeto%20entre%20relaciones%20de%20dominaci%C3%B3n%20y%20resistencia.pdf
Rosaldo, Michelle
"Mujer cultura y sociedad: Una visión teórica", En: Antropología y Feminismo, Anagrama, Barcelona, pp.153 a 180.
Lara Flores, Sara María
"¿Es posible hablar de un trabajo decente en la agricultura moderno-empresarial en México?" en: El Cotidianao, Revista de la Realidad Mexicana actual, 23, Núm. 147, enero-febrero.
Matterlart, Armand y Neveu, Érik
Introducción a los estudios culturales, Ediciones Paidós Ibérica, S.A., Barcelona. P. 175
Mignolo, Walter
La colonialidad a lo largo ya lo ancho: el hemisferio occidental en el horizonte colonial de la modernidad (pp. 55-86). CLACSO.
Murillo, P., Axel David
"Los jóvenes de la cultura hip hop: formas de identificación y estatus político en el municipio de Soacha".VI Jornadas de Jóvenes Investigadores, 10,11 y 12 de noviembre de 2011, Instituto de Investigaciones Gino Germani, Consultado: [21-03-2014] Disponible en: http://webiigg.sociales.uba.ar/iigg/jovenes_investigadores/6jornadasjovenes/EJE%201%20PDF/Eje%201_Murillo%20Paredes.pdf
Perea, C.
"Predicando mi mensaje. Testimonio rapero". Análisis político, nstituto de Etudios Políticos y Relaciones Internacionales (IEPRI) Universidad Nacional, Bogotá número 37, mayo-agosto Pp. 91-109.
Sandoval, Chela
Methodology of the opressed. Theory out of Bounds, Volumen 18, Universidad de Minnesota Press, Estados Unidos de América. P. 240
Santos, Boaventura De Sousa
"Hacia una concepción multicultural de los derechos humanos" en: El Otro Derecho, número 28, julio, Bogotá, Colombia. Pp. 26 (Traducción de Libardo José Ariza).
Scott, James C.
Los dominados y el arte de la resistencia. Ediciones Era, Tercera reimpresión, México. P.314
Stephen, Lynn
Transborder lives. Indigenous oaxacans in Mexico, California, and Oregon, Duke University Press, Estados Unidos. P. 375
Tarrus, A.
"Pobres en migración, globalización de las economías y debilitamiento de los modelos integradores: el transnacionalismo migratorio en Europa meridional". Empiria: Revista de metodología de ciencias sociales, (19), 133-156.
Touraine, Alain
La formation du sujet. In Penser le Sujet, autour d'Alain Touraine, Colloque de Cerisy, Fayard, París.
Vargas Evaristo, Susana
Del Valle Siempre Constelaciones Narrativas y la Presencia de la Doble Voz. Un Estudio Sobre los Hijos de Jornaleros Agrícolas Migrantes en Regiones de Acogida: El Valle de San Quintín, B. C., y el Valle Central, Ca. Tesis para optar por el grado de Doctora en Antropología, Facultad de Filosofía y Letras/Instituto de Investigaciones Antropológicas, UNAM.
Velasco Ortíz, Laura
Desde que tengo memoria. Narrativas de identidad en indígenas migrantes. El Colegio de la Frontera Norte (EL COLEF) y El Consejo Nacional para la Cultura y las Artes (CONACULTA), México. P. 303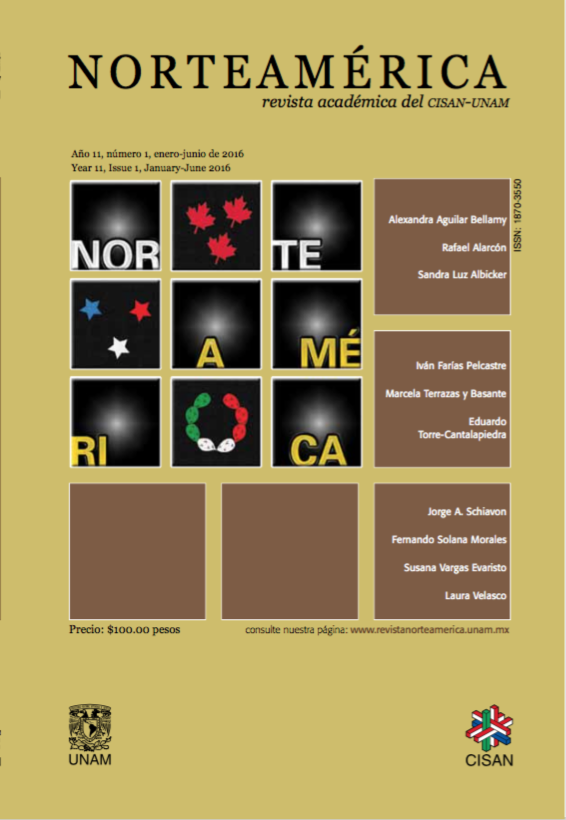 How to Cite
Evaristo, S. (2016). A Narrative Constellation of Resistance. Young Sons and Daughters Of Agricultural Workers on the Mexico-U.S. Border. Norteamérica, Revista Académica Del CISAN-UNAM, 11(1), 43-74. https://doi.org/10.20999/nam.2016.a002
Copyright (c) 2016 Susana Vargas Evaristo
This work is licensed under a Creative Commons Attribution-NonCommercial-NoDerivatives 4.0 International License.
Authors who publish with this journal agree to the following terms:

Authors retain copyright and grant the journal right of first publication with the work simultaneously licensed under a Creative Commons Attribution License that allows others to share the work with an acknowledgement of the work's authorship and initial publication in this journal.
Authors are able to enter into separate, additional contractual arrangements for the non-exclusive distribution of the journal's published version of the work (e.g., post it to an institutional repository or publish it in a book), with an acknowledgement of its initial publication in this journal.
Authors are permitted and encouraged to post their work online (e.g., in institutional repositories or on their website) prior to and during the submission process, as it can lead to productive exchanges, as well as earlier and greater citation of published work.