"One Day on the Red Hills of Georgia": The Effects of Immigration Status on Latino Migrants' Experience of Discrimination, Utilization of Public Services, and Attitudes toward Acculturation
Mikhail Lyubansky

Professor, Department of Psychology, University of Illinois at Urbana-Champaign

Paul A. Harris

Professor, Department of Political Science, Auburn University

William E. Baker

Professor, Department of Political Science, Kennesaw State University

Cameron D. Lippard

Professor, Department of Sociology, Appalachian State University
Keywords:
immigration, acculturation, immigration status, migration, Georgia, Mexican, Latino.
Abstract
This study documents the experiences and identities of undocumented Spanish-speaking migrants in Georgia vis-à-vis their counterparts who have legal status. Structured interviews were used to collect data from 127 adults (49 percent undocumented at their time of arrival and 38 percent undocumented at the time of data collection) regarding their experience of discrimination, utilization of services, identity preferences, mental health, and beliefs in five domains: vulnerability, injustice, distrust, superiority, and helplessness. Significant immigration status differences emerged for education, income, utilization of some city services, and a few of the belief scales. However, the documented and undocumented samples were more similar than different.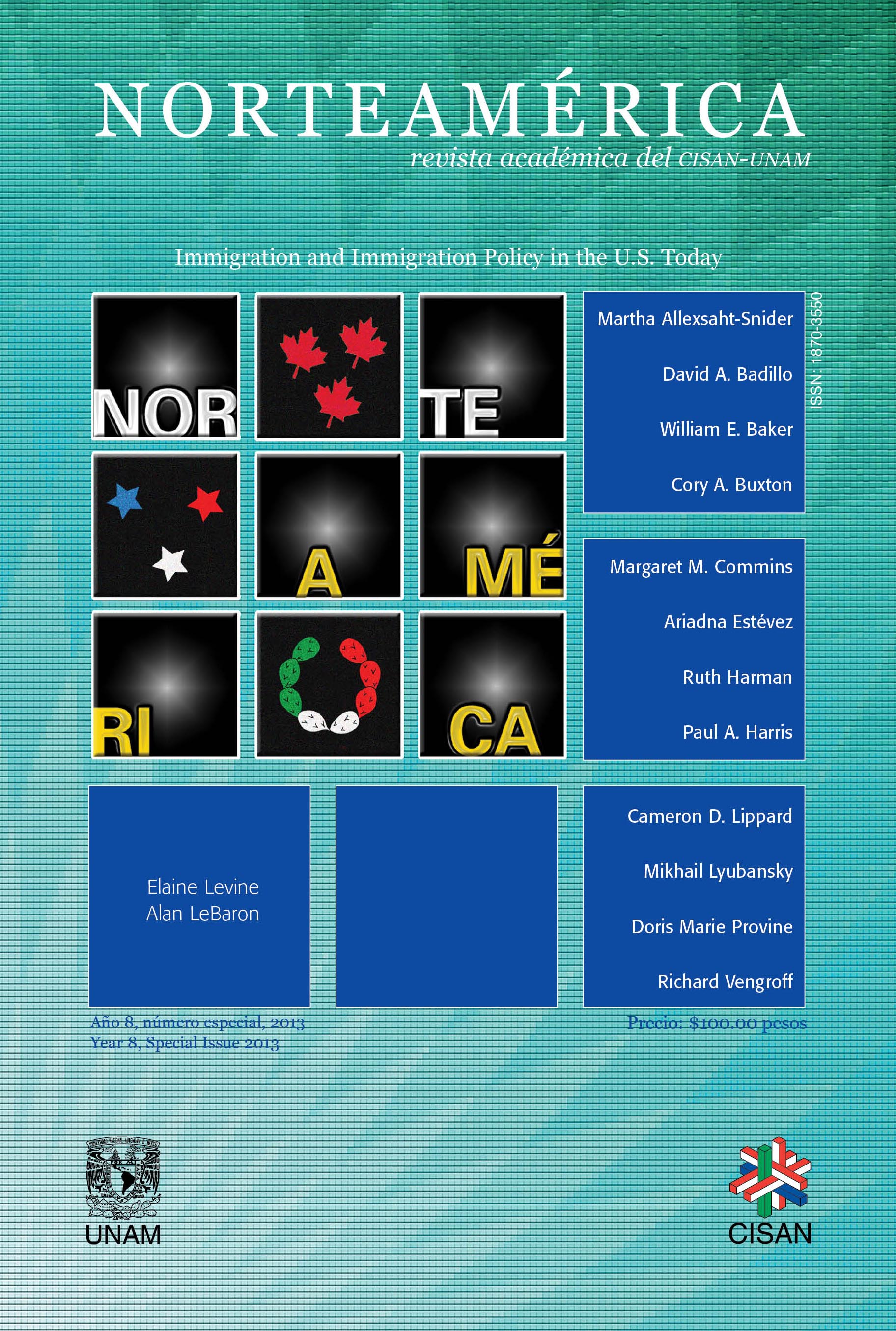 How to Cite
Lyubansky, M., Harris, P., Baker, W., & Lippard, C. (2013). "One Day on the Red Hills of Georgia": The Effects of Immigration Status on Latino Migrants' Experience of Discrimination, Utilization of Public Services, and Attitudes toward Acculturation. Norteamérica, Revista Académica Del CISAN-UNAM, 8(3). Retrieved from https://www.revistanorteamerica.unam.mx/index.php/nam/article/view/217
Section
CONTEMPORARY ISSUES
Copyright (c) 2015 Mikhail Lyubansky, Paul A. Harris, William E. Baker, Cameron D. Lippard
This work is licensed under a Creative Commons Attribution-NonCommercial-NoDerivatives 4.0 International License.
Authors who publish with this journal agree to the following terms:

Authors retain copyright and grant the journal right of first publication with the work simultaneously licensed under a Creative Commons Attribution License that allows others to share the work with an acknowledgement of the work's authorship and initial publication in this journal.
Authors are able to enter into separate, additional contractual arrangements for the non-exclusive distribution of the journal's published version of the work (e.g., post it to an institutional repository or publish it in a book), with an acknowledgement of its initial publication in this journal.
Authors are permitted and encouraged to post their work online (e.g., in institutional repositories or on their website) prior to and during the submission process, as it can lead to productive exchanges, as well as earlier and greater citation of published work.