Instituciones, transición demográfica y riesgos del sistema de pensiones
Enrique Leonardo Kato Vidal

Profesor de tiempo completo, Facultad de Contaduría y Administración (FCA), Universidad Autónoma deQuerétaro

Claudia Cárdenas Aguilar

Colaboradora del Cuerpo Académico Consolidado de Innovación y Cultura, FCA, Universidad Autónomade Querétaro
Keywords:
Envejecimiento poblacional, tasa de interés, sistemas de pensiones, México.
Abstract
Factores como el aumento en la esperanza de vida, la precariedad laboral y la escasez de empleos para adultos mayores afectan los sistemas de pensiones. Nuestra hipótesis establece que la migración del sistema de pensiones de reparto al de capitalización individual no elimina el riesgo financiero causado por la longevidad de la población. Se sigue la estrategia de contrastación de Poterba (2001; 2004), quien relaciona la estructura poblacional con la tasa de interés en Estados Unidos y Canadá. Se concluye que la movilidad internacional de capitales benefició a los países que envejecieron primero y que actualmente tenemos un mayor reto para lograr pensiones suficientes.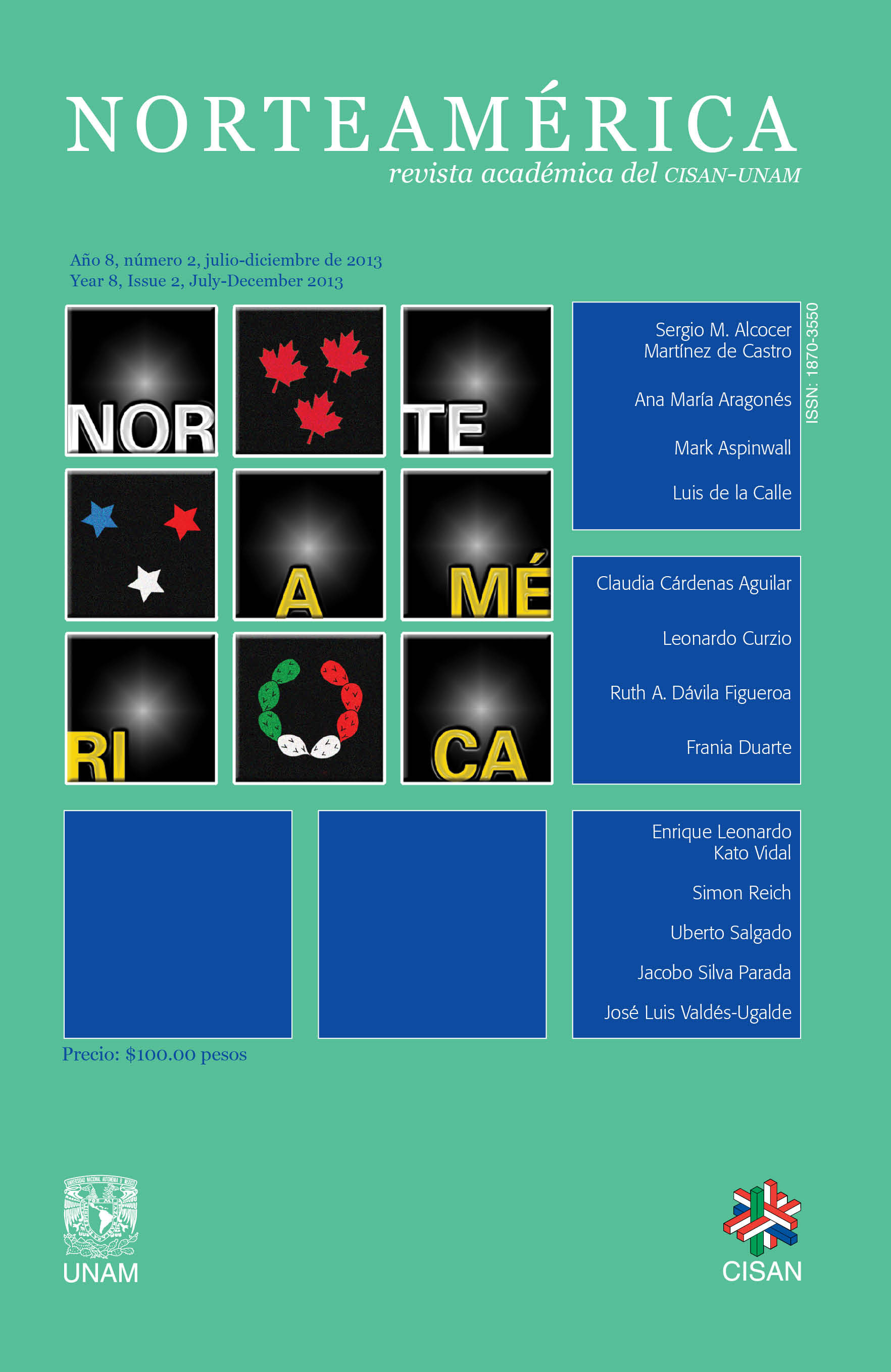 How to Cite
Kato Vidal, E., & Cárdenas Aguilar, C. (2013). Instituciones, transición demográfica y riesgos del sistema de pensiones. Norteamérica, Revista Académica Del CISAN-UNAM, 8(2). https://doi.org/10.20999/nam.2013.b004
Copyright (c) 2015 Enrique Leonardo Kato Vidal, Claudia Cárdenas Aguilar
This work is licensed under a Creative Commons Attribution-NonCommercial-NoDerivatives 4.0 International License.
Authors who publish with this journal agree to the following terms:

Authors retain copyright and grant the journal right of first publication with the work simultaneously licensed under a Creative Commons Attribution License that allows others to share the work with an acknowledgement of the work's authorship and initial publication in this journal.
Authors are able to enter into separate, additional contractual arrangements for the non-exclusive distribution of the journal's published version of the work (e.g., post it to an institutional repository or publish it in a book), with an acknowledgement of its initial publication in this journal.
Authors are permitted and encouraged to post their work online (e.g., in institutional repositories or on their website) prior to and during the submission process, as it can lead to productive exchanges, as well as earlier and greater citation of published work.