Los migrantes agrícolas "temporales" en Saint-Rémi, Quebec: representaciones sociales desde la óptica de sus habitantes
Aarón Díaz Mendiburo

Profesor en la Escuela de Trabajo Social de la Universidad Autónoma del Estado de Morelos
Keywords:
Migración "temporal", representaciones sociales, relaciones interculturales, Quebec.
Abstract
A través de la teoría de las representaciones sociales propuesta por Sergei Moscovici (1979) y del empleo del trabajo etnográfico, explico en este artículo cuáles son las representaciones que tienen los inmigrantes, principalmente latinoamericanos, y aquellos nacidos en Quebec residentes en Saint-Rémi, tanto en el espacio urbano como en el rural, respecto de los trabajadores agrícolas "temporales", y cómo dichas representaciones (en su mayoría negativas) impactan en el trato que se les da a los jornaleros mexicanos y guatemaltecos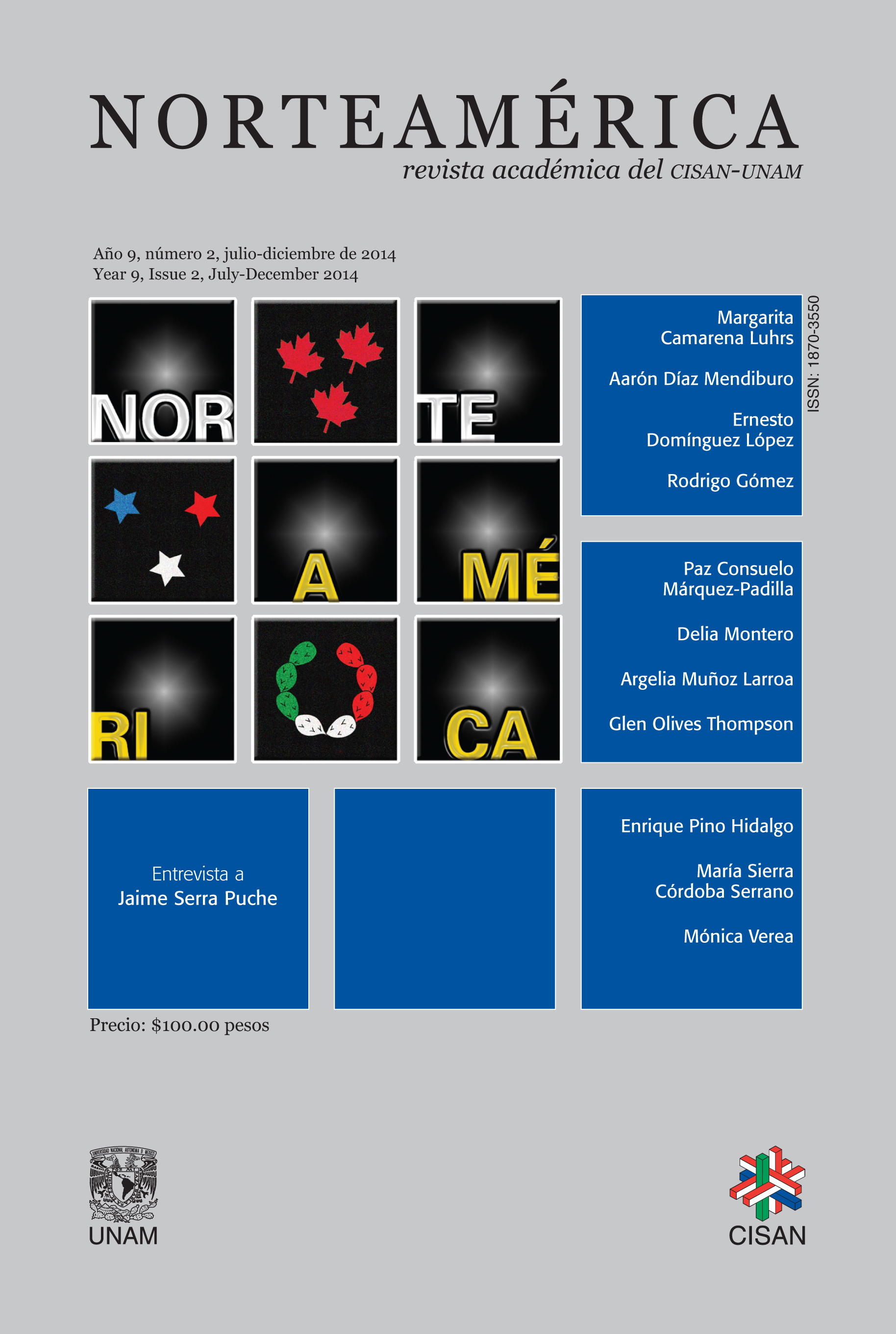 How to Cite
Díaz Mendiburo, A. (2014). Los migrantes agrícolas "temporales" en Saint-Rémi, Quebec: representaciones sociales desde la óptica de sus habitantes. Norteamérica, Revista Académica Del CISAN-UNAM, 9(2). https://doi.org/10.20999/nam.2014.b002
Copyright (c) 2015 Aarón Díaz Mendiburo
This work is licensed under a Creative Commons Attribution-NonCommercial-NoDerivatives 4.0 International License.
Authors who publish with this journal agree to the following terms:

Authors retain copyright and grant the journal right of first publication with the work simultaneously licensed under a Creative Commons Attribution License that allows others to share the work with an acknowledgement of the work's authorship and initial publication in this journal.
Authors are able to enter into separate, additional contractual arrangements for the non-exclusive distribution of the journal's published version of the work (e.g., post it to an institutional repository or publish it in a book), with an acknowledgement of its initial publication in this journal.
Authors are permitted and encouraged to post their work online (e.g., in institutional repositories or on their website) prior to and during the submission process, as it can lead to productive exchanges, as well as earlier and greater citation of published work.