Georgia en el sistema político estadunidense contemporáneo: evolución en el Sur tradicional
Ernesto Domínguez López

Centro de Estudios Hemisféricos y sobre Estados Unidos (CEHSEU), Universidad de La Habana
Keywords:
Estados Unidos, Georgia, elecciones, sistema político, composición étnica.
Abstract
En este artículo se propone un estudio de la evolución de la participación del estado de Georgia en los procesos electorales en Estados Unidos, a partir de la posguerra y hasta 2012. Para ello se aplicaron métodos estadísticos y comparativos, utilizando la información obtenida de los sitios estadísticos oficiales, sitios independientes y observaciones sobre el terreno. Se determinó que la evolución de los subprocesos presidenciales y congresionales ha sido diacrónica. Se observó una tendencia a los reacomodos de fuerzas, apreciable en el comportamiento de los indicadores electorales, a tono con la variación de la composición étnica de la población del estado.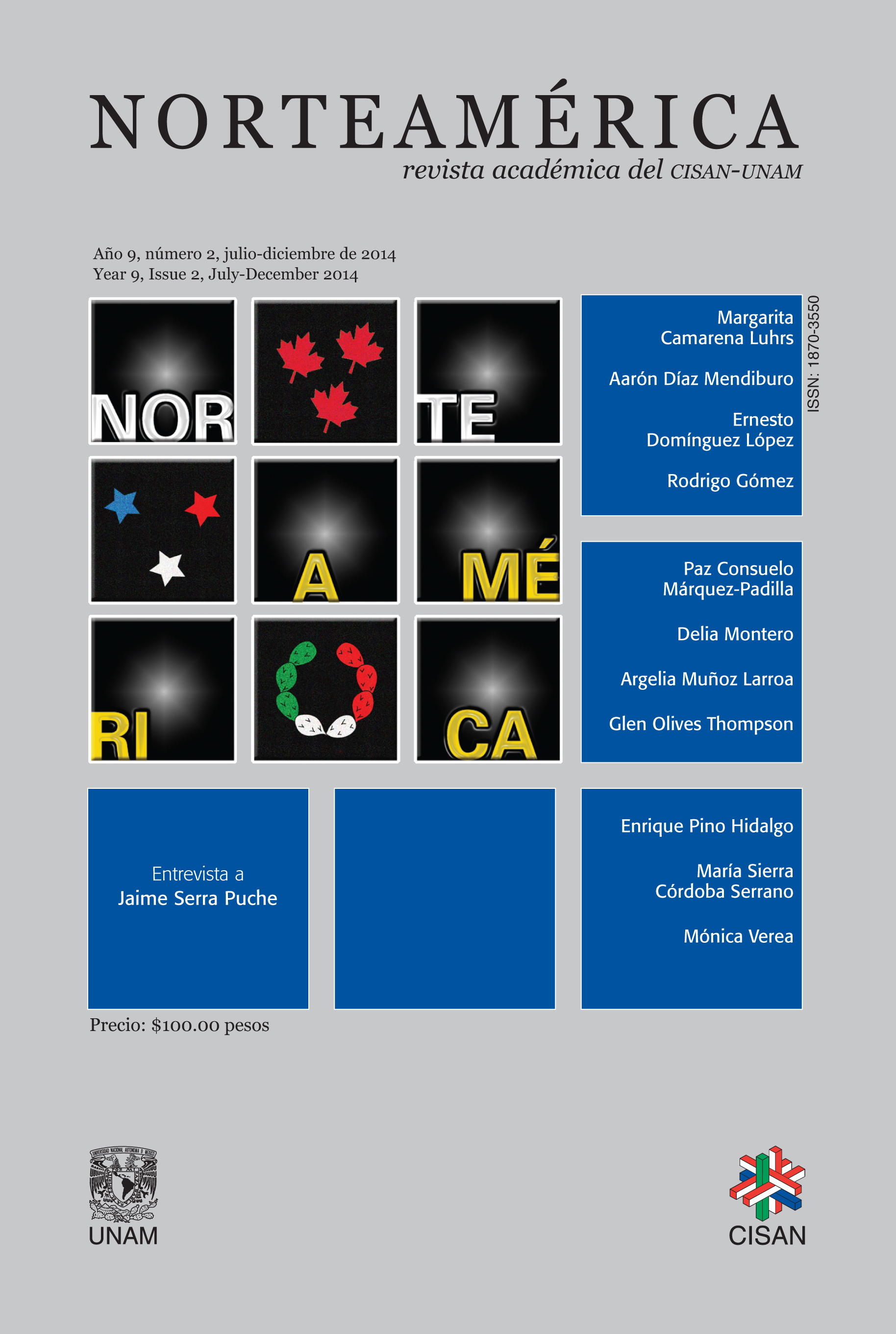 How to Cite
Domínguez López, E. (2014). Georgia en el sistema político estadunidense contemporáneo: evolución en el Sur tradicional. Norteamérica, Revista Académica Del CISAN-UNAM, 9(2). https://doi.org/10.20999/nam.2014.b001
Copyright (c) 2015 Ernesto Domínguez López
This work is licensed under a Creative Commons Attribution-NonCommercial-NoDerivatives 4.0 International License.
Authors who publish with this journal agree to the following terms:

Authors retain copyright and grant the journal right of first publication with the work simultaneously licensed under a Creative Commons Attribution License that allows others to share the work with an acknowledgement of the work's authorship and initial publication in this journal.
Authors are able to enter into separate, additional contractual arrangements for the non-exclusive distribution of the journal's published version of the work (e.g., post it to an institutional repository or publish it in a book), with an acknowledgement of its initial publication in this journal.
Authors are permitted and encouraged to post their work online (e.g., in institutional repositories or on their website) prior to and during the submission process, as it can lead to productive exchanges, as well as earlier and greater citation of published work.