Migración y estrés aculturativo: una perspectiva teórica sobre aspectos psicológicos y sociales presentes en los migrantes latinos en Estados Unidos
Arturo Enrique Orozco Vargas

Doctorante del Programa de Investigación Educativa con Concentración en Desarrollo Humano y Estudiosde la Familia, University of North Texas
Keywords:
Migración, aculturación, motivos para emigrar, estrés aculturativo, recursos.
Abstract
Siendo la migración y el proceso posterior de aculturación fenómenos tan complejos y multifacéticos, el objetivo de este artículo es analizar los factores económicos, sociales, políticos y culturales inmersos en éstos. Para lograr dicho cometido, aquí se examinaron teóricamente distintos estudios empíricos y trabajos existentes relacionados con la experiencia migratoria. A su vez, este artículo describe los principales motivos que llevan a los inmigrantes hispanos a abandonar sus países de origen, además de que se analizan los principales factores relacionados con el proceso de aculturación y el estrés aculturativo que viven los inmigrantes en su estadía en Estados Unidos.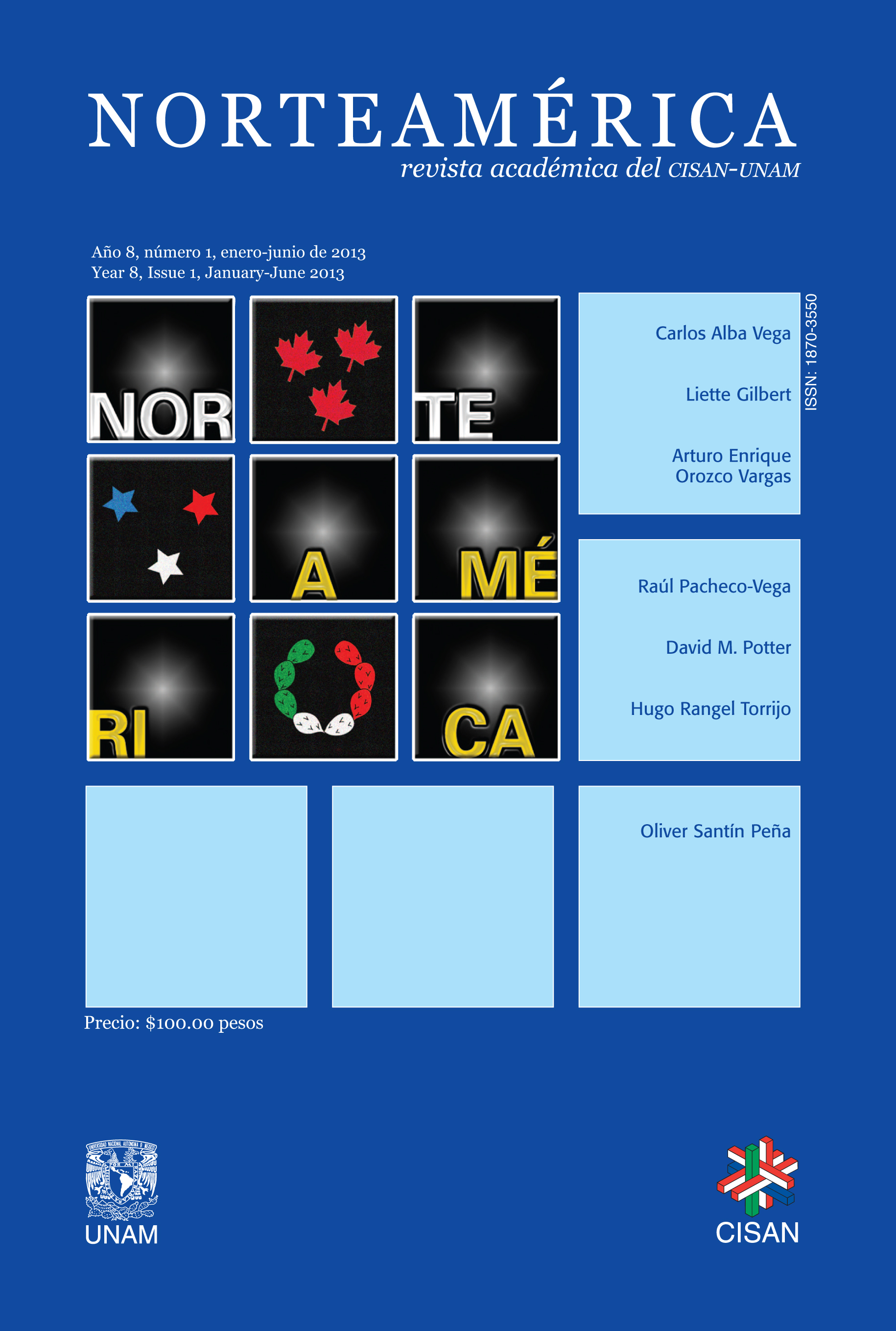 How to Cite
Orozco Vargas, A. (2013). Migración y estrés aculturativo: una perspectiva teórica sobre aspectos psicológicos y sociales presentes en los migrantes latinos en Estados Unidos. Norteamérica, Revista Académica Del CISAN-UNAM, 8(1). https://doi.org/10.20999/nam.2013.a001
Copyright (c) 2016 Arturo Enrique Orozco Vargas
This work is licensed under a Creative Commons Attribution-NonCommercial-NoDerivatives 4.0 International License.
Authors who publish with this journal agree to the following terms:

Authors retain copyright and grant the journal right of first publication with the work simultaneously licensed under a Creative Commons Attribution License that allows others to share the work with an acknowledgement of the work's authorship and initial publication in this journal.
Authors are able to enter into separate, additional contractual arrangements for the non-exclusive distribution of the journal's published version of the work (e.g., post it to an institutional repository or publish it in a book), with an acknowledgement of its initial publication in this journal.
Authors are permitted and encouraged to post their work online (e.g., in institutional repositories or on their website) prior to and during the submission process, as it can lead to productive exchanges, as well as earlier and greater citation of published work.