Influencia empresarial en la política de cambio climático de Estados Unidos
Ruth Zavala Hernández

Doctorante del programa de posgrado de la Facultad de Ciencias Políticas y Sociales
Keywords:
Estados Unidos, cambio climático, Obama, California, empresas petroleras y gaseras, cabildeo,  think tanks.
Abstract
Este texto analiza la evolución del tema del cambio climático en Estados Unidos desde la administración Bush padre hasta la de Barack Obama. A pesar de que este último planteó el cambio climático y la independencia energética como uno de los pilares de su política, el gobierno federal no ha tenido un papel activo; sin embargo, en los niveles local y estatal hay ejemplos exitosos. California es el caso más destacado. Para entender la oposición a la aprobación de una ley federal de cambio climático deben considerarse los intereses empresariales, que influyen en la toma de decisiones mediante el cabildeo [lobbying].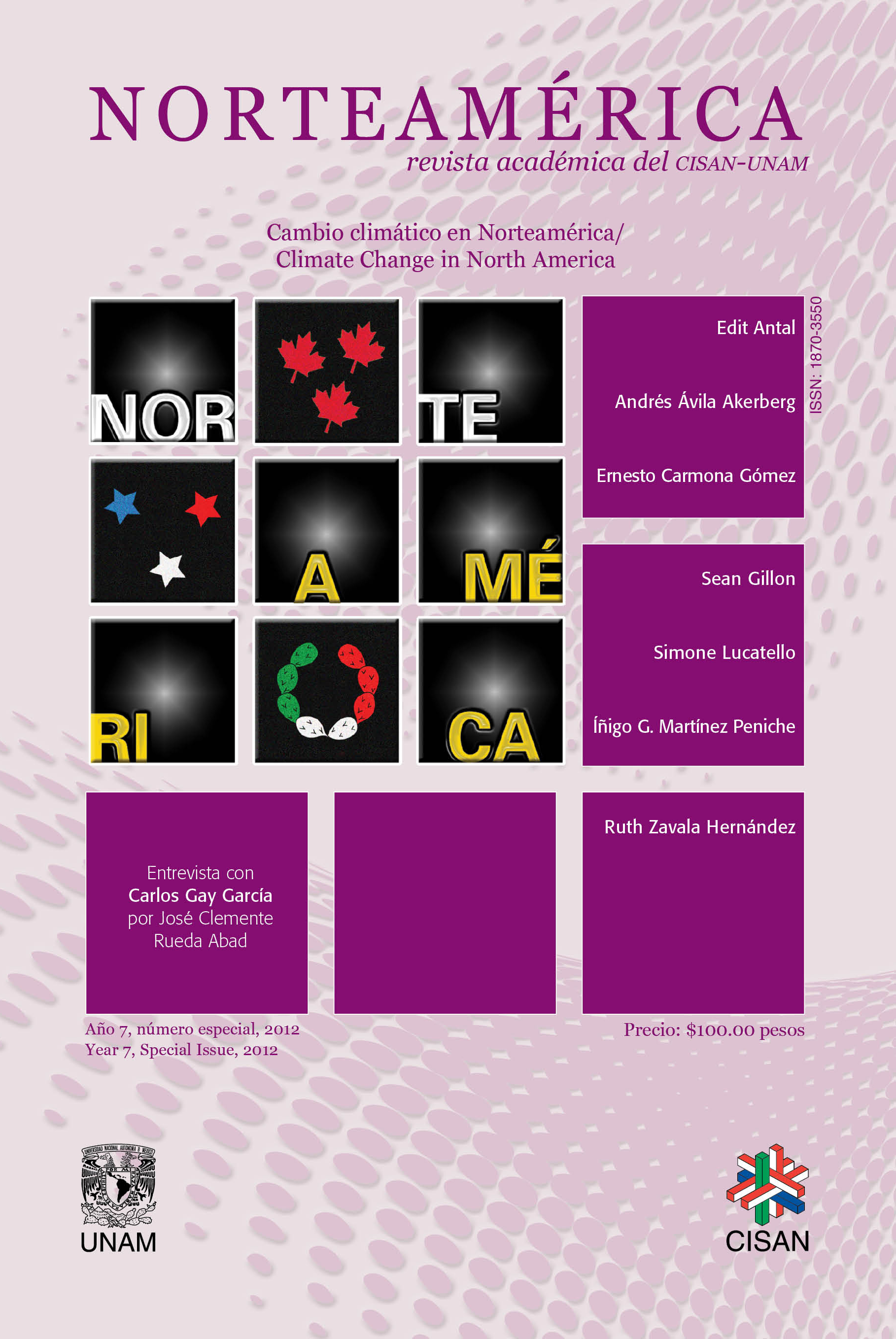 How to Cite
Zavala Hernández, R. (2012). Influencia empresarial en la política de cambio climático de Estados Unidos. Norteamérica, Revista Académica Del CISAN-UNAM, 7(3). https://doi.org/10.22201/cisan.24487228e.2012.3.176
Copyright (c) 2015 Ruth Zavala Hernández
This work is licensed under a Creative Commons Attribution-NonCommercial-NoDerivatives 4.0 International License.
Authors who publish with this journal agree to the following terms:

Authors retain copyright and grant the journal right of first publication with the work simultaneously licensed under a Creative Commons Attribution License that allows others to share the work with an acknowledgement of the work's authorship and initial publication in this journal.
Authors are able to enter into separate, additional contractual arrangements for the non-exclusive distribution of the journal's published version of the work (e.g., post it to an institutional repository or publish it in a book), with an acknowledgement of its initial publication in this journal.
Authors are permitted and encouraged to post their work online (e.g., in institutional repositories or on their website) prior to and during the submission process, as it can lead to productive exchanges, as well as earlier and greater citation of published work.