Recesión económica, reflujos migratorios y violencia antiinmigrante entre México y Estados Unidos
Guillermo Alonso Meneses

El Colegio de la Frontera Norte
Keywords:
Migraciones, crisis violencia, control fronterizo, deportaciones, crimen organizado.
Abstract
Los cambios en el comportamiento de los flujos migratorios México-Estados Unidos se infieren del análisis de las tendencias apuntadas por estadísticas públicas oficiales y de la información publicada en revistas académicas y en la prensa. Los flujos los modelan factores de tipo económico, como la gran recesión, el control de las fronteras o las políticas migratorias y la violencia antiinmigrante. El resultado son los reacomodos, "nuevas" tendencias, y la emergencia de escenarios como el descenso de la migración mexicana, un reflujo sostenido de retornos y deportaciones procedentes de Estados Unidos, o la violencia contra migrantes en tránsito por parte del crimen organizado.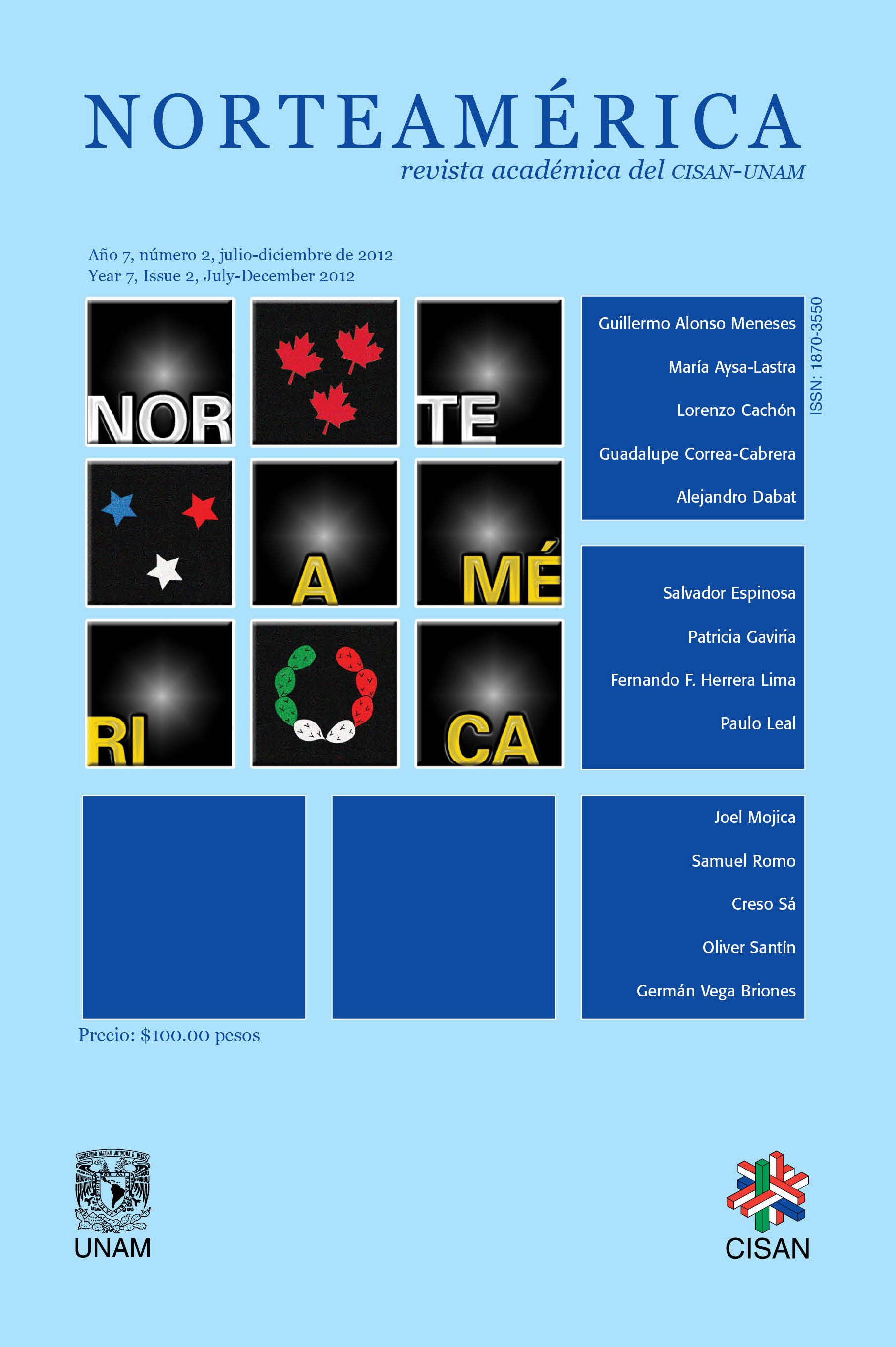 How to Cite
Alonso Meneses, G. (2012). Recesión económica, reflujos migratorios y violencia antiinmigrante entre México y Estados Unidos. Norteamérica, Revista Académica Del CISAN-UNAM, 7(2). https://doi.org/10.22201/cisan.24487228e.2012.2.173
Section
CONTEMPORARY ISSUES
Copyright (c) 2015 Guillermo Alonso Meneses
This work is licensed under a Creative Commons Attribution-NonCommercial-NoDerivatives 4.0 International License.
Authors who publish with this journal agree to the following terms:

Authors retain copyright and grant the journal right of first publication with the work simultaneously licensed under a Creative Commons Attribution License that allows others to share the work with an acknowledgement of the work's authorship and initial publication in this journal.
Authors are able to enter into separate, additional contractual arrangements for the non-exclusive distribution of the journal's published version of the work (e.g., post it to an institutional repository or publish it in a book), with an acknowledgement of its initial publication in this journal.
Authors are permitted and encouraged to post their work online (e.g., in institutional repositories or on their website) prior to and during the submission process, as it can lead to productive exchanges, as well as earlier and greater citation of published work.