Empezar de nuevo: migración femenina a Estados Unidos. Retornos y reinserción en la Sierra Norte de Puebla, México
María Eugenia D'Aubeterre Buznego

Instituto de Ciencias Sociales y Humanidades, BUAP
Keywords:
Migración femenina de retorno, mujeres mestizas, nahuas y otomíes, Pahuatlán (Puebla)-Durham (Carolina del Norte).
Abstract
Las condiciones que enmarcan la circulación de personas entre México y Estados Unidos han cambiado drásticamente en la última década: las modalidades de retorno deben analizarse considerando la especificidad de las regiones involucradas en este proceso. La dinámica de salida y retorno en la llamada región histórica de la migración a Estados Unidos se concibe en este trabajo como un "tipo ideal", útil para contrastarla con otras experiencias en zonas donde flujos migratorios recientes, comparativamente tardíos, se aceleraron en los años noventa. Se analiza el retorno de mujeres indígenas y mestizas del municipio de Pahuatlán, Puebla, procedentes de Carolina del Norte.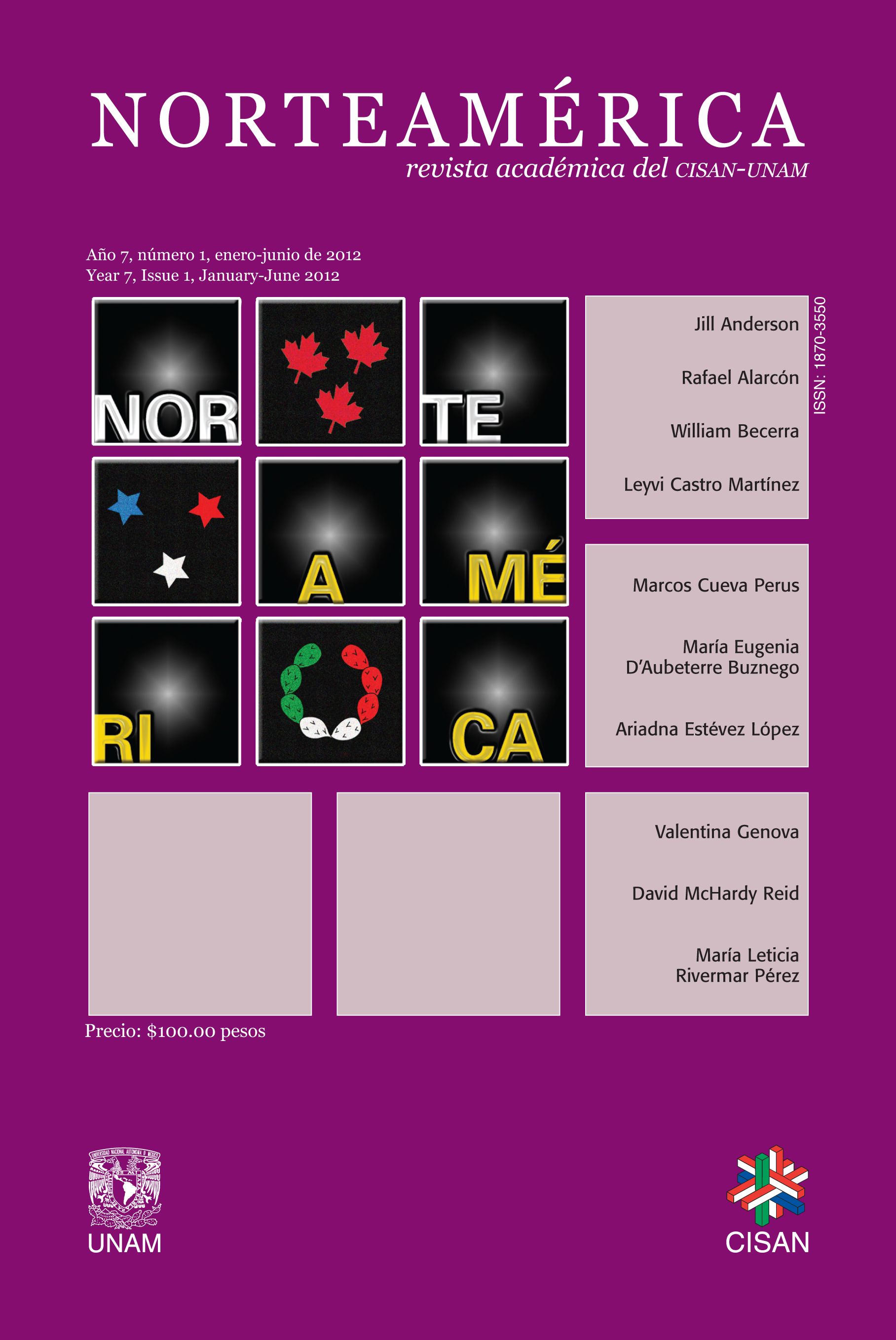 How to Cite
D'Aubeterre Buznego, M. (2012).  Empezar de nuevo: migración femenina a Estados Unidos. Retornos y reinserción en la Sierra Norte de Puebla, México. Norteamérica, Revista Académica Del CISAN-UNAM, 7(1). https://doi.org/10.22201/cisan.24487228e.2012.1.162
Section
CONTEMPORARY ISSUES
Copyright (c) 2015 María Eugenia D'Aubeterre Buznego
This work is licensed under a Creative Commons Attribution-NonCommercial-NoDerivatives 4.0 International License.
Authors who publish with this journal agree to the following terms:

Authors retain copyright and grant the journal right of first publication with the work simultaneously licensed under a Creative Commons Attribution License that allows others to share the work with an acknowledgement of the work's authorship and initial publication in this journal.
Authors are able to enter into separate, additional contractual arrangements for the non-exclusive distribution of the journal's published version of the work (e.g., post it to an institutional repository or publish it in a book), with an acknowledgement of its initial publication in this journal.
Authors are permitted and encouraged to post their work online (e.g., in institutional repositories or on their website) prior to and during the submission process, as it can lead to productive exchanges, as well as earlier and greater citation of published work.