Las espacialidades de la refronterización en el embalse binacional de Anzaldúas (frontera Tamaulipas-Texas)
Xavier Oliveras-González

El Colegio de la Frontera Norte
Abstract
La refronterización, una de las características de la fronteridad contemporánea, supone la configuración de nuevas espacialidades en los espacios fronterizos. A partir de un enfoque de la teoría crítica y de la construcción social del espacio, y una metodología cualitativa, se analiza la interacción conflictiva entre aquel proceso, llevado a cabo por operadores de nivel nacional, y las resistencias al mismo por parte de los operadores locales de ambos lados de la frontera. En concreto se analiza la frontera de Estados Unidos con México, para lo que se ha seleccionado como caso de estudio el embalse binacional de Anzaldúas, en el río Bravo / Grande. Este lugar se caracteriza por la coexistencia de actividades ilegales y recreativas. Se concluye que, a pesar de la resistencia (distinta en ambos países), la refronterización ha reforzado la diferenciación fronteriza entre ambos lados.
References
Amilhat-Szary, Anne-Laure
"Walls and Border Art: The Politics of Art Display", en Journal of Borderlands Studies, vol. 27, núm. 2, pp. 213-228.
Amilhat-Szary, Anne-Laure y Frédéric Giraut, eds.
Borderities and the Politics of Contemporary Mobile Borders, Palgrave Macmillanm New York.
Anderson, James
"Theorizing State Borders: Politics/Economics and Democracy in Capitalism", en CIBR Working Papers in Border Studies, núm. 01-1.
Andreas, Peter
Border Games: Policing the U.S.-Mexico Divide, Cornell University Press, Ithaca.
Andreas, Peter y Thomas J. Biersteker, eds.
The Rebordering of North America: Integration and Exclusion in a New Security Context, Routledge, New York.
Ashby, Paul
"Solving the Border Paradox? Border Security, Economic Integration and the Mérida Initiative", en Global Society, vol. 28, núm. 4, pp. 483-508.
Autor/a
Bauman, Zygmunt y Leonidas Donskis
[2013] Ceguera moral. La pérdida de sensibilidad en la modernidad líquida, Paidós, Barcelona.
Balibar, Étienne
"The borders of Europe", en Cosmopolitics: Thinking and feeling beyond the nation, Pheng Cheah y Bruce Robbins, eds., University of Minnesota Press, Minneapolis, pp. 216-229.
Casey, Edward S. y Mary Watkins
Up Against the Wall: Re-Imagining the U.S.-Mexico Border. The University of Texas Press, Austin.
Correa, Jennifer G.
""After 9/11 everything changed": Re-formations of state violence in everyday life on the US–Mexico border", en Cultural Dynamics, vol. 25, núm. 1, pp.99-119.
Dear, Michael
Why walls won't work: Repairing the US-Mexico Divide, Oxford University Press, New York.
Dorsey, Margaret E. y Miguel Diaz-Barriga
"Beyond Surveillance and Moonscapes: An Alternative Imaginary of the U.S.-Mexico Border Wall", en Visual Anthropology Review, vol. 26, núm. 2, pp.128-135.
Drache, Daniel
La ilusión continental. Seguridad fronteriza y búsqueda de una identidad norteamericana, Siglo XXI, México, DF.
Elden, Stuart
"Missing the Point: Globalization, Deterritorialization and the Space of the World", en Transactions of the Institute of British Geographers, vol. 30, núm. 1, pp. 8-19.
Terror and Territory. The Spatial Extent of Sovereignty, Minnesota University Press, Minneapolis.
Expreso
abril "Condena el Consulado uso de fuerza", disponible en <http://expreso.press/2015/04/23/condena-el-consulado-uso-de-fuerza/> consultado el 04 de junio de 2015.
Ferrer-Gallardo, Xavier
"The Spanish-Moroccan border complex: Processes of geopolitical, functional and symbolic rebordering", en Political Geography, vol. 27, núm. 3, pp. 301-321.
Garrett, Terence y James Storbeck
"The DHS Border Fence in the Rio Grande Valley. Semiotics, Space, and Subjectivity", en Administrative Theory & Praxis, vol. 33, núm. 4, pp. 530-548.
Herzog, Lawrence A. y Christophe Sohn
"The Cross-Border Metropolis in a Global Age: A Conceptual Model and Empirical Evidence from the US–Mexico and European Border Regions", en Global Society, vol. 28, núm. 4, pp. 441-461.
Jones, Reece
"Spaces of refusal: rethinking sovereign power and resistance at the border", en Annals of the Association of American Geographers, núm. 102, pp. 685-699.
"Border Wars: Narratives and Images of the US-Mexican Border on TV", en ACME: An International E-Journal for Critical Geographies, vol. 13, núm. 3, pp. 530-550.
Longmire, Sylvia
Border insecurity, Palgrave Macmillan, New York.
Lussault, Michel
[2007] El hombre espacial. La construcción social del espacio humano, Amorrortu, Buenos Aires.
Lussault, Michel y Mathis Stock
"Doing with space: towards a pragmatics of space", en Social Geography, núm. 5, pp. 11-19.
Maril, Robert L.
Patrolling Chaos: The U.S. Border Patrol in Deep South Texas, Texas University Press, Austin.
The Fence: Human Smuggling, Terrorists, and Public Safety along the US Mexico Border, Texas Tech University Press, Lubbock.
Mena, Olivia
diciembre "Removing the Monument to Overcoming Walls: Reflections on Contemporary Border Walls and the Politics of De-bordering", disponible en <https://antipodefoundation.org/2013/12/09/removing-the-monument-to-overcoming-walls/>, consultado el 25 de agosto de 2016.
Miller, Nicole
"How Property Rights Are Affected by the Texas-Mexico Border Fence: A Failure Due to Insufficient Procedure", en Texas International Law Journal, vol. 45, núm. 3, pp. 631-654.
Nail, Thomas
Theory of the Border, Oxford University Press, Oxford.
Nedderman, Leah, Ariel Dulitzky y Denise Gilman
Violations on the Part of the United States Government of the Right to Property and Non-Discrimination Held by Residents of the Texas Rio Grande Valley, Working Group on Human Rights and the Border Wall, University of Texas at Austin.
No Border Wall
octubre "Big River Festival in South Texas - Enjoy the Rio Grande Before the Border Wall Cuts It Off!", disponible en <http://noborderwall-take-action.blogspot.mx/2008/10/big-river-festival-in-south-texas-enjoy.html> consultado el 11 de septiembre de 2016.
Riguzzi, Paolo y Patricia de los Ríos
Las relaciones México-Estados Unidos, 1756-2010. Volumen II. ¿Destino no manifiesto? 1867-2010, Universidad Nacional Autónoma de México / Secretaría de Relaciones Exteriores, México, DF.
Till, Karen E. et al.
"Interventions in the political geographies of walls", en Political Geography, núm. 33, pp. 52-62.
Thompson, Charles D.
Border Odyssey: Travels along the U.S./Mexico Divide, University of Texas Press, Austin.
Vallet, Élisabeth y Charles-Philippe David
"Introduction: The (Re)Building of the Wall in International Relations", en Journal of Borderlands Studies, vol. 27, núm. 2, pp. 111-119.
Vulliamy, Ed
Amexica: War along the Borderline, Picador, New York.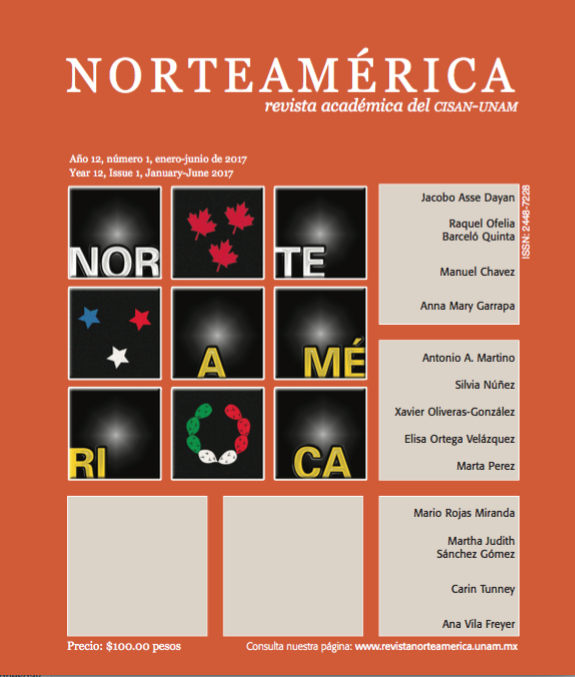 How to Cite
Oliveras-González, X. (2017). Las espacialidades de la refronterización en el embalse binacional de Anzaldúas (frontera Tamaulipas-Texas). Norteamérica, Revista Académica Del CISAN-UNAM, 12(1), 169-197. https://doi.org/10.22201/cisan.24487228e.2017.1.276
Section
CONTEMPORARY ISSUES
Copyright (c) 2017 Xavier Oliveras-González
This work is licensed under a Creative Commons Attribution-NonCommercial-NoDerivatives 4.0 International License.
Authors who publish with this journal agree to the following terms:

Authors retain copyright and grant the journal right of first publication with the work simultaneously licensed under a Creative Commons Attribution License that allows others to share the work with an acknowledgement of the work's authorship and initial publication in this journal.
Authors are able to enter into separate, additional contractual arrangements for the non-exclusive distribution of the journal's published version of the work (e.g., post it to an institutional repository or publish it in a book), with an acknowledgement of its initial publication in this journal.
Authors are permitted and encouraged to post their work online (e.g., in institutional repositories or on their website) prior to and during the submission process, as it can lead to productive exchanges, as well as earlier and greater citation of published work.