Desalinating Seawater at Rosarito Beaches, a Strategic Project in the Face of Dependence on the Colorado River and Baja California's Water Scarcity
Abstract
Given the water scarcity in Baja California's coastal cities, state and federal authorities opted to build a seawater desalinization plant in Rosarito, with the possibility of exporting part of the production to San Diego. The project was approved in 2017 amidst controversy and has been halted due to the lack of consensus about the licensing terms to a private company. The aim of this article is to show the project's regional and binational importance, underlining the technocratic way it was conceived and handled, based on an analysis of the authorization process and a review of the literature covering the global trend toward desalinization given water scarcity. The author concludes that the project has been underway and planned for a long time and has sparked great interest in both Mexico and the United States, which strengthens the probability of its coming to fruition in the absence of other proposals on the Mexican side of the border.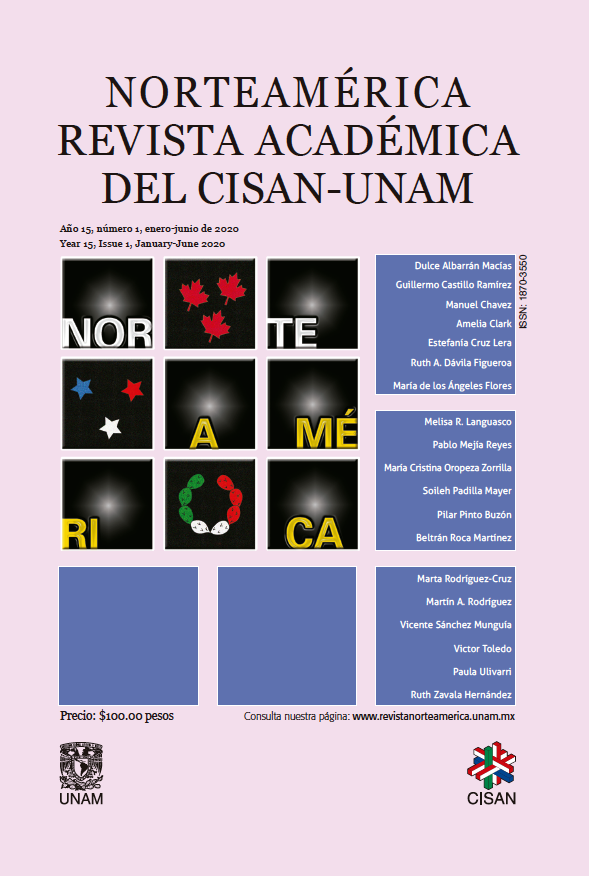 How to Cite
Sánchez Munguía, V. (2020). Desalinating Seawater at Rosarito Beaches, a Strategic Project in the Face of Dependence on the Colorado River and Baja California's Water Scarcity. Norteamérica, Revista Académica Del CISAN-UNAM, 15(1). https://doi.org/10.22201/cisan.24487228e.2020.1.394
Section
CONTEMPORARY ISSUES
Authors who publish with this journal agree to the following terms:

Authors retain copyright and grant the journal right of first publication with the work simultaneously licensed under a Creative Commons Attribution License that allows others to share the work with an acknowledgement of the work's authorship and initial publication in this journal.
Authors are able to enter into separate, additional contractual arrangements for the non-exclusive distribution of the journal's published version of the work (e.g., post it to an institutional repository or publish it in a book), with an acknowledgement of its initial publication in this journal.
Authors are permitted and encouraged to post their work online (e.g., in institutional repositories or on their website) prior to and during the submission process, as it can lead to productive exchanges, as well as earlier and greater citation of published work.